Related keywords
Interior minister Gérard Collomb said returning border to England would be 'complex' but Paris wants more 'favourable conditions' over costs. 
Henry Rousso, 62, a specialist in the history of the German occupation of France during World War II, and who coined the term 'negationism', was held for ten hours and threatened with deportation by officials at Houston International Airport where he had arrived to give a talk at a conference organised by the Texas A&M University.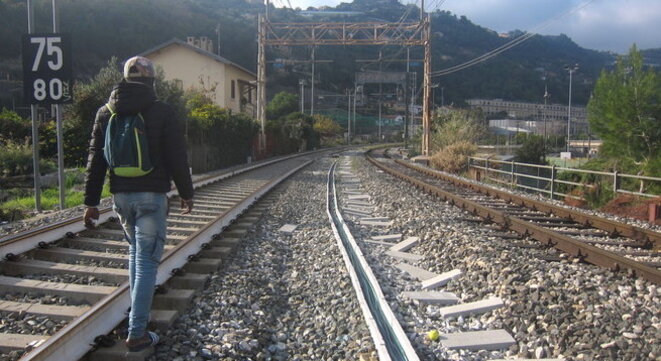 A migrant heading to France from Italy along railway tracks out of Ventimiglia. © LF
The Riviera coastal area in south-east France surrounding the border with Italy has become a major crossing point for migrants from Africa and the Middle East trying to reach northern Europe.  Despite a crackdown on the clandestine crossings by French and Italian police, many migrants continue to attempt the journey, either by by train or the perilous route of railway tracks, despite a series of fatal and serious accidents. French rail employees are increasingly under pressure from both their company and the police to help with the hunt for the migrants. Louise Fessard met with railwaymen who refuse to collaborate with operations that one described as resembling scenes from the WWII German occupation.
The veteran French conservative Alain Juppé, who is currently favourite for his party's nomination to run as presidential candidate in elections next year, has said France can no longer tolerate the situation in Calais where thousands of migrants hoping to enter the UK are stranded, and called for Le Touquet agreement to be scrapped.
A total of 285 border crossing points will this month set-up checkpoints, officially to prevent arrivals of disruptive demonstrators at UN summit.
French interior minister said the November-December controls are to be mounted in 'a context of terrorist threats' and 'risks to public order'.