Related keywords

Le tronçon "viaduc" de la future route du littoral, à 100 mètres du rivage réunionnais © Région Réunion
Plans to build a new road on viaducts and massive seawalls around the coast of the French Indian Ocean island of Réunion have caused a major controversy. The 1.6-billion-euro project faces a preliminary legal investigation for possible corruption and favouritism and is under fire for its impact on the environment, while financial watchdogs also warn the scheme risks facing a significant funding shortfall. Julien Sartre reports.
Bouygues Telecom board rejects €10 billion offer from rival saying it is well-placed to benefit from new period of growth in telecoms market.
The video-on-demand platform has defied sceptics and made strong start in France after major marketing campaign.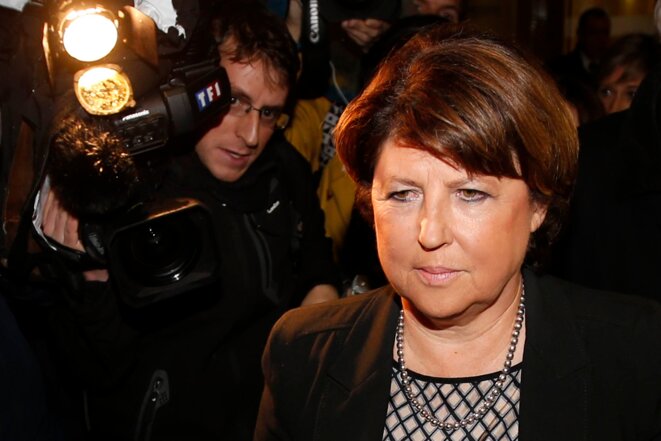 Martine Aubry, ancienne ministre socialiste et maire de Lille. © Reuters
The former first secretary of the Socialist Party and one-time presidential hopeful Martine Aubry has recently made a return to national politics in France. In a series of media interventions the mayor of the northern city of Lille has made clear her dismay at the direction taken by François Hollande's socialist government. But Aubry's return to frontline politics could yet be overshadowed by a judicial investigation into how a false document was used to justify the award of a multi-million euro contract to build a major sports stadium in Lille that will feature in the Euro 2016 football tournament. Though the investigation was recently and unexpectedly closed, Mediapart can now reveal the existence of an embarrassing letter written by Martine Aubry that shows she passed on the fraudulent document to councillors. Geoffrey Livolsi reports.
Decision casts doubts over immediate prospect of reducing number of competitors in the French market in bid to end a bitter two-year price war.
The former France Telecom's move comes as French ministers encourage 'consolidation' in telecom industry from four to three major players.
After a month-long fierce bidding war against Bouygues, Numericable buys Vivendi's telecoms subsidiary SFR for 13.5 billion euros.
Move is blow to telecoms firm Bouygues who had also bid for its mobile phone rival, an option also backed by industry minister Arnaud Montebourg.
Some observers suggest that the return to just three main mobile phone operators will reduce competition and be bad news for French consumers.
If accepted, Bouygues' offer for SFR would reduce the number of players in France's ferociously competitive mobile market from four to three.