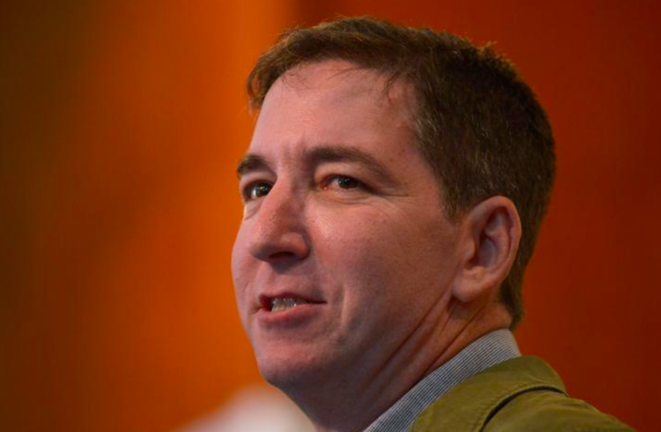 Facing charges: Glenn Greenwald. © Reuters
US journalist Glenn Greenwald, who has become a thorn in the side for Brazil's far-right president Jair Bolsonaro, is accused by the Brazilian prosecution services of "facilitating the commission" of cybercrime, alleging that he "helped, encouraged and guided" mobile phone hacking. The move, vigorously contested by Greenwald, centres on the revelations by the online investigative publication he co-founded and co-edits, The Intercept Brasil, about a vast corruption scandal in the South American country. In this interview with Mediapart's US correspondent Mathieu Magnaudeix, Greenwald denounces the increasing attempts, in Brazil but also around the world, to "criminalise" journalism.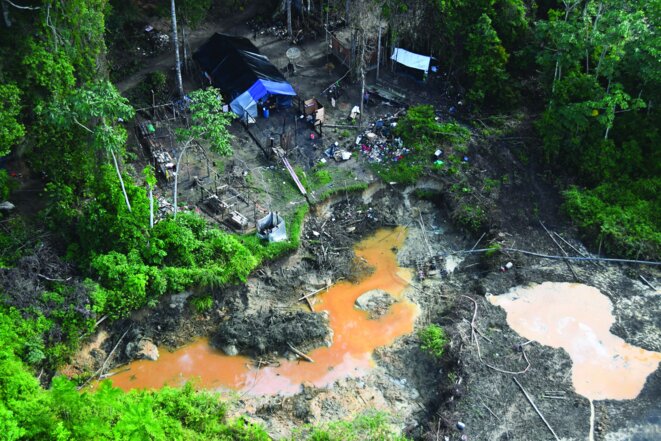 An unauthorised gold-prospecting site in operation in 2017 in French Guiana. © Parc Amazonien de Guyane
For many years, French leaders have liked to pose on the international scene as potential saviours of the Amazon, as we have just witnessed at the recent G7 summit in Biarritz with the diplomatic spat between President Emmanuel Macron and Brazilian president Jair Bolsonaro over forest fires. President François Mitterrand started the trend back at the Earth Summit in Rio de Janeiro in 1992. But alongside the diplomatic posturing there is also the reality of what is happening in French Guiana, an overseas region of France that lies just to the north-east of the Amazon rainforest. As Marion Briswalter reports from Cayenne in Guiana, what is happening on the ground in this French corner of South America reflects less well on Paris's stewardship of the environment.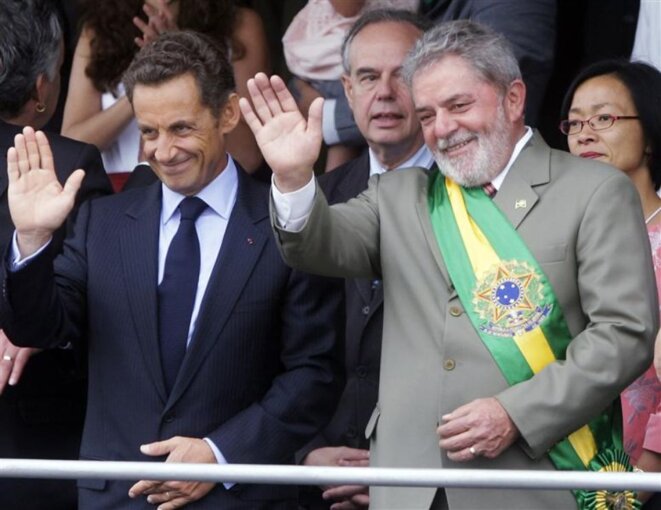 President Nicolas Sarkozy and President Luiz Inácio Lula da Silva on September 7th, 2009,during Brazil's annual celebration of independence day. © Reuters
A former Brazilian finance minister, Antonio Palocci, claims that the issue of hidden payments was discussed during a meeting held between the French president Nicolas Sarkozy and the Brazilian president Luiz Inácio Lula da Silva on the evening of September 6th, 2009. An investigation into the sale of French Scorpène submarines to Brazil and the construction of a naval base at Itaguaí in the South American country has revealed the existence of up to 70 million euros in commissions paid by the Brazilian partner company of the French naval defence firm Naval Group. Karl Laske investigates.
Joon, part of Air France, will fly to four short-haul cities from December - Barcelona, Berlin, Lisbon and Porto - and then Brazil and Seychelles.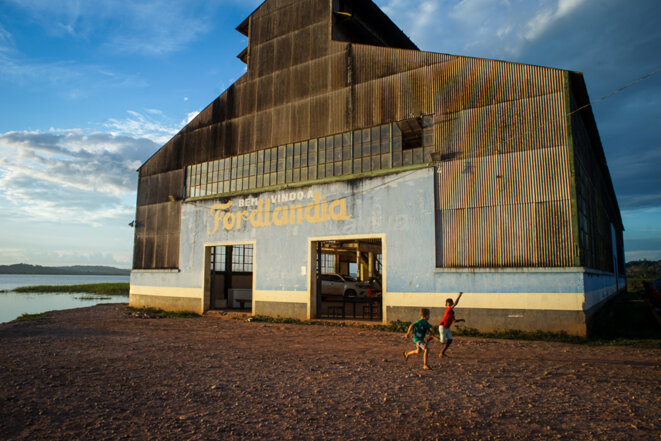 One of the old Fordlandia warehouses. © Thomas Cantaloube
Ninety years ago the American car magnate Henry Ford created a town in the Amazon jungle in order to secure a supply of rubber for his vehicles' tyres. Today it is just a ghost town, another example of the hubris so commonly associated with this region of the world. Mediapart's Thomas Cantaloube reports from Brazil on whether the lessons of that failed venture have truly been learned.
French military intelligence chief told parliamentary committee that his agency was informed of plot by a Brazilian national via a 'partner' agency.
Health minister says woman was not pregnant and is recovering well after contracting virus from her partner who had visited Brazil.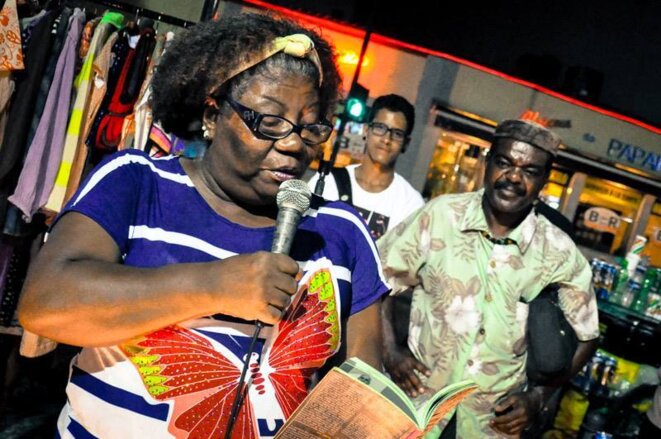 Le sarau fora do eixo, un exemple de rencontre littéraire. © (dr)
Last week Brazil was the 'guest of honour' at the celebrated Paris book fair, the Salon du livre, to which a delegation of 48 leading Brazilian authors was invited. Among them were writers from the favelas, or urban shanty towns, who are behind the 'literature of the periphery', a major cultural trend sweeping the giant South American nation. The emergence of these writers has coincided with a growing taste for prose and poetry among the residents of Brazil's deprived residential districts. This has been fuelled by the phenomenon of grass-roots gatherings known as 'saraus', which are attracting more and more people to listen to and take part in literary readings. Lamia Oualalou reports from Rio de Janeiro on this dynamic movement in Brazilian popular culture, one that might just have some lessons for France's own deprived and troubled suburbs.
Algerians in France celebrated their team's achievement in reaching knockout stages; there were 74 arrests as some fans clashed with police.
June 2009 crash which killed all 228 people on board 'could have been avoided if the crew had taken appropriate action' says expert report.
The couple, suspected of shuttling young women between France and Brazil on discounted tickets, were placed under investigation and jailed.
Dassault's hopes of a multi-billion-euro deal to sell its Rafale fighter jet to Brazil have been dashed after the contract was given to Saab.
A 2-0 defeat in Kiev means France will need stunning performance in Tuesday's return leg in Paris to avoid missing first World Cup since 1994.
British coroner was speaking at the inquest into the deaths of two British men in the Air France jet disaster, which killed 228 people in 2009.