Related keywords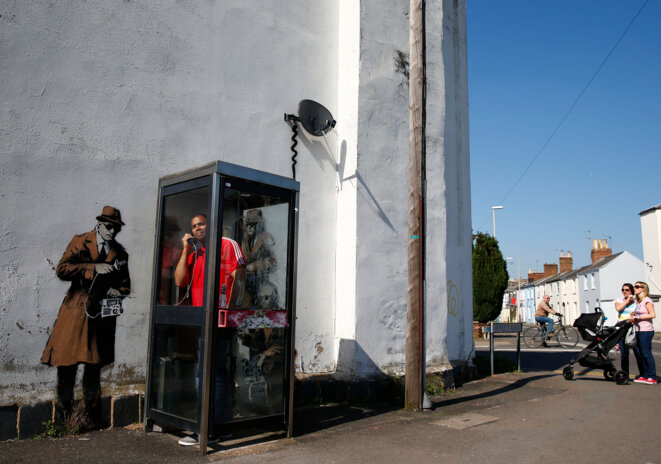 A mural by street artist Banksy close to Britain's signals intelligence agency GCHQ,in Cheltenham, England. © Reuters/Eddie Keogh
The British and French intelligence agencies are deeply concerned that their close bilateral cooperation, notably on counter-terrorism activity, remains intact after the UK leaves the European Union. But they are fearful of the consequences, especially in the case of a hard Brexit, when, the EU warns, "The UK will be disconnected from all EU networks, information systems and databases" concerned with police and judicial cooperation. Matthieu Suc reports.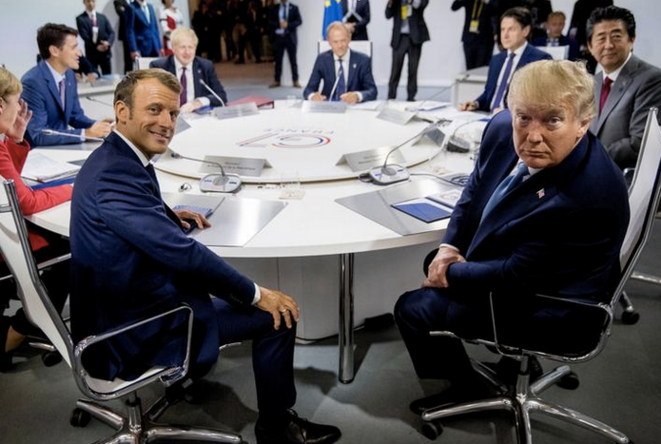 Emmanuel Macron and Donald Trump during the G7 at Biarritz, south-west France, August 25th 2019. © Andrew Harnik/Pool via REUTERS
The reaction to Donald Trump's behaviour and the attempts at impeachment highlights the vitality of democratic culture in the United States when faced with executive abuse of power. In contrast, argues Mediapart publishing editor Edwy Plenel, France is served by a low-intensity democracy that has been undermined by the country's system of presidential monarchy.
French President Emmanuel Macron, meeting with British Prime Minister Boris Johnson in Paris on Thursday, said the so-called 'backstop' arrangement for the border on the island of Ireland was 'indispensable' to the UK leaving the EU with an agreed deal, but also added that a solution to the disputed issue was possible 'if there is a good will on both sides'.
The French government regards a departure of the UK from the European Union without a mutual deal as the most likely outcome on the deadline date of October 31st according to an official from President Emmanuel Macron's office, speaking on the same day that German Chancellor Angela Merkel suggested a solution to the key issue of the Irish border 'backstop', which is blocking agreement, may be found.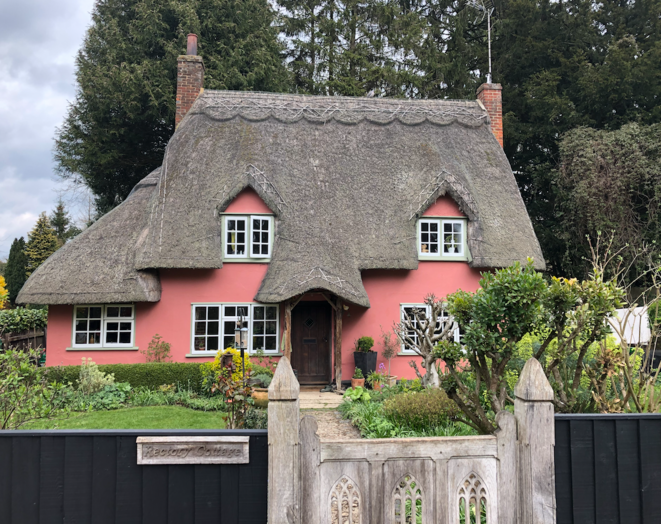 The village of Widdington in Essex, eastern England, April 2019. © AP
In the well-heeled village of Widdington in rural Essex in eastern England, the residents are in a state of inner turmoil. Like the rest of the country this small community is pondering the issue of Brexit – which now faces a new deadline of the end of October 2019 – with passionate, engaging and ultimately irreconcilable arguments. Antoine Perraud reports.
After days of tough talking which cast doubt over France's agreement to British Prime Minister Theresa May's request for an extension of the Brexit deadline due this Friday, an official in French President Emmanuel Macron's office said Tuesday that France was ready to accept a new delay.
British Prime Minister Theresa May flew to Paris from Berlin on Tuesday, having earlier met German Chancellor Angela Merkel, to meet with French President Emmanuel Macron in a bid to convince the two leaders to grant a delay for the UK withdrawal from the European Union which is currently on a deadline for Friday.
French President Emmanuel Macron, speaking on Friday on the sidelines of a European Union summit in Brussels, said 'the European project must not remain a prisoner to Brexit', after Britain was granted a delay until April 12th to finalise its exit from the European bloc. 
European politicians have begun poking fun at the UK's troubled Brexit dealings, with French European affairs minister Nathalie Loiseau saying she has nicknamed her cat 'Brexit' because when she opens the door he is 'unsure whether he wants to go out or not', while Dutch Prime Minister Mark Rutte compared his British counterpart Theresa May to the knight in Monty Python and the Holy Grail who loses both arms and legs in a duel and then argues for a draw.
Delays and cancellations were announced on Monday to Eurostar services at the Paris Gare du Nord terminal as French customs officers went on strike over what they said was poor planning for the demands of post-Brexit operations, a movement which also affected several airports around the country. 
The French president has set out wide-ranging plans to overhaul the EU in response to UK's vote to leave.
While Britain's transport minister described setting up new post-Brexit controls at its borders as 'utterly unrealistic', France has begun building new customs inspection posts dedicated to UK-exported horses and other large animals in Calais, and another for fish in nearby Boulogne, as part of a 50-million-euro contingency plan announecd last week in the case of a no-deal withdawal of the UK from the European Union.
French farmers' union, the FNSEA, has voiced its concern at the possibility of a withdrawal from the EU by the UK, to which France exports a yearly 3 billion euros-worth of agricultural goods, without a trade deal.
French Prime Minister Édouard Philippe on Thursday announced a 50-million-euro contingency plan in the case that Britain would leave the European Union on March 29th without a trade agreement, which he described as 'less and less unlikely', which includes the building of infrastructures around transport hubs to deal with delays in commercial traffic and the recruitment of around 600 extra staff in customs and veterinary services.