Related keywords
After days of tough talking which cast doubt over France's agreement to British Prime Minister Theresa May's request for an extension of the Brexit deadline due this Friday, an official in French President Emmanuel Macron's office said Tuesday that France was ready to accept a new delay.
British Prime Minister Theresa May flew to Paris from Berlin on Tuesday, having earlier met German Chancellor Angela Merkel, to meet with French President Emmanuel Macron in a bid to convince the two leaders to grant a delay for the UK withdrawal from the European Union which is currently on a deadline for Friday.
French President Emmanuel Macron, speaking on Friday on the sidelines of a European Union summit in Brussels, said 'the European project must not remain a prisoner to Brexit', after Britain was granted a delay until April 12th to finalise its exit from the European bloc. 
European politicians have begun poking fun at the UK's troubled Brexit dealings, with French European affairs minister Nathalie Loiseau saying she has nicknamed her cat 'Brexit' because when she opens the door he is 'unsure whether he wants to go out or not', while Dutch Prime Minister Mark Rutte compared his British counterpart Theresa May to the knight in Monty Python and the Holy Grail who loses both arms and legs in a duel and then argues for a draw.
Delays and cancellations were announced on Monday to Eurostar services at the Paris Gare du Nord terminal as French customs officers went on strike over what they said was poor planning for the demands of post-Brexit operations, a movement which also affected several airports around the country. 
The French president has set out wide-ranging plans to overhaul the EU in response to UK's vote to leave.
While Britain's transport minister described setting up new post-Brexit controls at its borders as 'utterly unrealistic', France has begun building new customs inspection posts dedicated to UK-exported horses and other large animals in Calais, and another for fish in nearby Boulogne, as part of a 50-million-euro contingency plan announecd last week in the case of a no-deal withdawal of the UK from the European Union.
French farmers' union, the FNSEA, has voiced its concern at the possibility of a withdrawal from the EU by the UK, to which France exports a yearly 3 billion euros-worth of agricultural goods, without a trade deal.
French Prime Minister Édouard Philippe on Thursday announced a 50-million-euro contingency plan in the case that Britain would leave the European Union on March 29th without a trade agreement, which he described as 'less and less unlikely', which includes the building of infrastructures around transport hubs to deal with delays in commercial traffic and the recruitment of around 600 extra staff in customs and veterinary services.
French and German officials have made comments suggesting they are open to agreeing a delay to the UK's withdrawal from the European Union due on March 29th, as Prime Minsiter Theresa May prepares to return to parliament with a revised Brexit deal after surviving a 'no confidence' vote by MPs on Tuesday evening.
Reacting late on Tuesday to the British parliament's rejection of Prime Minster Theresa May's Brexit deal with the EU, French President Emmanuel Macron said it was most likely that the UK would seek a better deal and that 'maybe we'll make improvements on one or two things', but warned that the British would be the 'first losers' in a no-deal brexit, and that 'we won't, just to solve Britain's domestic political issues, stop defending European interests'.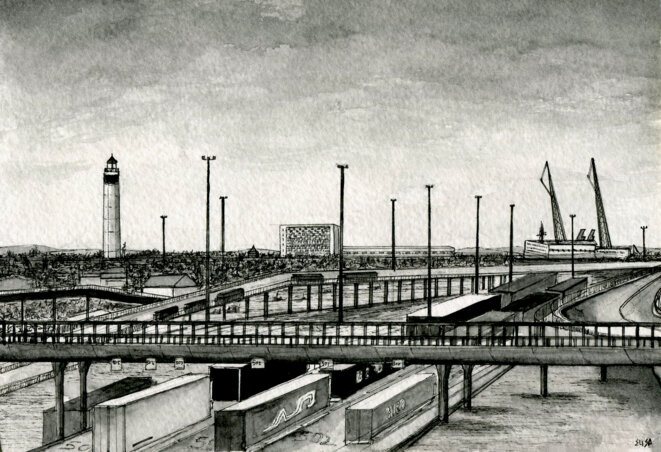 The port of Calais: dark times ahead? © Elisa Perrigueur
British Prime Minister Theresa May was in Brussels on Thursday and Friday for a frantic series of meetings to convince EU leaders to provide clarifications over her Brexit deal with Brussels, hoping for their help to obtain parliamentary approval of the agreement reached last month for the UK's withdrawal from the bloc. But for most observers, the chances of avoiding a hard Brexit before the deadline of next March are receding by the day. In the northern French coastal town of Calais, through which tens of millions of tonnes of goods pass yearly in trade between the UK and the continent, many fear catastrophic consequences of a hard Brexit, with the very likely prospect of the Channel port becoming paralysed. Elisa Perrigueur reports.
President Macron and heads of other member states fear Britain could gain advantage over them by undercutting EU environment law.
In a joint op-ed article published in The Guardian, former French prime minister Bernard Cazeneuve and former UK defence minister and NATO secretary general George Robertson warn of the dangers that Brexit presents to what they call the 'strong relationship' between France and Britain in military cooperation.