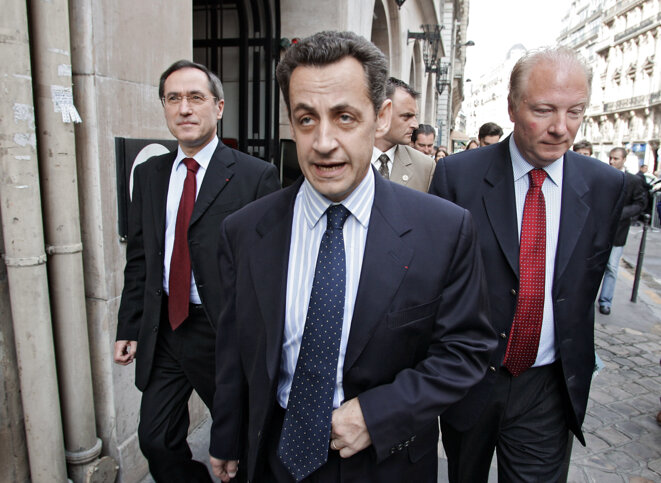 Left to right: Claude Guéant, Nicolas Sarkozy and Brice Hortefeux in June 2005. © PASCAL PAVANI / AFP
Former French president Nicolas Sarkozy was subjected to four days of questioning earlier this month by judges leading a complex investigation into evidence of Libyan funding of his 2007 election campaign, at the end of which he was formally placed under investigation for "criminal conspiracy". Mediapart has obtained access to the transcripts of the interrogation, during which he insisted on his innocence and laid responsibility for any wrongdoing on his two longstanding, loyal right-hand men, Claude Guéant and Brice Hortefeux, describing their dealings with Libya and intermediaries as, variously, "incomprehensible", an "error" and a "mistake". Fabrice Arfi and Karl Laske report.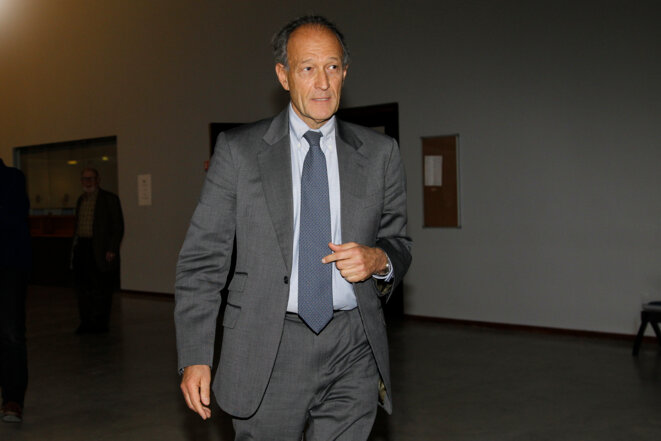 Thierry Gaubert at the court in Nanterre, west of Paris, in 2012 in an unrelated case. © Reuters
In January 2020 Thierry Gaubert, a former close aide to Nicolas Sarkozy, was arrested and then placed under formal investigation for "criminal conspiracy" in relation to claims that the former president's 2007 election campaign was funded with Libyan money. Gaubert is now free on bail, but banned from meeting with either Sarkozy or the ex-head of state's long-standing friend and ally Brice Hortefeux. As Fabrice Arfi and Karl Laske report, this move marks a major turning point in the long-running judge-led investigation.
Left to right: newly elected Nicolas Sarkozy hosts Muammar Gaddafi in Paris; French-Lebanese intermediary Ziad Takieddine; Niolas Sarkozy's close allies Brice Hortefeux and Thierry Gaubert. © Reuters/Document Mediapart
An investigation by Mediapart has confirmed that a longstanding close aide to former French president Nicolas Sarkozy received 440,000 euros in a secret offshore account paid from Libyan funds one year before the 2007 French presidential elections, casting further suspicion that Sarkozy's successful bid was partly financed by the late Libyan dictator Muammar Gaddafi. The money was transferred by a shell company belonging to a French-Lebanese intermediary who is central to the funding allegations, through which transited several millions of euros from the Tripoli regime. Fabrice Arfi and Karl Laske report.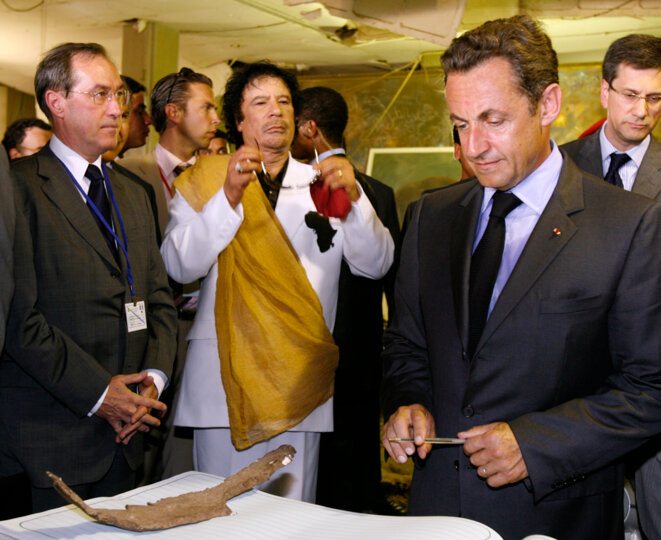 Left to right: the French president's chief aide Claude Guéant, Muammar Gaddafi and Nicolas Sarkozy inTripoli in 2007. © Reuters
France's highest appeal court, the Cour de Cassation, has rejected an appeal by former president Nicolas Sarkozy in a case against Mediapart relating to the authenticity of a key document showing he was promised Libyan funding for his 2007 election campaign. The judgement, published on Wednesday January 30th, means that the former president can no longer evade the election funding scandal revealed by this site, says Mediapart's publishing editor Edwy Plenel.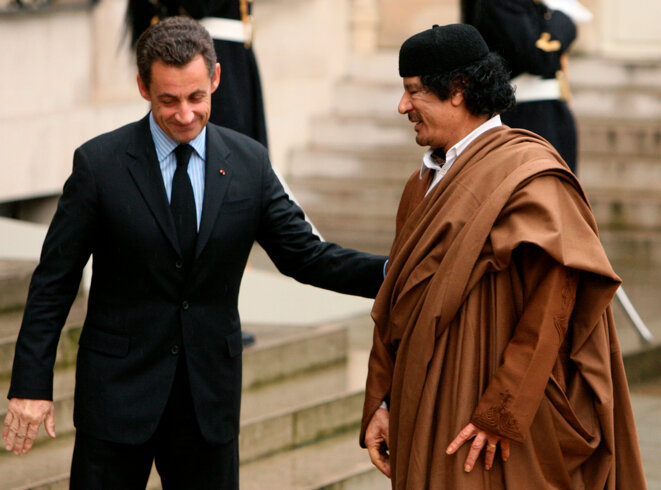 December 10th 2007: Nicolas Sarkozy welcomes Libtyan dictator Muammar Gaddafi on his first official visit to France. © Reuters
Mediapart has obtained access to extracts of the transcripts of the questioning last week of former French president Nicolas Sarkozy by officers of France's anti-corruption police agency, OCLCIFF, and also by the magistrates in charge of their investigation into the suspected financing of his 2007 presidential election campaign by the late Libyan dictator Muammar Gaddafi. They reveal how Sarkozy, who after more than 30 hours of questioning was placed under investigation on March 21st for "illicit funding of an electoral campaign", "receiving and embezzling public funds" from Libya, and "passive corruption", was unable to provide convincing answers on a number of key questions, and how also he appeared to place responsibility for some of the most compromising evidence of collusion with Gaddafi's regime on his close staff, including lifelong allies and friends Claude Guéant and Brice Hortefeux. Fabrice Arfi and Karle Laske report.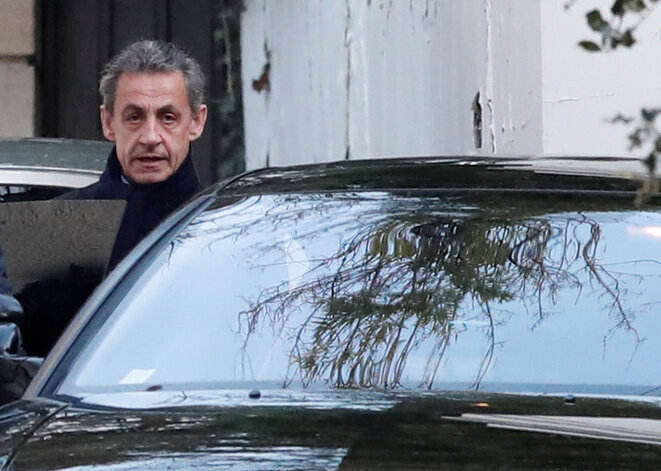 Nicolas Sarkozy leaving his Paris home Wednesday morning for a second day of questioning. © Reuters
Nicolas Sarkozy was placed under formal investigation by magistrates on Wednesday for "illicit funding of an electoral campaign", "receiving and embezzling public funds" and "passive corruption" at the end of almost 48 hours of questioning by French police investigating evidence that the former French president's 2007 presidential election campaign was partly funded by the regime of the late Libyan dictator Muammar Gaddafi. It is unprecedented in France for a former president to face prosecution for having been sponsored by a foreign power. Fabrice Arfi and Karl Laske report on the latest events and the background to the case, which followed Mediapart's first revelations in 2011.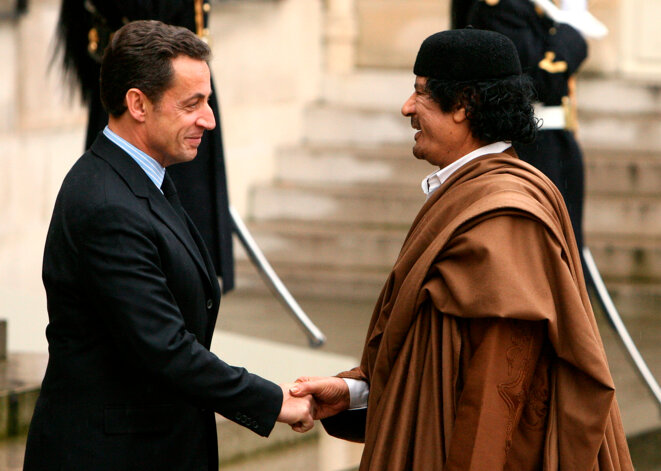 En 2007, la lune de miel. © Reuters
Two French judges have found there are no grounds for challenging the authenticity of an official Libyan document revealed by Mediapart in 2012 and which declares that the Gaddafi regime had agreed to fund Nicolas Sarkozy's 2007 presidential election campaign to the sum of 50 million euros. The magistrates, in charge of an investigation prompted by a lawsuit launched by Sarkozy against Mediapart for "forgery" and "use of forgery", have thrown out the case after years of thorough expert appraisals of the document and witness statements. Mediapart's editor-in-chief Edwy Plenel details the judgment and the background to the case.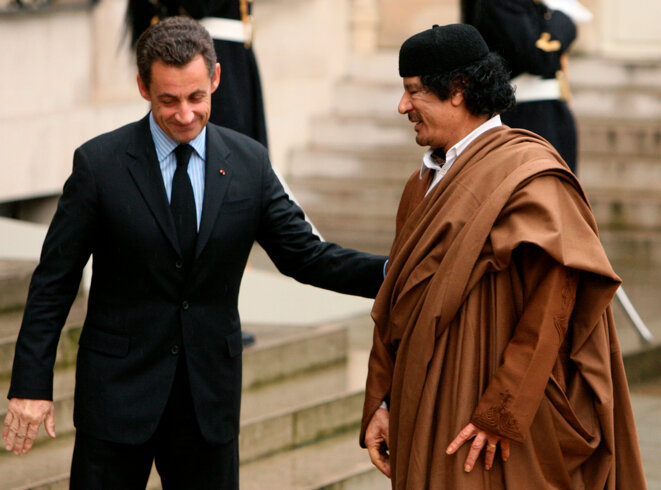 Nicolas Sarkozy et Mouammar Kadhafi sur le perron de l'Elysée, en 2007. © Reuters
The story of the covert Libyan funding of Nicolas Sarkozy's 2007 election campaign started two years earlier with a meeting between Colonel Muammar Gaddafi and the then presidential hopeful Sarkozy himself, Mediapart can reveal. According to arms dealer Ziad Takieddine, who was in Tripoli at the time, Sarkozy directly asked Gaddafi for financial help during an official visit to the North African country in October 2005. A short time later Sarkozy's close political friend and ally Brice Hortefeux made a visit to Tripoli in which he had an off-diary meeting with Gadaffi's security chief Abdullah Senussi, a key figure in the corruption allegations involving Libya and France. Judges investigating the Libyan funding of Sarkozy's campaign are now painstakingly piecing together the background to the affair. Fabrice Arfi and Karl Laske report.
Supporters of the former president have queued up to say he should stand for leadership of conservative UMP party which is engulfed by crisis.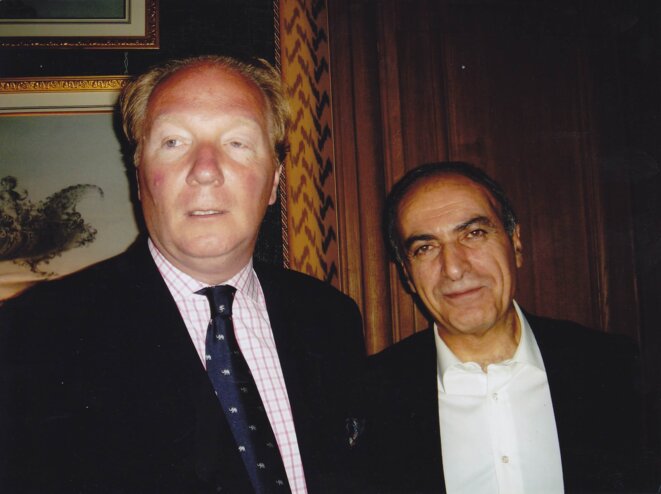 MM. Hortefeux et Takieddine, en 2005 © dr
Revelations about phone taps on Nicolas Sarkozy and his lawyer Thierry Herzog have caused a major legal and political row. Lawyers say the eavesdropping is a breach of lawyer-client privilege, right-wing politicians have claimed there is a plot to discredit the former French president, while the phone taps themselves suggest evidence of 'influence peddling'. But the judicially-approved eavesdropping also targeted former interior minister and close Sarkozy ally Brice Hortefeux as part of the investigation into illegal funding of the Sarkozy 2007 presidential campaign by the Libyan regime. Here Mediapart publishes extracts from some of those phone taps which show how a senior policeman phoned Hortefeux to warn him about details of the investigation and to coach him about how to prepare for questioning – in flagrant breach of procedural regulations. Fabrice Arfi and Karl Laske report.
With the right-wing UMP party predicted to lose the parliamentary elections, French conservatives are embracing former president Nicolas Sarkozy.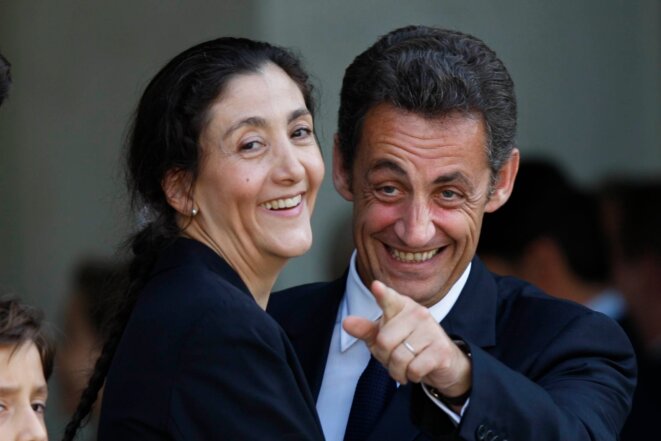 © Reuters
Franco-Lebanese arms dealer Ziad Takieddine is a key figure in what has become known as the 'Karachi affair', involving alleged secret political funding from commissions paid in French weapons sales abroad. A judge leading an independent probe into the suspected scam last month placed Takieddine and two of President Nicolas Sarkozy's close friends and aides under formal investigation in the case. In a series of investigations that began this summer, Mediapart has revealed Takieddine's unusual role as intermediary and advisor in a number of French weapons sales, and his close relationship with several of President Sarkozy's inner circle of friends and advisors. Documents obtained by Mediapart now disclose how the arms dealer was involved in arranging for the French presidency the services of Colonel Muammar Gaddafi to free former hostage Ingrid Betancourt (photo) from her FARC captors in Colombia. Fabrice Arfi and Karl Laske report.
French police quiz President Nicolas Sarkozy's adviser and friend Brice Hortefeux over his access to confidential evidence in 'Karachigate' case.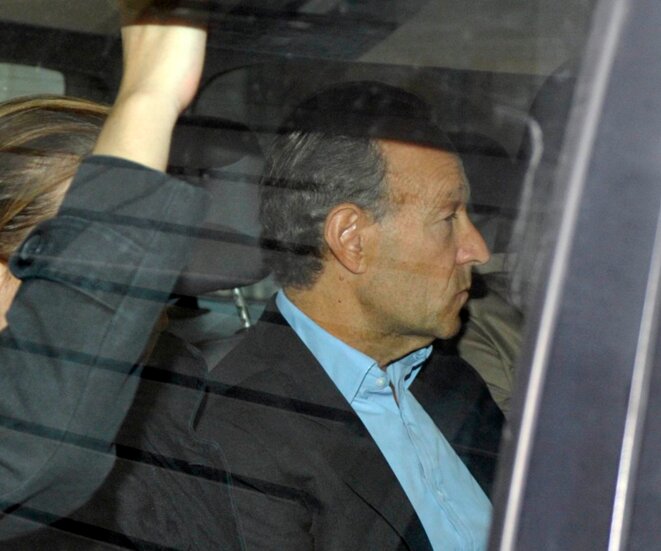 Thierry Gaubert © Reuters
After a week of startling developments, the French presidency was this weekend engulfed by yet more revelations over the illegal political party funding scandal dubbed as Karachi-gate, involving secret cash payments siphoned off from French weapons sales abroad, notably to Pakistan, which implicates both the French president and his close political entourage. Two of Nicolas Sarkozy's longstanding political servitors, Nicolas Bazire and Thierry Gaubert (photo), are now under official investigation over their alleged role in the affair, which includes the transport to Paris of suitcases stuffed with cash from a Swiss bank vault. Meanwhile, presidential advisor Brice Hortefeux, one of Sarkozy's closest friends, has been caught by phone taps informing Gaubert, while he was in police custody, of damaging statements made by his estranged wife, Princess Hélène of Yugoslavia. In this report on the latest developments in the case, Mediapart exclusively reveals excerpts of what Gaubert told the police, along with the official transcript of a phone conversation in which his daughter speaks of Sarkozy, Hortefeux and other senior officials as being "in the shit". Fabrice Arfi and Karl Laske report.