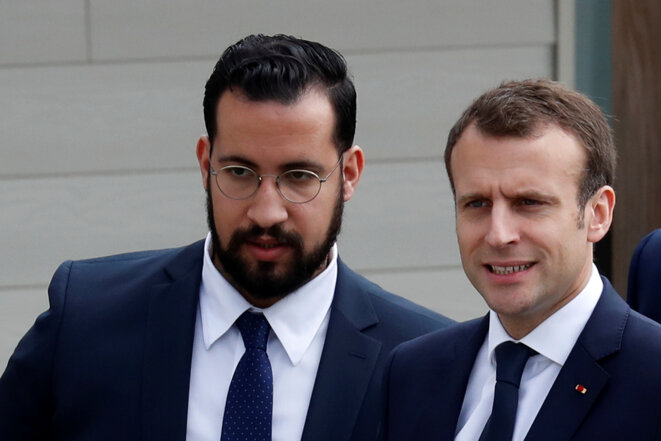 Alexandre Benalla and President Emmanuel Macron during a visit to Normandy April 12th 2018. © Reuters
An investigation by Mediapart sheds dramatic new light on the affair involving Alexandre Benalla, who was a security aide to President Emmanuel Macron until he was sacked when video footage emerged showing that he had used violence against protestors at a demonstration. In particular recordings of Benalla talking to the former head of security for the ruling LREM party, Vincent Crase, who also lost his job over the scandal, reveal details about a secret meeting that breached a judicial control order, about a security contract with a Russian oligarch close to Vladimir Putin, and Benalla's ongoing communications with President Macron. Fabrice Arfi, Antton Rouget and Marine Turchi report.
The Élysée Palace says she conducts walkabout meetings with her aides to stay in touch with public opinion, which she reportedly relays to her husband who is widely accused of being out of touch with the aspirations of ordinary people.
At a time of national belt-tightening due to his far-reaching programme of economic reforms, French President Emmanuel Macron and his wife Brigitte have caused controversy over their decision to order new crockery for the Elysée Palace that one media report estimated has cost 500,000 euros.
She told French media she felt she was Emmanuel Macron's wife not 'a first lady' and said she disliked the fact that there was no 'time off'.
Fraudsters tried to wangle invitations to luxury hotels and tickets to Australian Grand Prix by using identity of French president's wife.
French 'First Lady' announces break from tradition by standing alongside husband President Emmanuel Macron on state visits.
The new president's approval ratings have collapsed to 40 per cent ahead of a crunch week for the new administration.
Proposal made by Emmanual Macron during presidential camapign to create a new First Lady status has been shelved following an outcry.
In her first interview since her husband Emmanuel was elected as France's president in May, Brigitte Macron tells Elle magazine that her contested role as an official 'first lady', promised by her spouse, 'will be published on the Élysée site so the French know exactly what I'm doing'.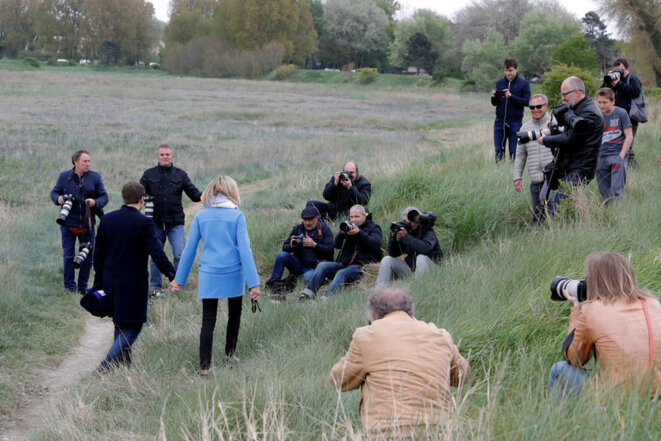 Emmanuel Macron and his wife Brigitte in a staged photo shoot during his election campaign.
French president Emmanuel Macron has lodged a legal complaint for "harassment" and "violation of personal privacy" against a photographer he alleges entered the private property in Marseille where the president and his wife Brigitte were holidaying. The photographer, Thibaut Daliphard, denies trespassing but was arrested and questioned for six hours in custody, when his computer and images were studied by police. Thomas Cantaloube and Michaël Hajdenberg report on the events which highlight Macron's very firm control of his public image and the journalists who follow him, and also the highly questionable legal move of a president who is by virtue of the French constitution immune to prosecution.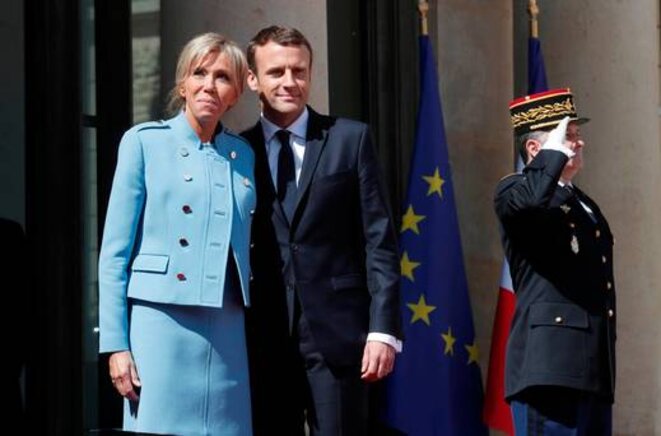 Brigitte and Emmanuel Macron on the steps of the Elysée Palace. © Reuters
The French government on Tuesday appeared to be backtracking on President Emmanuel Macron's pledge to provide his wife Brigitte with an official, legal status of "First Lady", with the announcement that the position will now be the subject of a "charter". The development came after an online petition launched last month against creating an official title of First Lady has attracted almost 300,000 signatures. Mediapart political commentator Hubert Huertas argues here that, whether the role of "première dame" is enshrined in a charter or by official status, the petition has focussed attention on both a fundamental problem and a pile of hypocracy.
An online petition against French President Emmanuel Macron's move to give official 'First Lady' status to his wife Brigitte, presented in a bill of law before parliament last week, has attracted 200,000 signatures, arguing that there is no justification that public funds should be granted to his spouse.
On a tour of the Hôtel des Invalides military complex in Paris during his two-day state visit to France, accompanied by his wife Melania and French President Emmanuel Macron and his wife Brigitte, US President Donald Trump was filmed telling the latter, who is aged 64, 'You're in such good shape' and insisting to Macron 'She's in such good physical shape'.
Emmanuel Macron's drama coach when he was 15 is set to break new ground by having a formal job description as First Lady.