Hubert Caouissin, 50, who admitted murdering his brother- and sister-in-law and the couple's two children in Brittany in 2017 over a dispute in which he believed they were hiding a stash of Nazi gold, has been given a 30-year jail sentence, while his wife, found guilty of helping to dispose of their bodies, was sentenced to three years in prison, one suspended.
A spectator holding a large sign had their back to the cyclists with the sign sticking out into the road at handlebar height and cyclist Tony Martin hit the sign, triggering the crash on Saturday's stage 1 of the 3-week event.
The R rate of infection has risen from 0.92 to 2.62 in just five days in the western region as the summer holidays get under way.
A Belgian air force F-16 fighter jet crashed near Lorient in Brittany, north-west France, on Thursday, tearing the roof of a house and setting fire to a shed, while one of its ejected two-man crew became stuck for two hours when his parachute entangled a high-voltage electricity line.
More than 100 animals have fallen victim to the mystery killer since he or she began their murderous spree in and around a village in Brittany.
The victims, part of a school group from Brittany on a visit to London, were mowed down when the driver of a vehicle mounted a pavement on Westminster Bridge and rammed into pedestrians, killing at least two people and injuring about 20 others.
Hubert Caouissin says he killed his former brother-in-law Pascal Troadec, his wife and the couple's two children in dispute over gold pieces. 
Manuel Valls, who resigned in December to run in Socialist Party primaries to choose its presidential election candidate, was slapped to the face as he shook hands with a crowd of supporters in Lamballe, north-west France.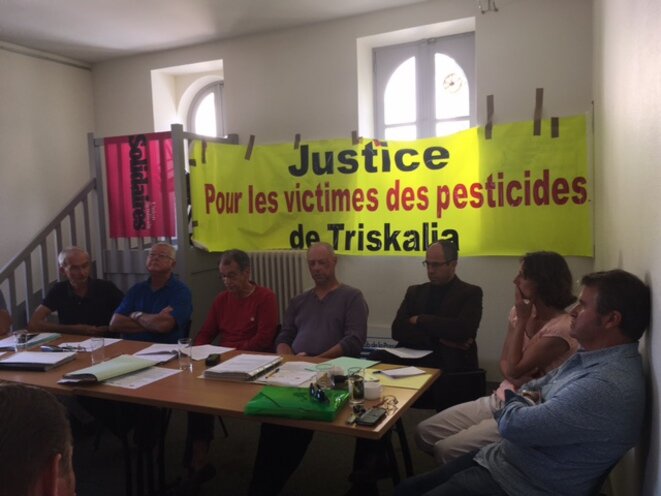 Press conference by former Triskalia workers at Rennes, September 9th, 2016. © JL
In a legal first in France, a court has awarded damages to two ex-employees of a Brittany animal feed firm after they were exposed to pesticides at work. The award is a milestone because it recognises that what is known as 'multiple chemical sensitivity' from pesticide exposure is an occupational disease, and lays the blame squarely with the employer. The ruling also recognises that agricultural workers can be affected even if they do not work in the fields. Jade Lindgaard reports.
Two health and safety inspectors believe their car was deliberately sabotaged during a visit to a market gardener in west France, and are furious that prosecutors dropped their investigation. The affair highlights mounting tension between state officials and farmers as the latter protest about low prices and as the government tries to placate farmers' ire by telling officials to ease off on their inspections. Mathilde Goanec reports.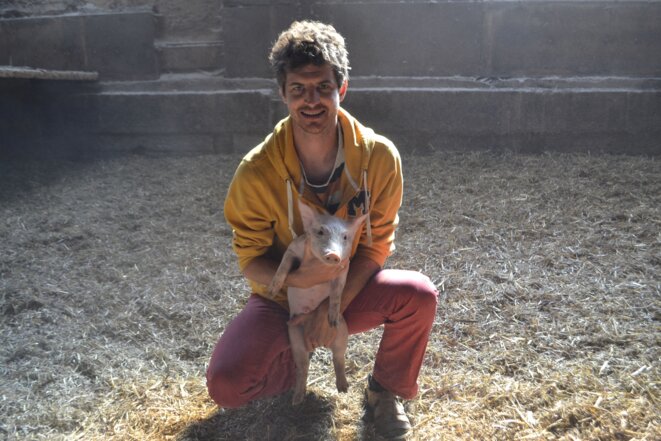 Pierre-Yves Floch, dans sa porcherie bio © JS
French farmers last week blocked Paris with more than 1,500 tractors in the latest of a series of protests at the dire financial difficulties many now find themselves in, which they blame on ever-lower prices paid for their produce, taxes and social charges, and industry standards that are strangling them in red tape. But a growing number of smallholdings in France are successfully bucking the trend, proving that there is an economically viable alternative to the failed model of conventional farming and mass production sold on the cheap - in the form of quality produce sold directly to local outlets. Julien Sartre reports from Brittany.
As benchmark pig auction in Brittany reopened Tuesday, the absence of large meat processors meant prices could fall below agreed minimum.
The tragedy in Brittany in west France, which occurred after a late-night party, came as a senior minister called for lower speed limits.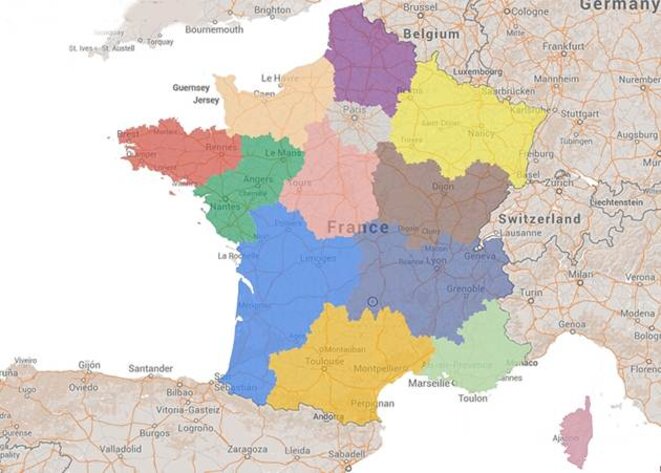 Since François Hollande personally redrew the map of France in June as part of his local government reforms, the shape of the country's regions have been amended several times. However, French MPs recently voted to approve the latest version of the regional boundary changes, which now seems likely to form the new face of France. Mediapart has examined this regional structure, which reduces the number of regions from the current 22 to 13, to see what impact it will have on demographics, economic growth and employment. It seems clear that one result of the reforms will be to increase the wealth of already well-off regions and leave isolated areas languishing even further behind. Yannick Sanchez reports.