Related keywords
The continuing street demonstrations and blockades in France mounted by the so-called 'Yellow Vest' movement demanding an end to falling living standards for lower-income earners has become a 'catastrophe for our economy' said French finance minister Bruno Le Maire as he visited parts of Paris where commercial premises and vehicles were vanadlised during weekend protests.
French finance minister Bruno Le Maire said economic results are unsatisfactory 'compared to our European neighbours'.
President Macron's government is getting ready to sell off its stakes in national giants in its planned loi PACTE amid opposition protests.
French Finance Minister Bruno Le Maire, speaking in German to a business conference in Berlin, said France and Germany had 'a way to go' in order to reach a common position for an ambitious reform of the eurozone, adding, 'We must act, it is now or never'.
Economy minister Bruno Le Maire says he will seek parliament's approval to abolish the minimum state holdings in four major companies.
French finance minister Bruno Le Maire warned that the bloc could succumb to nationalism if they failed in their attempts at reform.
France is spearheading a plan to tax the turnover of internet giants that manage to avoid paying corporate taxes on profits in European countries where they operate. But despite its bold appearance, and the backing of seven other countries, the plan is beset by political and highly technical problems. And even at this embryonic stage it has little chance of succeeding, writes Romaric Godin.
Ministers insist 2018 budget will benefit both rich and poor after criticism from left-wing critics over slashing of a tax on financial investments.

Facing problems: President Emmanuel Macron.
The first series of the Macron show has come to an end. Now, as the political world returns after the summer break, the show threatens to become more of a (grim) reality TV series. President Macron is confronted by three main issues: his economic policy is right-wing, many of his key measures are unpopular and he lacks heavyweight communicators in his party's ranks. As a result the new head of state seems set to change his communication strategy and get more involved in the fray. Mediapart's editor François Bonnet reports.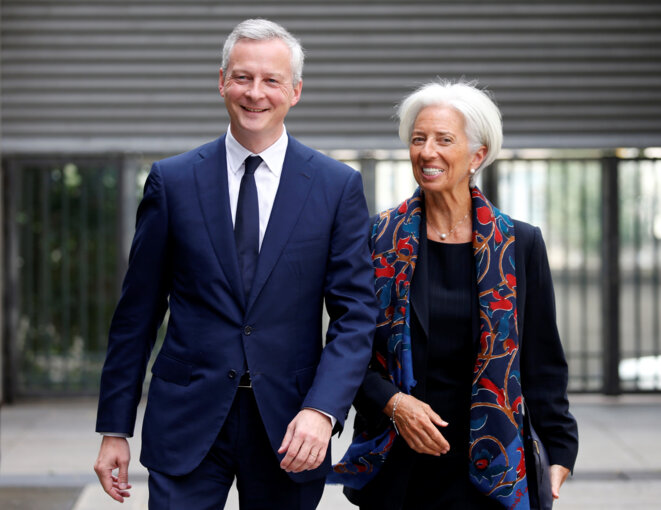 France's economy minister, Bruno Le Maire, with Christine Lagarde, managing director of the IMF. © Reuters
To the immense satisfaction of France's finance ministers, the International Monetary Fund recently lavished praise on the new French government's economic policies. Yet the IMF's comments on French policy run contrary to the organisation's own admissions over its past analytical failings, its change in economic thinking and much of its own internal research. Romaric Godin says this inevitably raises questions about whether the IMF was taking a political stance towards President Emmanuel Macron's new administration rather than giving economic analysis.
Economy minister says Paris will take control of STX France shipyard and find another buyer unless Italy agreed to split ownership of the asset.
French minister said it was time for Europe to defend its own interests and make Google, Amazon and Facebook pay 'taxes they owe in Europe'.
French economy minister Bruno Le Paire met with his German counterpart Wolfgang Schäuble in Berlin on Monday, when the pair agreed that a working group would be set up to study measures for greater integration of the 19-member eurozone before a planned bilateral summit in July.
The end of the battle for Syria's second city and the plight of its civilians have drawn different responses from across France's political spectrum. On the Right the line taken by conservative presidential candidate François Fillon has been close to that of the far-right Front National, with his defence of the Assad regime and Vladimir Putin. The ruling Socialist Party and the Greens have emphasised their support for Syria's opposition, while the radical left presidential candidate Jean-Luc Mélenchon has adopted an anti-imperialist stance, with the United States as his main target. Lénaïg Bredoux, Lucie Delaporte and Christophe Gueugneau report.