French economy and finance minister Bruno Le Maire has announced an end to across-the-board financial support to businesses to help them survive the downturn caused by the coronavirus pandemic and resulting restrictions, detailing that future aid will only be made available on a case-by-case basis.
 Finance minister Bruno Le Maire cut the country's 2021 GDP growth forecast to 5% from 6%, following an 8.1% contraction last year.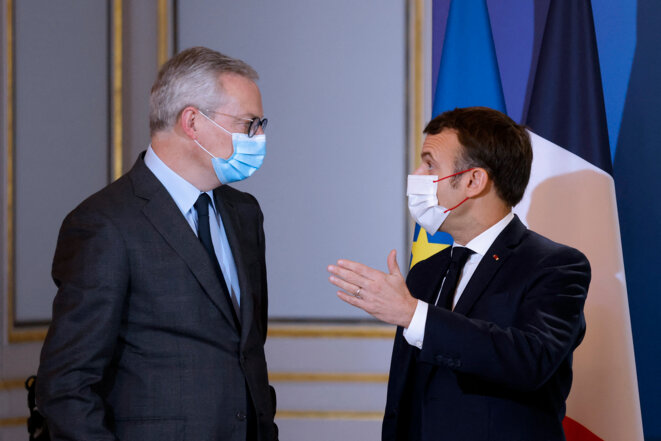 Lost gamble? Economy minister Bruno Le Maire and President Emmanuel Macron. © Yoan VALAT / POOL / AFP
President Emmanuel Macron is said to have taken a "gamble" over health restrictions by not locking down France for the third time when the number of Covid-19 cases started rising once more in January. But the head of state has also gambled on the economy too. The French government thought that it could moderate the impact of the epidemic on economic activity through more limited but longer term restrictions. But as Romaric Godin reports, the French "economic resistance" proclaimed by the government could well turn out to be a painful illusion for the country and its public.
In an interview with the Financial Times, finance minister Bruno Le Maire pushes for fiscal rules review to overcome 'blockages' in paying out grants.
News of Bruno Le Maire's positive test came as new COVID-19 cases in France went above 13,000 for the second day in a row.
French finance minister Bruno Le Maire on Monday said emergency government aid for the country's carmakers, an industry severely hit by the effects of the Covid-19 epidemic, is conditional to them bringing certain manufacturing activity home to France from abroad.
Finance minister Bruno Le Maire said planned merger provided 'critical size to face the dual challenges of autonomous vehicles and electric cars'.
EDF's Flamanville 3 nuclear project in France is running more than 10 years behind schedule and has racked up billions of euros in cost overruns.
The hitherto state-run French lottery operator Française des Jeux (FDJ) will begin opening up its capital to private investors as of November 7th, French economy and finance minister Bruno Le Maire has announced, amid expectations that the sales of shares will raise around 1 billion euros.
French economy and finance minister Bruno Le Maire has said France will seek to prevent Facebook's digital currency Libra from rolling out in Europe, arguing that it represents 'risks of abuse of dominant position, risks to sovereignty and risks for consumers and for companies'.
French carmaker Renault, partly state-owned, could reduce its stake in its Japanese counterpart Nissan in an effort to save the strained commercial alliance between the two marques, said France's economy and finance minister Bruno Le Maire, adding that French plans for a merger between the two, resisted by Nissan, could be abandoned.
Fiat-Chrysler pulled out of the talks, saying the 'political conditions' in France did not currently exist for such a merger to proceed successfully.
General Electric's cost-saving plan calls for cutting up to 1,044 positions, mainly at its Belfort site in east France, which employs 4,300 people.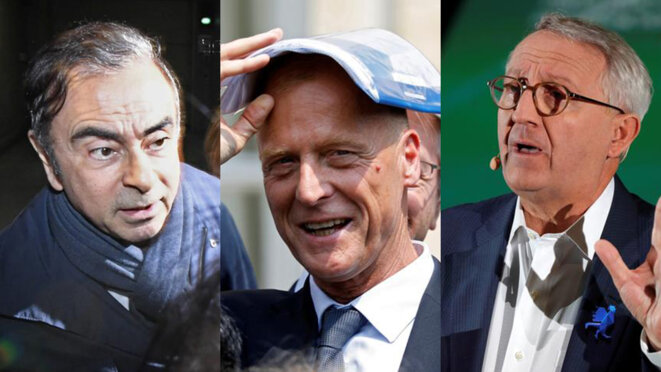 Left to right: Carlos Ghosn, formerly of Renault, Tom Enders who is leaving Airbus and Thierry Pilenko of TechnipFMC. © Reuters
Over the years there have been repeated scandals about the lavish top-up pensions awarded to the bosses of some of France's biggest firms, most recently involving Renault, Airbus and energy industry engineering firm TechnicFMC. Now, in a bid to end such controversies, the government's finance minister Bruno Le Maire is promising legislation to restrict the level of these lucrative perks. But as Mediapart's Martine Orange reports, the measure already looks as if it will be little more than window dressing.