Related keywords
Fiat-Chrysler pulled out of the talks, saying the 'political conditions' in France did not currently exist for such a merger to proceed successfully.
General Electric's cost-saving plan calls for cutting up to 1,044 positions, mainly at its Belfort site in east France, which employs 4,300 people.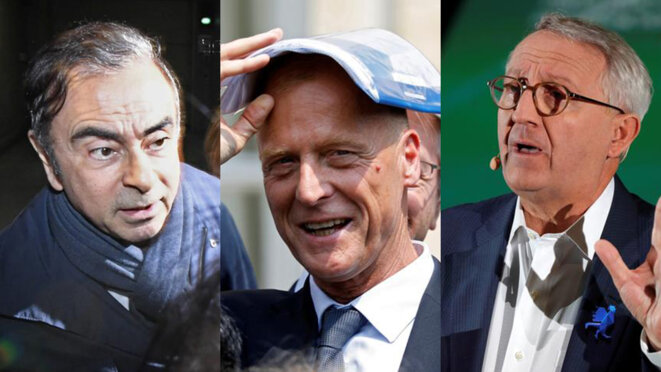 Left to right: Carlos Ghosn, formerly of Renault, Tom Enders who is leaving Airbus and Thierry Pilenko of TechnipFMC. © Reuters
Over the years there have been repeated scandals about the lavish top-up pensions awarded to the bosses of some of France's biggest firms, most recently involving Renault, Airbus and energy industry engineering firm TechnicFMC. Now, in a bid to end such controversies, the government's finance minister Bruno Le Maire is promising legislation to restrict the level of these lucrative perks. But as Mediapart's Martine Orange reports, the measure already looks as if it will be little more than window dressing.
The continuing street demonstrations and blockades in France mounted by the so-called 'Yellow Vest' movement demanding an end to falling living standards for lower-income earners has become a 'catastrophe for our economy' said French finance minister Bruno Le Maire as he visited parts of Paris where commercial premises and vehicles were vanadlised during weekend protests.
French finance minister Bruno Le Maire said economic results are unsatisfactory 'compared to our European neighbours'.
President Macron's government is getting ready to sell off its stakes in national giants in its planned loi PACTE amid opposition protests.
French Finance Minister Bruno Le Maire, speaking in German to a business conference in Berlin, said France and Germany had 'a way to go' in order to reach a common position for an ambitious reform of the eurozone, adding, 'We must act, it is now or never'.
Economy minister Bruno Le Maire says he will seek parliament's approval to abolish the minimum state holdings in four major companies.
French finance minister Bruno Le Maire warned that the bloc could succumb to nationalism if they failed in their attempts at reform.
France is spearheading a plan to tax the turnover of internet giants that manage to avoid paying corporate taxes on profits in European countries where they operate. But despite its bold appearance, and the backing of seven other countries, the plan is beset by political and highly technical problems. And even at this embryonic stage it has little chance of succeeding, writes Romaric Godin.
Ministers insist 2018 budget will benefit both rich and poor after criticism from left-wing critics over slashing of a tax on financial investments.

Facing problems: President Emmanuel Macron.
The first series of the Macron show has come to an end. Now, as the political world returns after the summer break, the show threatens to become more of a (grim) reality TV series. President Macron is confronted by three main issues: his economic policy is right-wing, many of his key measures are unpopular and he lacks heavyweight communicators in his party's ranks. As a result the new head of state seems set to change his communication strategy and get more involved in the fray. Mediapart's editor François Bonnet reports.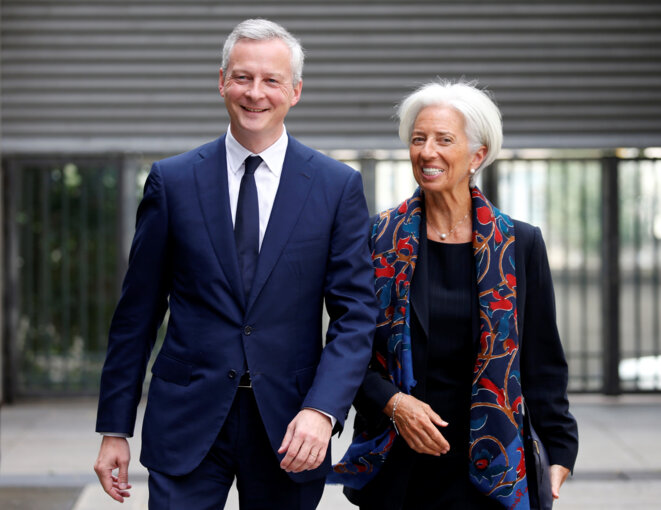 France's economy minister, Bruno Le Maire, with Christine Lagarde, managing director of the IMF. © Reuters
To the immense satisfaction of France's finance ministers, the International Monetary Fund recently lavished praise on the new French government's economic policies. Yet the IMF's comments on French policy run contrary to the organisation's own admissions over its past analytical failings, its change in economic thinking and much of its own internal research. Romaric Godin says this inevitably raises questions about whether the IMF was taking a political stance towards President Emmanuel Macron's new administration rather than giving economic analysis.
Economy minister says Paris will take control of STX France shipyard and find another buyer unless Italy agreed to split ownership of the asset.