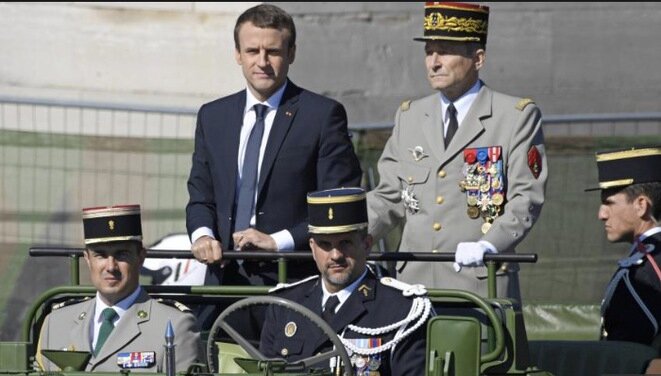 President Emmanuel Macron and General Pierre de Villiers (standing) during this year's Bastille Day parade. © Reuters
President Emmanuel Macron's government last week announced a package of public spending cuts, including 850 million euros to be slashed from France's 2017 defence budget in an effort to bring the public deficit to below 3% of GDP, as demanded by the EU. That prompted a furious reaction from the French military's chief-of-staff, General Pierre de Villiers, who was subsequently publicly slapped down by Macron, reminding the general who is "the boss". In this wry analysis of the spat and the controversy it has provoked, Mediapart political commentator Hubert Huertas sees an illustration of political gymnastics by Left and Right, but also a surprising insight into Macron's forthcoming labour law reforms.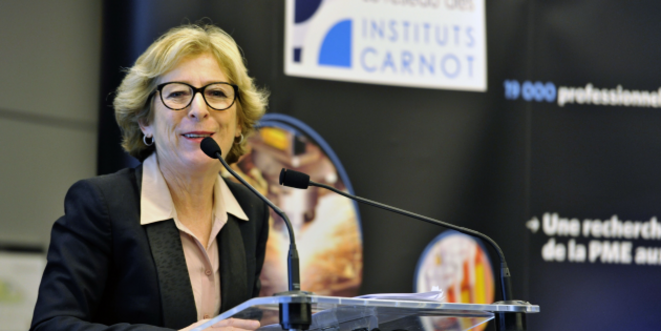 © Reuters
French higher education and research minister Geneviève Fioraso, who had been in the post since the election of President François Hollande in May 2012, resigned earlier this month citing health reasons. Her departure comes amid widespread disquiet among staff in universities and research institutes whose budgets have been bled by public spending cuts and ill-prepared reforms that began under the previous conservative administration. Mediapart education correspondent Lucie Delaporte analyses the deep malaise accentuated by Fioraso's term in office, which many see as a missed opportunity for the socialist government.
New six-year defence budget details more than 30,000 defence posts to be axed and orders for jet fighters and other equipment reduced or delayed.
The high-speed train, or TGV, is one of France's major engineering success stories of the past three decades, revolutionizing transport in a country with largest surface area in Western Europe. Two years ago, a vast, ambitious plan was announced to extend the high-speed train network with 14 new lines in a north-south, east-west grid inter-linking most major French cities and regions. But now France's new socialist government, battling a huge public deficit, has decided to pull the plug on a project it describes as "a headline-grabbing announcement" that was one of "a multitude of projects conceived without the beginning of the least financing".  
A group of 70 French charitable organizations, all involved in helping people in situations of social exclusion, from the homeless to the handicapped, launched a public appeal Thursday warning against the dramatic effects of economy-driven social policies and budget cuts which they say are only creating greater financial problems for the future. Carine Fouteau reports.
Across Europe, governments have brought in massive budget cuts totalling up to 400 billion euros to stem rising deficits. Ministers say the cuts are necessary to bring about economic stability and reassure the markets. Critics say they are unjust, hitting the poorest the hardest, and unsound, marking a return to failed economic dogmas of the past. So are these so-called austerity plans really unavoidable? What do all these billions in announced savings really represent - and could these drastic plans in fact kill off any return to economic growth?