French President Emmanuel Macron has held a summit in Pau, south-west France, with leaders of five West African states engaged alongside France in fighting jihadist forces in the Sahel when he announced a further 220 French troops would be sent to the region to join their 4,500 colleagues already on the ground and the creation of a joint command structure with regional states.
Facing hostility in five former colonies over a stalled fight against extremists, President Macron has taken a harsh public stance but few expect him to follow through.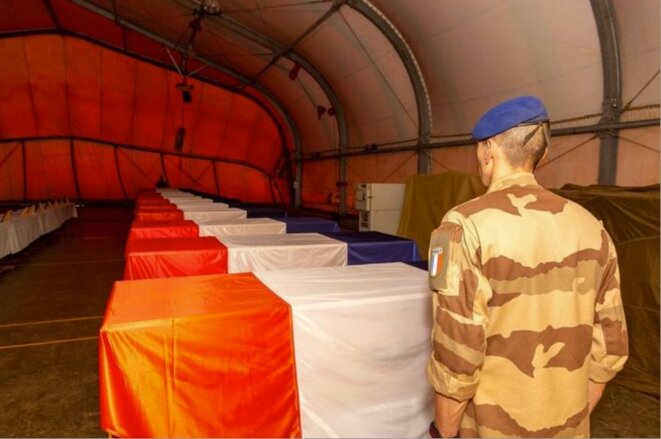 A French soldier at Gao in Mali deep in reflection in front of the coffins of the 13 French troops killed in the country on November 25th 2019. © Reuters
On Monday November 25th 13 members of the French military were killed when two helicopters crashed in Mali during France's ongoing military operations there. The grim news sparked debates back in France about the country's military involvement in the Sahel region of Africa. But as Mediapart's René Backmann writes, the legacy of France's colonial past and the remnants of its post-colonial approach to the continent known as 'Françafrique' suggest that President Emmanuel Macron's government will be unable to see that military combat against jihadism is not the only response that is needed to tackle the region's instability.
President's intervention came as he paid tribute to two special forces soldiers killed as row continued over risks taken by the French tourists.
Two French tourists kidnapped while on a safari trip in Benin and who were rescued last week along with two other hostages after their captors transferred them to the Sahel region of Burkina Faso, arrived at a military airfield close to Paris on Saturday where they and a South Korean woman freed with them were greeted by President Emmanuel Macron.
Two French tourists who were taken hostage earlier this month while exploring the Pendjari national park in Benin, when their guide was murdered, arrived back in France on Saturday. They were freed from a location in nearby Burkina Faso by a special forces operation on Friday, during which two French marines lost their lives. The dramatic events have highlighted how jihadist groups have recently begun seizing control of swathes of this region of West Africa, taking advantage of a growing resentment among sections of the population against state authorities. Rémi Carayol reports.
Two marines and four suspected kidnappers died in an exchange of fire when a French special forces unit overnight rescued two French nationals, an American and a South Korean being held hostage in northern Burkina Faso.
Eight members of the armed forces were killed, and 80 people were wounded, while security minister said eight attackers had been shot dead.
It was not clear who was behind the violence but Burkina Faso and other African countries have been targeted by jihadist groups in recent years.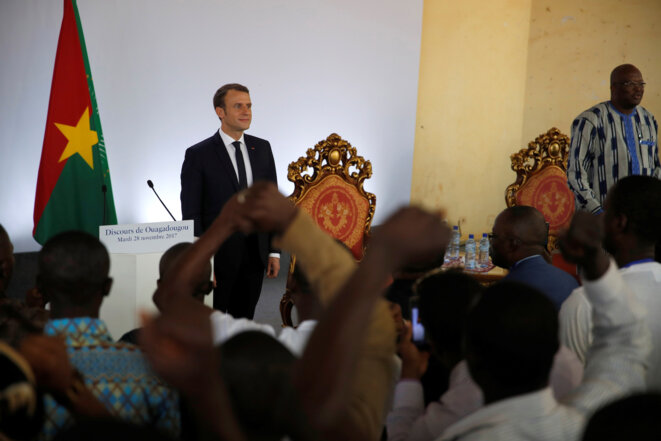 Emmanuel Macron speaking at the University of Ouagadougou in Burkina Faso on Tuesday November 28th, 2017. © Reuters
On his first tour of Africa last week President Emmanuel Macron vowed to do away with France's old and discredited approach to the continent. Addressing 800 students in the Burkina Faso capital of Ouagadougou, the French head of state certainly struck a fresh tone, talked of new projects and themes and signalled the passing of an old generation. But as Mediapart's editor François Bonnet reports, the old and serious problems confronting France in its relations with Africa have not gone away.
Speaking in Burkina Faso, French president pledged to shed his country's colonial attitude and forge new relationship with continent.
François Compaore was arrested at Paris's Charles de Gaulle airport on Sunday in connection with the killing in 1998 of journalist Norbert Zongo who became a symbol of repression during his brother Blaise Compaore's 27-year rule in Burkina Faso, which ended in 2014 after a popular uprising.
The attack by gunmen on diners sitting at a restaurant terrace in the Burkina Faso capital Ouagadougou on Sunday left 20 dead, according to local officials, including at least one French national, 18 months after 30 people died in a jihadist attack on a nearby café. 
The renowned 33-year-old died from wounds sustained in Friday's terrorist attack on a hotel and café in the West African country's capital.