Tom Ciotkowski, a council worker from Stratford-upon-Avon in the UK, was violently arrested while filming riot police preventing humanitarian volunteers from distributing food to refugees in the northern French town of Calais in July 2018.
The local authorities in the Channel port of Calais, north-west France, anticipate that a return of trade tariffs after Britain's planned exit from the EU's single market will revive the cross-Channel 'booze cruises' that saw Britons in the 1980s and 1990s day-trip to the town to buy cheap cigarettes, beer and wine on board ferries.
Calais port chief Jean-Marc Puissesseau says Brexit delays have fouled up budget planning.
Eight people taken to hospital after showing symptoms of hypothermia; truck was heading to UK where 39 people were found dead in a container lorry last week.
While Britain's transport minister described setting up new post-Brexit controls at its borders as 'utterly unrealistic', France has begun building new customs inspection posts dedicated to UK-exported horses and other large animals in Calais, and another for fish in nearby Boulogne, as part of a 50-million-euro contingency plan announecd last week in the case of a no-deal withdawal of the UK from the European Union.
Around 250 unaccompanied minors are camped out in freezing temperatures with no proper access to food, amid claims of attacks by police.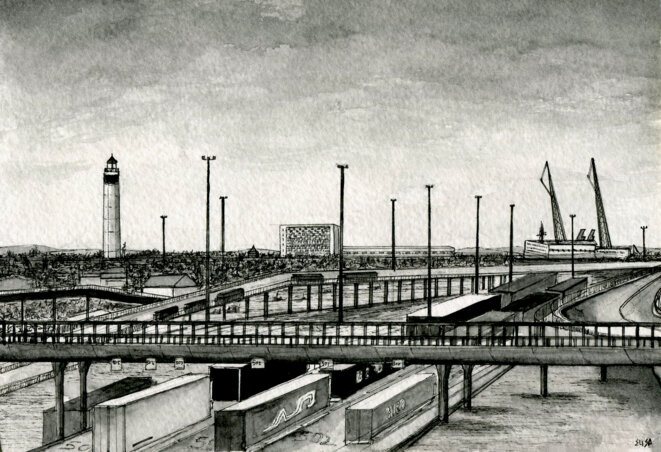 The port of Calais: dark times ahead? © Elisa Perrigueur
British Prime Minister Theresa May was in Brussels on Thursday and Friday for a frantic series of meetings to convince EU leaders to provide clarifications over her Brexit deal with Brussels, hoping for their help to obtain parliamentary approval of the agreement reached last month for the UK's withdrawal from the bloc. But for most observers, the chances of avoiding a hard Brexit before the deadline of next March are receding by the day. In the northern French coastal town of Calais, through which tens of millions of tonnes of goods pass yearly in trade between the UK and the continent, many fear catastrophic consequences of a hard Brexit, with the very likely prospect of the Channel port becoming paralysed. Elisa Perrigueur reports.
Xavier Bertrand, president of the Hauts-de-France region which includes the port, said ensuring the 'fluidity' of trade was essential.
Charities distributing food to homeless migrants in the French port allege 600 acts of intimidation by officers, including teargassing.
President of region that includes Calais, Boulogne and Dunkirk, urged EU to review decision to ship goods via Belgium and Netherlands instead.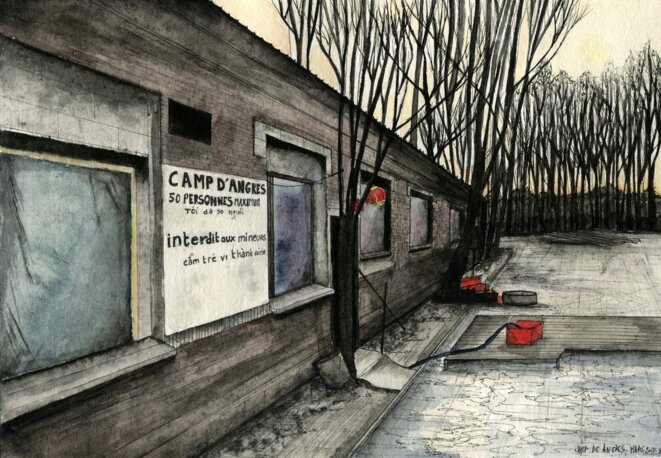 The camp dubbed 'Vietnam City' at Angres, 100 kilometres from Calais. © Elisa Perrigueur
Each year many Vietnamese migrants arrive in France after trekking across Europe in their long and arduous bid to get to the United Kingdom. For hundreds of them the last stop before their attempt to cross the English Channel is a discreet camp at Angres one hundred kilometres from the Port of Calais and which is known locally as 'Vietnam City'. The camp is controlled by traffickers, who are fiercely protective of their 'prime location' next to the main motorway to the Channel and next to a service station where UK-bound lorries park. But as Elisa Perrigueur reports, even if the Vietnamese migrants do make it to Britain, many will find themselves working as modern day slaves on illegal cannabis farms.
Britain's struggling National Health Service, which pro-Brexit leaders misleadingly promised would recieve a windfall from the country's exit from the EU, is discreetly sending patients on lengthy waiting lists for far quicker treatment in France, like this Brexit supporter who, facing a year to have knee surgery, found relief in just ten days.
New arrivals in France lack rights and help in navigating minefield of bureaucracy, French MPs have been told.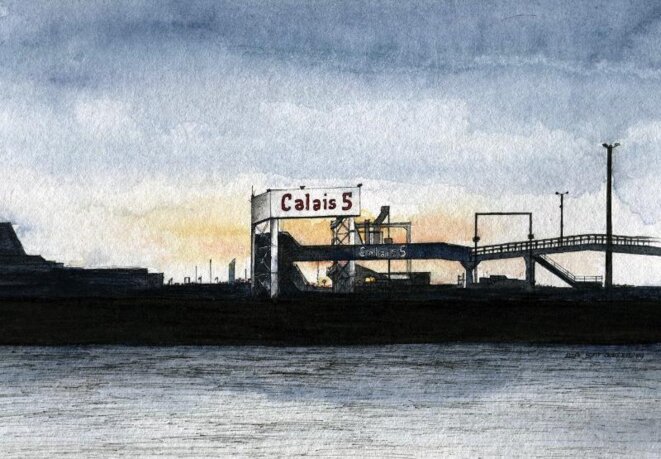 A sketch of a ferry terminal at Calais. © Elisa Perrigueur
Since 1999, an estimated 170 migrants desperately seeking a clandestine passage across the Channel to Britain have died in road accidents in and around the port of Calais in northern France, 37 of them since 2015. One former police officer said the situation became so grim "it was humanly impossible to pick up more bodies from the road". One of the most recent victims was a 22-year-old Eritrean whose mutilated body was found on a motorway last month after he was run over by a truck whose driver fled the scene. Elisa Perrigueur reports from Calais, where she met with Biniam's relatives as they prepared the return of his body home to north-east Africa.