There has been a steep increase in the number of African visitors who have had their visa applications rejected by the French authorities over the last five years. According to applicants and lawyers, requests to visit France regularly get turned down for no good reason. Yet, as Fanny Pigeaud reports, a recent case in Nantes in western France shows that some visa refusals can be overturned by the courts.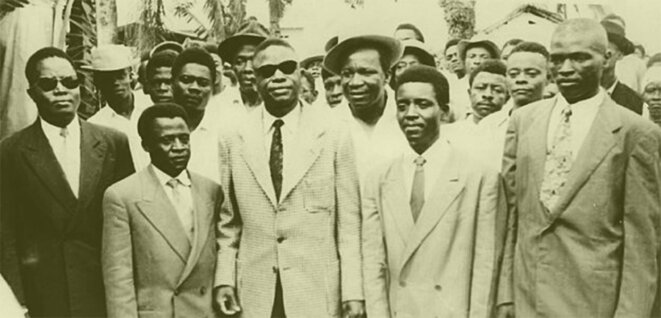 Ruben Um Nyobè, centre, in dark glasses. © DR
Ruben Um Nyobè is a symbolic figure in the story of anti-colonial resistance in Africa. A champion of independence in his native Cameroon, Nyobè was killed by the French army in 1958 after which France and its local allies sought to wipe him from the country's collective memory. In his latest album Cameroon musician Blick Bassy pays homage to Ruben Um Nyobè, his achievements and his personal struggle in an attempt to spark new interest in his life and writings. Fanny Pigeaud reports.
Teachers join strike led by lawyers over official use of French in English-speaking part of the country where ten were killed in demonstrations.
In early May Boeing 777 pilots diverted to avoid storm clouds but their route took their jetliner towards 13,000-foot Mount Cameroun.
French detectives suspect controversial comic laundered hundreds of thousands of euros via Africa as showdown looms over his 'banned' show.
French president Francois Hollande personally greets priest and praises his 'courage' during seven weeks captivity in hands of armed group.
The Central African Republic (CAR), where French troops are engaged in attempting to restore order amid inter-religious violence and which has long been the scene of political chaos, is governed more by its influential neighbouring states than any true national leadership, writes Mediapart international affairs correspondent Thomas Cantaloube. In this analysis of a complex and seemingly blocked situation for the country's future, he concludes that the French military intervention is unlikely to remove - and more likely to maintain - the fundamental reasons for the turmoil in CAR.
Banned Nigerian Islamist group claims it was they who kidnapped Georges Vandenbeusch from his home near Koza in northern Cameroon.
French president warns citizens living in or travelling to 'high-risk' areas abroad not to do anything that could increase threat of kidnapping.
Georges Vandenbeusch, who was seized at Koza about 30km from the Nigerian border, had chosen to remain in the area despite the risks.
Islamist militant group Boko Haram was paid more than $3m before releasing a French family of seven, according to a Nigerian government report.
France says it paid no ransom for the release of the three adults and four children kidnapped in February, who are reported to be in good health.
French family of seven kidnapped in Cameroon last week appeared in video posted online by captors demanding imprisoned Islamists be freed.