Related keywords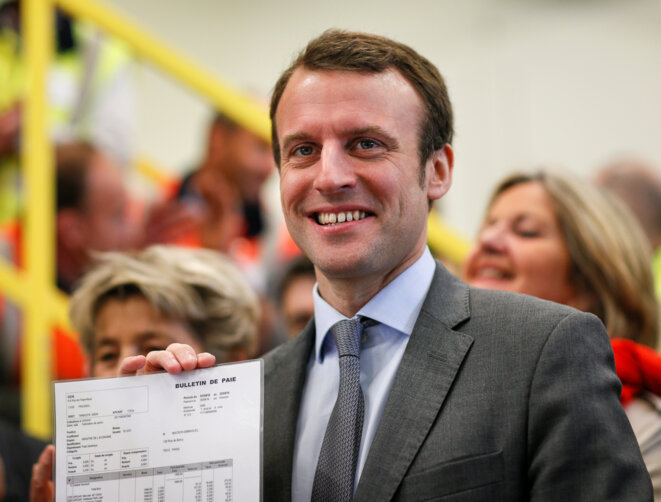 Emmanuel Macron in May 2016. © Reuters
In order to finance his election campaign, Emmanuel Macron succeeded in raising almost 13 million euros in what was a remarkable achievement for his maverick centrist political movement En Marche ! created barely one year before his election as president. But contrary to the image put about by his campaign team that it was the result of a spontaneous surge of popular support, the funds were primarily sourced from a powerful network of bankers, financiers and businessmen, as information gathered from the massive leak of hacked En Marche ! internal documents and verified by Mediapart reveals.
Experts from US- and Japan-based cybersecurity firms have suggested that the massive pre-election hacking of documents from French president-elect Emmanuel Macron's campaign team, and which were posted online with reportedly fake contents, was the work of groups reportedly affiliated to Russian military intelligence.
The Front National has seen its requests for a loan for the presidential electon campaign of its leader, Marine Le Pen, turned down by French banks, said the party's secretary-general, who claimed that political motives were behind the lenders' refusal.
The explicit poster and social media campaign is part of a wider government-led crackdown this year on harassment of women in public places. 
The world's top tourist destination launches campaign to raise numbers of visitors to a yearly 100 million by 2020, urging the hosts to be less gruff.
Investigation centres on claims UMP party should not have paid Sarkozy's fine after former president's 2012 campaign broke election spending limits.
The former French president, campaigning for leadership of his conservative UMP party, had previously come under fire for dodging the issue.
The French nudist federation has launched a campaign to rid France's naturist resorts of a reputation that they serve those looking for open sex.
The official body that scrutinises election funding has refused to publish its reasons for rejecting Nicolas Sarkozy's accounts for the presidential campaign last year. Now Mediapart has obtained a ruling that the organisation must reveal the reasons behind its decision or risk flouting the law. Mathilde Mathieu explains the background to an obscure administrative wrangle with potentially wide-ranging consequences.
Stern union opposition to Peugeot Citroën's plans to slash 8,000 jobs announces tough test ahead for other European carmakers mulling similar moves.
The shooting of a rabbi and three young children at a Jewish school in Toulouse in south-west France and the earlier killing of three off-duty French soldiers have shocked the nation. These tragic events occurred as the presidential election entered its final month, forcing the candidates to reconsider their strategies. Some chose to suspend their campaign, others carried on electioneering. Lénaïg Bredoux, Ellen Salvi and Marine Turchi report.
Centrist candidate Francois Bayrou has refused to join other candidates in halting his campaign after the killing of four people at a school.
Nicolas Sarkozy, expected to launch his re-election bid next week, sets out plans to make the jobless work for benefits and reforms in education.
The French presidential elections are now less than a year away, and official campaigning will begin in earnest this autumn. A slightly tongue-in-cheek Antoine Perraud, proving that a journalist is never at rest even while travelling the Paris Metro, sees a message behind the station ads that points to the tone of the political debate ahead.