Mayor of Paris Anne Hidalgo has demanded that President Emmanuel Macron take action to provide alternative shelter for thousands of migrants who are sleeping rough in squalid conditions in the north of the capital, a situation which France's citizens' rights ombudsman, Jacques Toubon, has denounced as a denial of fundamental human rights.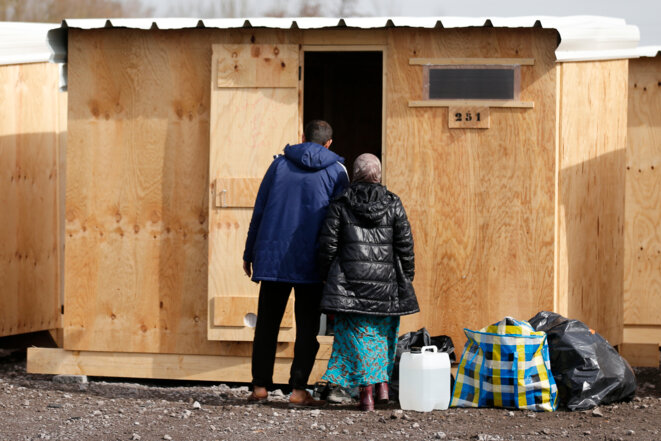 Iraqi Kurds arriving at the Grande-Synthe camp. © Reuters
In its latest attempt to reduce the enduring migrant crisis in the Channel port of Calais, where thousands of people live in insalubrious conditions while hoping to find a passage to Britain, the authrities have built an austere residential camp made out of converted shipping containers. Just several kilometres along the coast, near Dunkirk, where a similar crisis is developing, the Doctors Without Borders NGO has built, in cooperation with the local mayor, an unofficial camp of wooden huts that could not be more different, where it says the aim was to make migrants "feel at home". But the concept is clearly not shared by the government. Carine Fouteau reports.
Police and social workers transferred about 500 people from two makeshift sites to dedicated accomodation centres in and around the capital.
The insalubrious camps of migrants hoping to reach Britain, were razed for what officials said were health and safety reasons.
An estimated 20,000 Roma live, in mostly precarious conditions, in France, which has arguably the toughest policy towards them among EU states.
Rights groups supporting Roma migrants call for international protests after a mob of  Marseille residents torched one of their camps.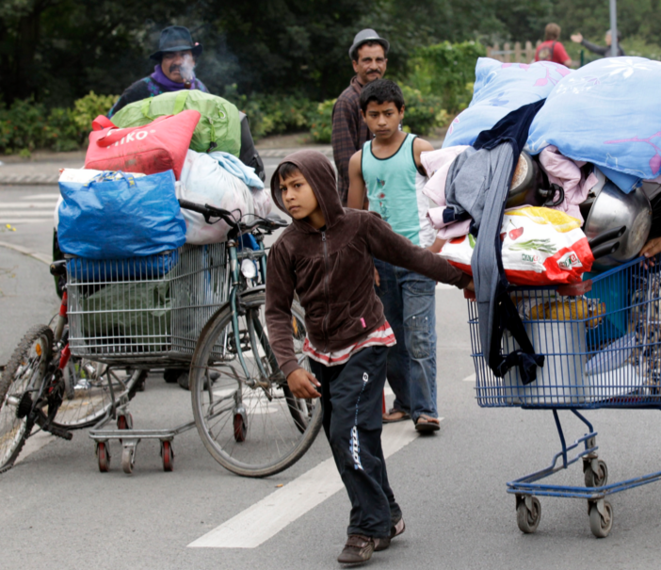 © (Reuters)
In terms of figures, if not official rhetoric, the current government's track record for dismantling Roma camps in France already matches that of the previous administration. According to headcounts collected by Mediapart, more than two thousand people were evicted in July and August 2012. A number of them were put on two charter flights back to Romania. Despite that, as Carine Fouteau reports, some activists insist the current situation cannot be compared to the Sarkozy era.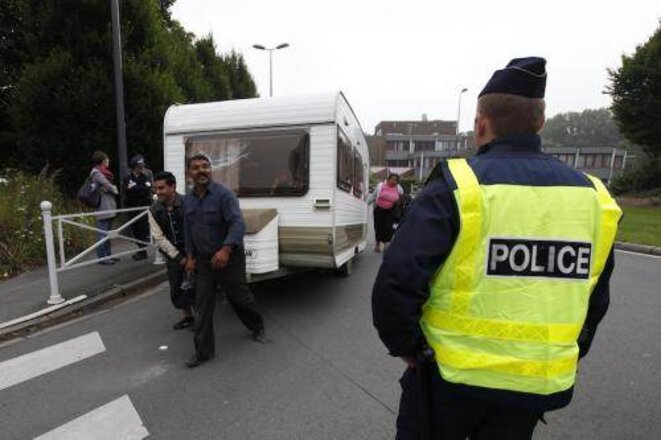 © Reuters
The French socialist government this summer ordered the forced evictions of hundreds of Roma gypsy families from makeshift camps set-up around several of the country's major cities, followed by the repatriation of some of the occupants to their native Romania. The crackdown has divided government ministers and caused an outcry from Roma rights' associations, prompting Prime Minister Jean-Marc Ayrault to organize an inter-ministerial meeting to seek wider solutions to dissolving the illegal camps, to be held on Wednesday. Mediapart sought out the views of several police officers involved directly and indirectly in evictions of two Roma camps near the city of Lille (photo) earlier this month. "The problem isn't solved, what we've done is all for show," commented one, echoing criticism leveled at the government that the forced dismantling of the camps is doing little else than keeping the Roma trapped in a spiral of poverty. Louise Fessard reports.
French police evicted some 200 Roma gypsy migrants from makeshift camps close to Lille on August 9th, in an early morning operation that followed several other forced evictions of Roma from settlements in Paris and Lyon in recent days. The evictions in Lyon led to 240 of the homeless Roma being sent back to Romania by plane, which French officials described as a voluntary repatriation. The moves have outraged French associations campaigning for the rights of Roma, who accused the new socialist government of continuing with the stigmatizing policies of its conservative predecessors.
A year ago President Nicolas Sarkozy laid down a tough new policy towards Roma gypsy migrants in France that caused outcry at home and abroad, when it was even compared with the treatment of Jews during the Second World War. One year after his speech, Mediapart visited a camp for Roma north of Paris accompanied by the 'French doctors' charity Médecins du Monde and local authorities. Cécile Alibert reports on an alarming situation.