Keyword: Cannes film festival
Related keywords
Film production streaming giant Netflix's chief content officer, Ted Sarandos, said his company was pulling out of next month's Cannes Film Festival, arguably the most prestigious annual filmmakers venue, because they will not be treated equally due to a French law that stipulates films cannot be released on home entertainment platforms until 36 months after their release in cinemas.
Cannes Film Festival Director Thierry Frémaux joined staff on the red carpet of one of the world's most high-profile cinema festivals to say that the victims of the Manchester Arena attack were 'doing exactly what we are doing here at Cannes ... being together, rejoicing in the freedom to love and sharing their passion'.
Security was tight and omnipresent on the Cannes red carpet as the 70th edition of the film festival opened on Wednesday night with multiple ticket checks and a metal detector scan before guests were allowed near the red carpet, as the near two-week prestigious cinema festival opened with Arnaud Desplechin's film Ismael's Ghosts.
Broadcaster FRANCE 24 goes behind the scenes at the festival which opened this week, and looks beyond the red carpet at the marketing and networking.
Film starring Catherine Deneuve opens the glamourous Riviera fest, with 19 in all, many shot in English, in competition for the Golden Palm award.
'La Vie d'Adele - Chapitre 1 & 2' ('Blue is the Warmest Color') takes top prize at the 66th Cannes Film Festival presided by Steven Spielberg.
Thieves got away with a hotel safe containing Chopard jewellery worth $1 million intended as showcase loans to film stars attending the festival.
The 66th edition of one of the world's biggest cinema festivals, presided this year by Steven Spielberg, opened with rain and glitz Wednesday night.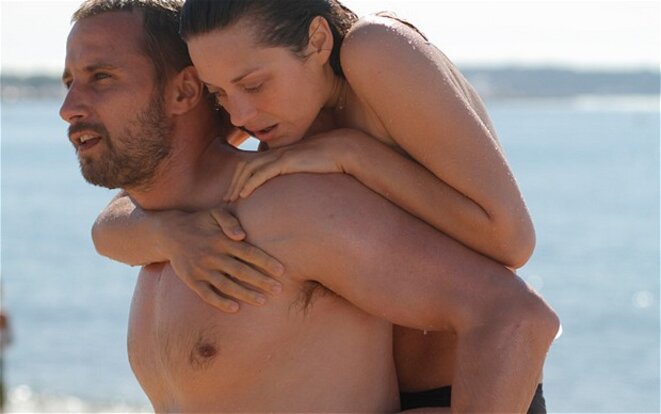 © Roger Arpajou, Why Not Productions
French film director Jacques Audiard has met with widespread acclaim at this year's Cannes Film Festival for his latest film, Rust and Bone ( De rouille et d'os), an adaptation of Canadian author Craig Davidson's collection of short stories by the same name. As the film appears poised for a huge box-office success, Mediapart's Christine Marcandier interviews Davidson about how the project with Audiard began (in a meeting when he spilled water over the celebrated director's "lovely" felt hat), what he thinks of the film, and his approach to writing - which he admits has seen him go "a little crazy" in living out the pains of his characters.
The Cannes Film Festival this year celebrates its 65th anniversary, and Festival President Gilles Jacobhas created a unique birthday gift.