Keyword: Cardinal Philippe Barbarin
Related keywords
Cardinal Philippe Barbarin, the archbishop of Lyon, is to stand trial along with five others over claims they helped cover up abuse in local parish.
Cardinal Barbarin will go on trial in April on charges of covering up for priest accused of abusing children in Lyon diocese over 25 years ago.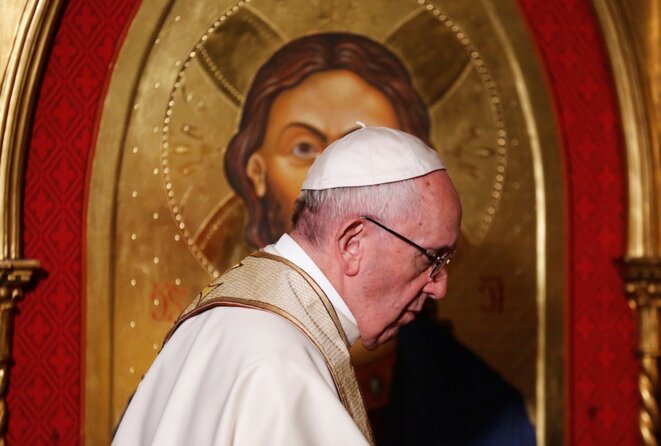 Argentine-born Pope Francis.
In 2010 when he was still Archbishop of Buenos Aires, Pope Francis commissioned a report that sought to exonerate a prominent priest who had been convicted of paedophilia. Now for the first time an Argentine judge has told Mediapart and TV documentary  Cash Investigation that a direct attempt was made by the church to influence his views ahead of the priest's appeal hearing. Martin Boudot, Daphné Gastaldi, Mathieu Martinière, Mathieu Périsse and Antton Rouget report.
Cardinal Barbarin had been accused of failing to remove a priest when he became aware he had sexually abused young boys 25 years ago.
Cardinal Philippe Barbarin said that the four had been working in the Lyon region while other priests were also the 'object of special measures'.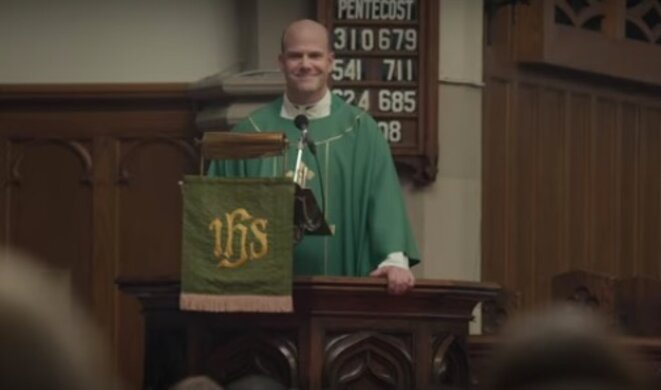 A scene from the film Spotlight.
Walter Robinson is an investigative journalist with The Boston Globe who in 2002 exposed a vast paedophile scandal in the American Catholic Church, for which he won the Pulitzer Prize in 2003 and inspired the 2015 movie Spotlight. As the French Catholic Church becomes ever more engulfed by revelations of paedophile abuse and a system of protection for the priests involved, Robinson, in this interview with Daphné Gastaldi, details what he uncovered in the US within a system that precisely mirrors the scandal in France.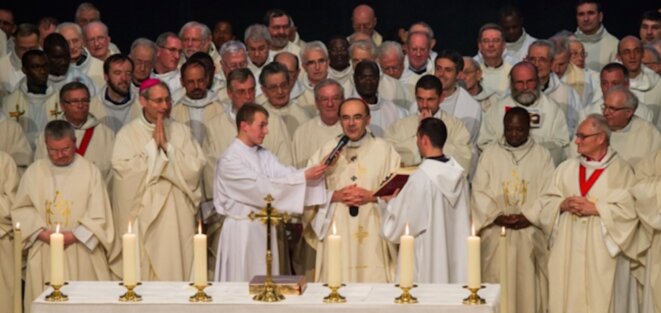 Father Bernard Preynat, on far right in second row, at a church ceremony presided over by Cardinal Barbarin in Lyon in April 2015. © lyon.catholique.fr
The Catholic Church in France has developed a system of quietly moving priests suspected of sex abuse to other areas or jobs, Mediapart can reveal. The method, aimed at avoiding or damping down local scandals without telling the judicial authorities, includes sending the priests concerned on sabbatical leave, to remote rural parishes, to jobs as archivists or as chaplains for the elderly, or in some cases despatching them to far-flung parishes in Africa and Asia. Daphné Gastaldi, Mathieu Martiniere and Mathieu Périsse report.
Cardinal Barbarin made admission after meeting to discuss claims church failed to report several child sexual abuse cases in Lyon area.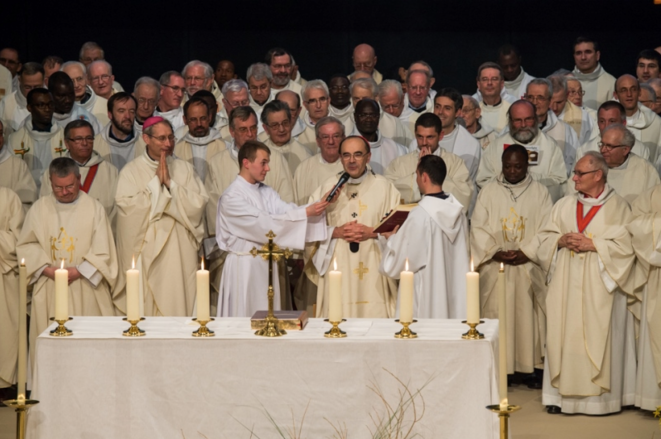 The priest involved in the scandal, Father Bernard Preynat, on far right in second row, at a church ceremony in Lyon in April 2015. © lyon.catholique.fr
In recent weeks a paedophilia scandal has engulfed the diocese of Lyon in eastern France. A Catholic priest is said to have abused dozens of boy scouts who were in his care, while the cardinal at the head of the diocese has been forced to deny covering up the affair. The scandal came to light largely thanks to the work of a group of victims who joined together and set up an association to break the silence surrounding the abuse. In the space of just three months this group has brought to light not just the scandal in Lyon, but has also unearthed other potential affairs. Daphné Gastaldi, Mathieu Martinière and Mathieu Périsse report.
Cardinal Philippe Barbarin is accused of covering up actions of Lyon priest suspected of sexually abusing boy Scouts between 1986 and 1991.