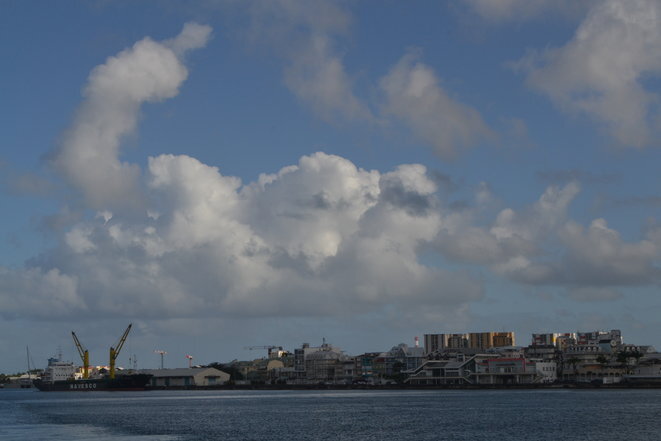 When goods enter the ports of French overseas départements - here, Fort-de-France in Martinique - they are subject to the 'octroi de mer' or dock dues. © JS
One of the recurring complaints of consumers living in France's overseas regions is how high the cost of living is compared with Metropolitan France. At the heart of this criticism is the 'octroi de mer' or dock dues, a tax paid on the import of goods to these territories. This tax has been in place since 1670 and the start of the French colonial system. And the European Union has just agreed to continue it to at least 2027. Julien Sartre reports on the history and impact of a tax that is a throwback to colonial days and which still leaves a burden on often poor French consumers living in overseas départements.
In the French Caribbean island of Saint-Martin, wrecked by Hurricane Irma, there is controversy over both the alleged priority evacuation of white people to the expense of the majority black population, prompting France's Representative Council of Black Associations to call for a parliamentary enquiry.
Both France and Britain have been accused of mismanaging the crisis in the hurricane-devastated Caribbean islands they administer, but there was a clear difference between the style of the visits to the region by France's president and Britain's foreign secretary. 
Paris is sending extra hospital equipment as officials say Martinique and French Guiana have had about 100 confirmed Zika cases.
Veteran French star Johnny Hallyday  has returned to Los Angeles, where he has a home, from the Caribbean, where he was treated in hospital.