French police on Thursday raided the residence near Paris of former Renault and Nissan boss Carlos Ghosn, who is currently detained in Japan on alllegations of financial irregularity, as part of their investigation into a party he threw at the Palace of Versailles in October 2016 to celebrate his marriage, a benefit estimated as being worth 50,000 euros and which was in exchange for a philanthropy deal between the state-owned property and Renault.
Carlos Ghosn, the 65-year-old former chairman and CEO of carmakers Renault and Nissan, who was arrested last November in Japan on charges of financial misconduct, was on Monday charged for a fourth time, for allegedly enriching himself with $5 million at Nissan's expense.
Lawyers acting for Carlos Ghosn, the former Renault-Nissan boss arrested over allegations of financial misconduct five months ago after landing in Tokyo in his private jet, and who was re-arrested last week on further suspicion of financial corruption, have released a video in which the former high-flying executive, 65, denies the accusations against him and denounces a 'very dirty game' of corporate intrigue.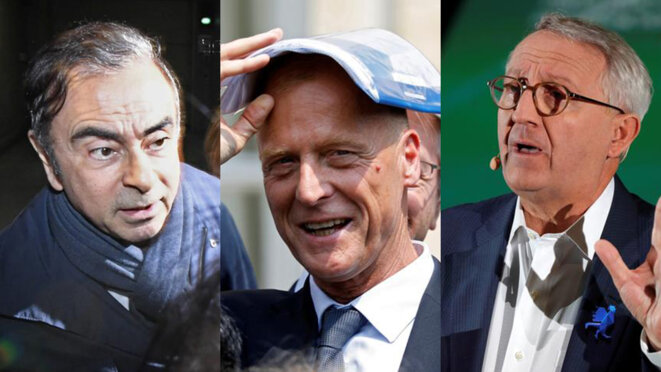 Left to right: Carlos Ghosn, formerly of Renault, Tom Enders who is leaving Airbus and Thierry Pilenko of TechnipFMC. © Reuters
Over the years there have been repeated scandals about the lavish top-up pensions awarded to the bosses of some of France's biggest firms, most recently involving Renault, Airbus and energy industry engineering firm TechnicFMC. Now, in a bid to end such controversies, the government's finance minister Bruno Le Maire is promising legislation to restrict the level of these lucrative perks. But as Mediapart's Martine Orange reports, the measure already looks as if it will be little more than window dressing.
Former Nissan boss is put back under arrest over allegations he misused company funds, a surprise move he calls 'outrageous and arbitrary'.
Carlos Ghosn said some Nissan executives wanted to stop his plan to integrate Renault with its Japanese alliance partners, Nissan and Mitsubishi.
French carmaker Renault on Thursday appointed outgoing Michelin boss Jean-Dominique Senard as chairman and its former second in command, Thierry Bolloré, as CEO, after Carlos Ghosn, who held both posts, resigned late Wednesday while in detention in Japan where has been held since November on financial misconduct allegations. 
The case of the arrest and continued detention in Japan of Renault chairman and CEO Carlos Ghosn over alleged financial misconduct has revealed the severity of the Japanese judicial system, which again denied him bail at a hearing in Tokyo this week. But it has also illustrated the situation of impunity granted in France to numerous high-placed individuals like Ghosn, writes Mediapart co-founder Laurent Mauduit in this opinion article. For while it now appears that the French government is finally moving towards his replacement as head of the French carmaker, economy and finance minister Bruno Le Maire has until now done his utmost to protect Ghosn, even declaring that there was 'nothing in particular to report' on his tax situation in France, when in fact the boss of one of France's biggest industrial corporations has been a tax resident in the Netherlands since 2012.
Hundreds queue at Tokyo court for chance to see former chairman of Nissan and current Renault boss respond to financial misconduct claims.
Carlos Ghosn, chairman and CEO of French carmaker Renault, and former chairman of Nissan, has been re-arrested in Japan over new allegations of financial misconduct, ending his hopes of a release from custody today after his arrested last month on suspicion of tax fraud.
The French government is looking for candidates to replace Renault's boss Carlos Ghosn, currently detained in Japan over financial misconduct allegations, after several of the carmaker's board of directors, led by Cherie Blair, the wife of former British prime minister Tony Blair, urged Ghosn's dismissal amid deep strains his arrest has caused in Renault-Nissan-Mitsubishi alliance, according to an exclusive report by news agency Reuters.
French car manufacturer, of whom Ghosn is also chairman and CEO, had wanted Japanese partner firm to delay removal of boss after arrest.
Carlos Ghosn, chairman of Nissan and also chairman and chief executive of its French partner Renault, is said to have under-reported his income.
A French consumer fraud watchdog has said the managerial responsibilty of Renault boss Carlos Ghosn is engaged in an alleged emissions-cheating scam to disguise true pollution levels of the French carmaker's diesel engines, following an investigation prompted by Volkswagen's exposure in 2015 for US diesel test-cheating.