Keyword: Caroline De Haas
Related keywords
An official body in charge of overseeing sexual equality in France has criticised the way that many people are harassing women online "with impunity". This is despite the many laws that are available to combat such harassment. The Haut Conseil à l'Égalité entre les Femmes et les Hommes (HCE) points to a trial it carried out in 2017 in which less than 8% of sexist content flagged to Twitter, Facebook and YouTube was taken down. Louise Fessard reports.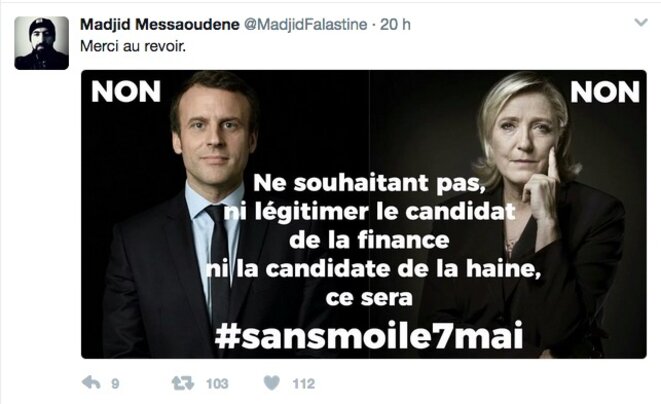 One voter's view: they want neither a candidate of 'finance' or one of 'hate'.
Voters on the French Left are already fed up. Fed up that their candidates did not make it through to the second round of the French presidential election on May 7th, and fed up about being told to vote for a candidate whom they despise - Emmanuel Macron – in order to stop the far right's Marine Le Pen from gaining power. As Lénaïg Bredoux reports, some voters on the Left say that they do not want to give centrist Macron a convincing mandate and that they will either not vote or will leave their ballot paper blank – unless the outcome looks too close to call.

Facing the storm: employment minister Myriam El Khomri and prime minister Manuel Valls. © Reuters
On Monday February 29th the prime minister Manuel Valls announced that the government was postponing for two weeks the formal presentation of a new bill reforming employment law. This concession came after days of vociferous opposition to the bill from trade unions, students and many members of France's ruling Socialist Party itself who see the measure as an attack on workers' rights. Mediapart's Lénaïg Bredoux, Rachida El Azzouzi, Mathilde Goanec and Mathieu Magnaudeix analyse how what was intended to be a flagship government reform went so badly wrong.
Caroline De Haas, 34, says macholand.fr was created to mobilize France against 'rampant' sexism in the media, by politicians and advertisers.