Vehicles failing to display stickers showing age, engine size and cleanliness will be banned from low-emission zones in Paris and other cities.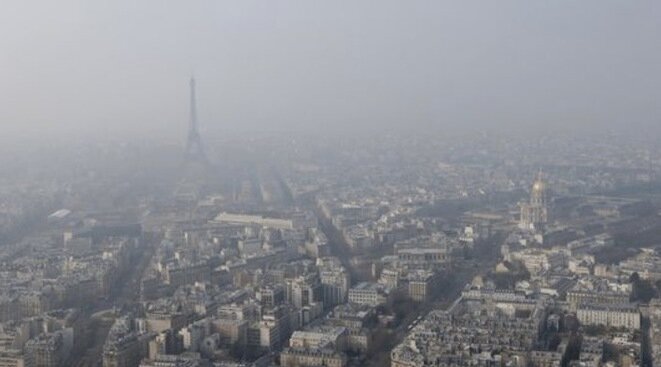 A smoggy Paris on March 18th, 2015. © Gonzalo Fuentes/Reuters
Last Sunday Paris banned cars from many of its roads and on Monday the city's councillors voted to pedestrianise a busy route along the River Seine. Both measures are aimed at tackling the problem of air pollution that is affecting Paris as well as other large French cities. It is estimated that such pollution kills up to 2,500 people a year in the French capital, some 60 times more people than perish in road accidents on the city's streets. Mediapart's environment correspondent Jade Lindgaard reports.
The Sunday car ban covered larger part of the city than last year's event, closing off more than 400 miles of roads in fight against air pollution.
Environment ministry says investigation shows a large number of diesel cars emit much higher levels of pollution than manufacturers claim.
The anti-pollution move concerns Monday to Friday daytime access and will become an outright ban in 2020, when access for pre-2011 cars will be restricted.
Government reports 12 percent drop in number of cars torched on New Year's Eve - a ritual among revellers in France's high-rise suburbs.
Anne Hidalgo aims to outlaw diesel vehicles in the French capital entirely by 2020 and to limit the number of all cars in city centre.
The French government's environment and energy minister Ségolène Royal has just unveiled her plans for what is known as "energy transition" - the move to a society which uses less energy and which switches from fossil and nuclear fuel to renewables. This long-awaited new law, which will be debated by the French Parliament in the autumn, has been touted as one of the flagship measures of President François Hollande's five-year term of office. But as Mediapart's environment correspondent Jade Lindgaard and Dan Israel report, the proposals, while regarded as a step in the right direction, have been widely described as timid and lacking in ambition.
Around 4,000 motorists faced on-the-spot fines for defying curbs on car use as pollution eased in French capital.
Around 700 police will enforce number plate scheme where only half of city's drivers will be allowed on French capital's roads on any given day.
System in which vehicle use is restricted to alternate days depending on licence plate numbers comes into effect in Paris area on Monday morning.
The number of cars torched in this unenviable end of year tradition fell more than 10 per cent this year, says French interior minister.
The ailing French carmaker says it is in negotiations with state-owned Dongfeng Motor after General Motors sold its 7 percent share.
Cuts representing 14 per cent of French Renault staff designed to help boost competitiveness as slump in domestic and European market continues.