Turkish state media have announced that the country's prosecution services have opened an investigation after the publication of a cartoon in this week's edition of satirical French magazine Charlie Hebdo magazine depicting Turkey's President Recep Tayyip Erdogan holding a beer can and lifting a veiled woman's dress with the caption, 'In private he's very funny'.
There were more fierce protests and calls for a boycott of French goods in Muslim countries on Monday following President Emmanuel Macron's defence of the right to publish cartoons of the prophet Muhammad during  a homage to teacher Samuel Paty who was beheaded by a fundamentalist for showing the cartoons to his pupils in a lesson on civic rights and free speech.
Regional French newspaper La Nouvelle République announced it had filed a formal complaint after its republishing last weekend of cartoons from Charlie Hebdo magazine of Prophet Mohammed prompted threats against it on social media.
French satirical magazine Charlie Hebdo, whose staff were targeted in a January 2015 shooting massacre which left 12 dead, has announced its edition to be published Wednesday, when 14 people accused of being accomplices to the attack are to stand trial in Paris, will contain a reprint of the cartoons of Prophet Mohammed that were cited as the motive for the terrorists.
The authorities in Amatrice, after which is named a pasta dish, launches legal action over cartoons mocking victims of the devastating August earthquake as 'penne in tomato sauce' and 'lasagne'.
Maryse Wolinski tells how she learnt of Charlie Hebdo attack in a taxi, and how filling her home with George's loving notelets helps her cope.
 Award at festival in Angoulême was created after January 7th attack which claimed lives of some of France's best-loved cartoonists.
The poll, published Sunday, also found half of those questioned were for limits on free opions expressed online and on social media.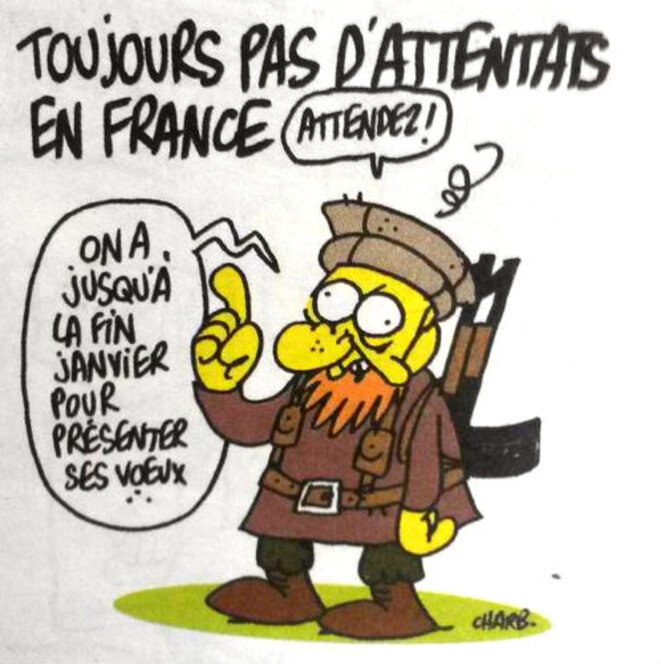 Un des derniers dessins de Charb, publié le 7 janvir 2014 © Charb
The attack by gunmen on the offices of Charlie Hebdo on Wednesday came almost nine years after the French satirical magazine found itself at the centre of a fierce controversy for first reproducing in France the so-called 'Prophet Muhammad caricatures' originally published in a Danish newspaper. Charlie Hebdo has since continued to publish cartoons that mock Islamic fundamentalism, prompting the anger of a section of Muslims in France and abroad, and which led to a devastating firebomb attack on its offices in 2011. The magazine has regularly defended its position as that of a satirical publication that is equally irreverent towards the hypocrisies of all religions. Dan Israel traces the bitter background to Wednesday's horrific outrage.
Interior minister Manuel Valls bans all protests planned this weekend over French magazine cartoons denigrating Islam's Prophet Mohammed.
French embassies around the Islamic close following satirical magazine Charlie Hebdo's publication of caricatures of Prophet Mohammed.
Security is stepped up around French interests abroad after satirical magazine Charlie Hebdo published controversial cartoons of the Prophet Mohammed.