French police say they are hunting a man identified on CCTV footage as previously sleeping rough at Paris Charles de Gaulle airport walking into an unlocked room used by a company that supplies cash to ATM machines in the terminals and who left with two bags containing 300,000 euros.
Boris Boillon, 47, who served under president Nicolas Sarkozy as French ambassador to Iraq and Tunisia in a career steeped in controversy, has gone on trial for tax fraud and forgery after he was arrested in Paris trying to board a Belgium-bound train with bags containing 350,000 euros and 40,000 dollars in cash.
Ex-France football team star and until now European football tsar lost his appeal and is banned from football activity over suspect payment from FIFA chief.
The long-time chief of staff to former president was also barred from public office for pocketing more than 200,000 euros from police funds.
Claude Guéant, Nicolas Sarkozy's former chief of staff and interior minister, one-time national police chief Michel Gaudin and three other top officials who worked for the ex-president are in court this week, accused of misappropriating public funds by receiving tens of thousands of euros in cash payments. The money was siphoned off from a ministerial fund supposed to pay for police investigations. Mediapart's legal affairs correspondent Michel Deléan reports.
Two sacked employees have been placed under investigation after police dug up a bag containing 500,000 euros at a house in Auvergne region.
Diplomat-turned-businessman Boris Boillon, who close to Nicolas Sarkozy, was reportedly stopped at Paris train station with 350,000 euros on him.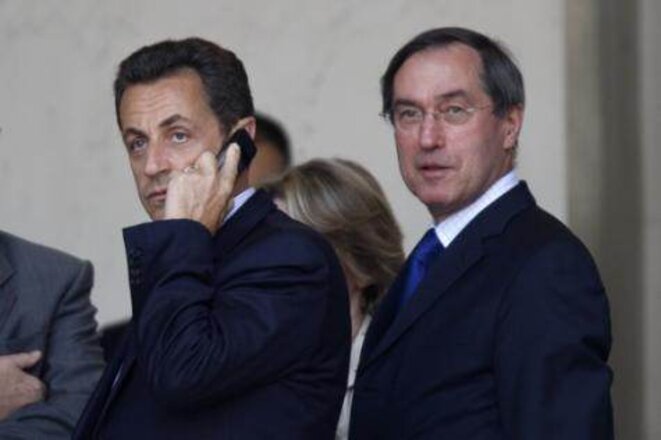 © Reuters
Amid the escalating revelations in a series of graft scandals rocking the French political establishment, a net is now closing in on former French interior minister Claude Guéant, a longstanding close aide to former president Nicolas Sarkozy. Guéant is one of the key figures under investigation in a judicial probe into the suspected illegal funding of Sarkozy's 2007 presidential election campaign by the late Libyan dictator Muammar Gaddafi. In a separate judicial investigation into the suspected fraudulent payment in 2008 of 403 million euros to business tycoon Bernard Tapie, a friend of Sarkozy, Guéant's name is cited in several witness statements as a central figure to secret meetings held to organise the payout. But in what appeared as an almost anecdotal revelation compared to the implications of those investigations, it emerged this week that Guéant, 68, received a secret monthly tax-free gift of 10,000 euros paid in cash while he served as chief-of-staff to Sarkozy when the latter was interior minister. The Paris public prosecutor's office announced on Friday the opening of an investigation into the cash handed to Guéant, estimated to total 240,000 euros,  and which was paid from a fund destined for special police operations. Louise Fessard reports.
Police in France and Switzerland arrest 20 people, including a Paris politician, on suspicion of laundering some 40m euros of drug traffic cash.
A lawyer claimed he secretly delivered cash from African leaders to ex- president Jacques Chirac and former prime minister Dominique de Villepin.