Related keywords
Philippe Barbarin was handed six-month suspended sentence after the surprise verdict, and says he will resign from his position.
Cardinal Philippe Barbarin, the archbishop of Lyon, is to stand trial along with five others over claims they helped cover up abuse in local parish.
In an online petition they accuse the Church's leaders of 'ignoring or even concealing' the suffering of victims.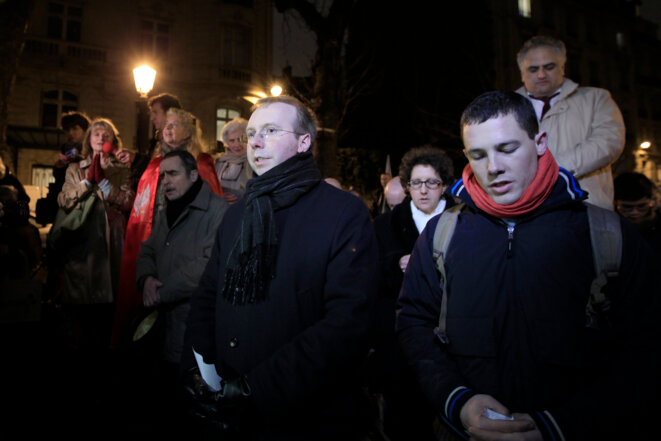 Civitas chairman Alain Escada (centre) at a protest in front of the French parliament against the introduction of the same-sex marriage law, January 2013. © Reuters
A party of Catholic fundamentalists, Civitas is one of France's lesser-known far-right movements, overshadowed by the former Front National (now renamed the National Rally) led by Marine Le Pen. It wants to ban abortion, same-sex marriage and freemasonry, to repeal a 1905 law separating the Church and State and also anti-racist legislation, and takes as its model the regimes of General Franco in Spain and General Pinochet in Chile. After years as a pressure group, it officially became a political party in 2016, and this month held its annual summer conference on the theme of "Human rights versus the real country". Here, historian Nicolas Lebourg traces its history and analyses its future prospects.
In an unprecedented speech to Catholic bishops this week in Paris, French President Emmanuel Macron said 'We share in a confused way that relations between the Church and State have been damaged and it is up to you, as much as us, to repair them', prompting a political uproar and accusations that he undermined the secular pillar of France's constitution.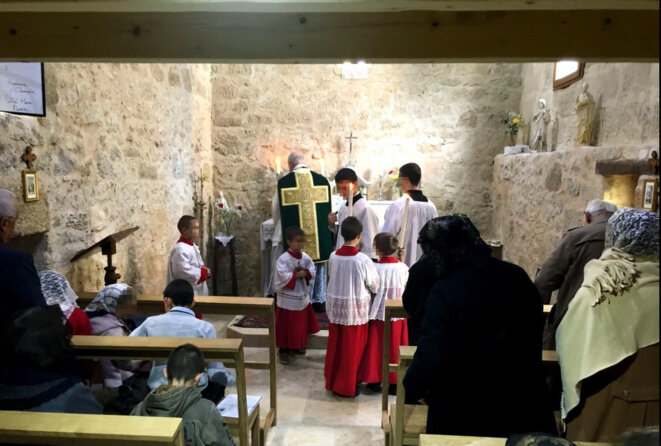 Mass celebrated by Father Philippe Peignot at a chapel near Bordeaux in November 2016. © DR
A Mediapart investigation carried out in partnership with Swedish television station SVT1 and British newspaper The Guardian reveals how a fundamentalist Catholic society covered up several cases of priests accused of sexual assaults. The Society of Saint Pius X also regularly sends offenders to a discreet 'gilded prison' tucked away in the French Alps. Mathieu Martiniere, Mathieu Périsse, Daphné Gastaldi and Ali Fegan report.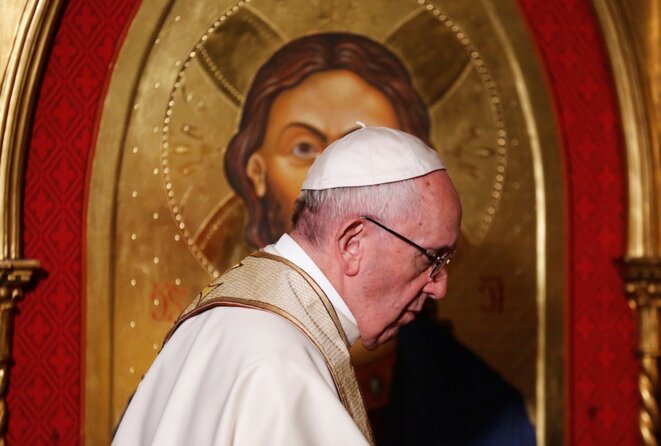 Argentine-born Pope Francis.
In 2010 when he was still Archbishop of Buenos Aires, Pope Francis commissioned a report that sought to exonerate a prominent priest who had been convicted of paedophilia. Now for the first time an Argentine judge has told Mediapart and TV documentary  Cash Investigation that a direct attempt was made by the church to influence his views ahead of the priest's appeal hearing. Martin Boudot, Daphné Gastaldi, Mathieu Martinière, Mathieu Périsse and Antton Rouget report.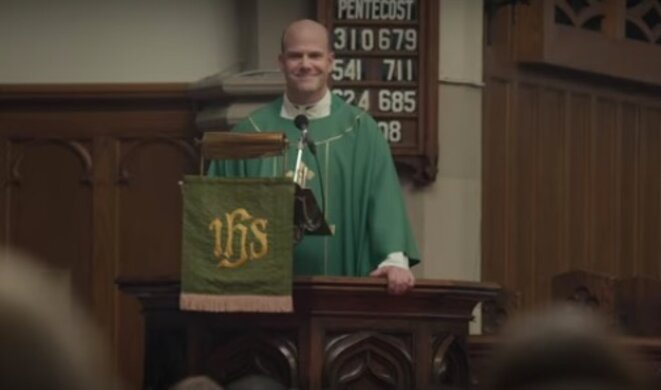 A scene from the film Spotlight.
Walter Robinson is an investigative journalist with The Boston Globe who in 2002 exposed a vast paedophile scandal in the American Catholic Church, for which he won the Pulitzer Prize in 2003 and inspired the 2015 movie Spotlight. As the French Catholic Church becomes ever more engulfed by revelations of paedophile abuse and a system of protection for the priests involved, Robinson, in this interview with Daphné Gastaldi, details what he uncovered in the US within a system that precisely mirrors the scandal in France.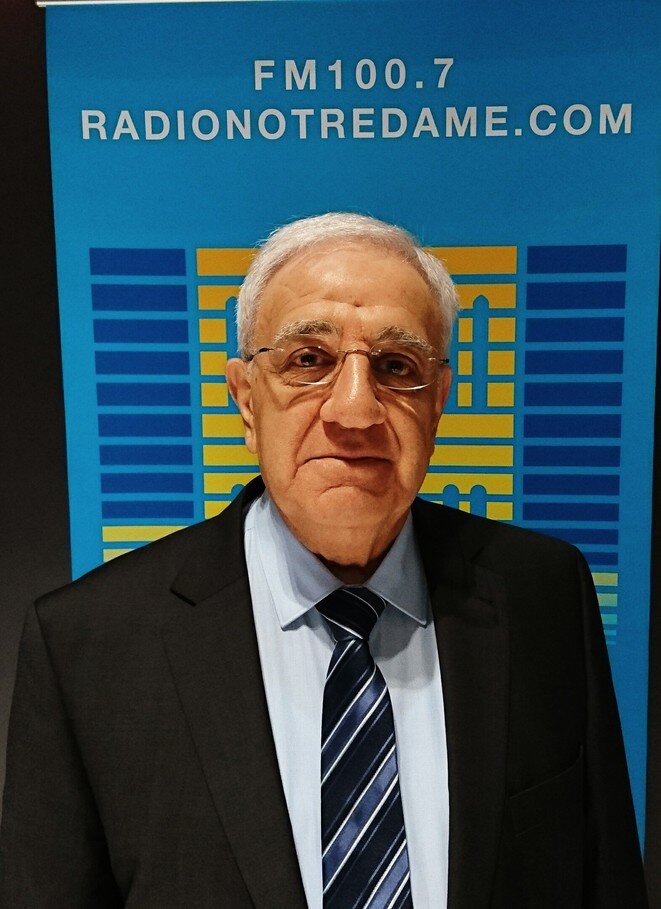 Tony Anatrella. © DR
Over recent months, the French Catholic Church has become engulfed by revelations of paedophile activity by priests who allegedly benefited from protection from their hierarchy. Wide exposure of the cases, some dating back to the 1990s, has led to more witnesses coming forward to complain of sexual abuse by members of the Church. Among the latest cases to resurface now is that of a Paris priest who allegedly engaged for years in the sexual abuse of patients he received as a psychoanalyst. Mediapart can reveal that Tony Anatrella, an advisor to two Vatican councils and who teaches at a prestigious ecclesiastic college in Paris, has never been investigated by the Church despite numerous complaints made against him since 2001. Daphné Gastaldi, Mathieu Martiniere and Mathieu Périsse report.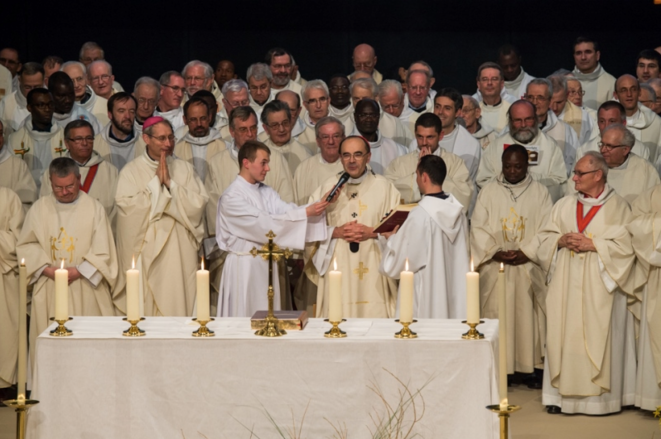 The priest involved in the scandal, Father Bernard Preynat, on far right in second row, at a church ceremony in Lyon in April 2015. © lyon.catholique.fr
In recent weeks a paedophilia scandal has engulfed the diocese of Lyon in eastern France. A Catholic priest is said to have abused dozens of boy scouts who were in his care, while the cardinal at the head of the diocese has been forced to deny covering up the affair. The scandal came to light largely thanks to the work of a group of victims who joined together and set up an association to break the silence surrounding the abuse. In the space of just three months this group has brought to light not just the scandal in Lyon, but has also unearthed other potential affairs. Daphné Gastaldi, Mathieu Martinière and Mathieu Périsse report.
Cardinal Philippe Barbarin is accused of covering up actions of Lyon priest suspected of sexually abusing boy Scouts between 1986 and 1991.
Victims claim church figures in Lyon failed to report a priest, who is accused of sexually abusing minors between 1986 and 1991, to police.
French Gay rights groups express anger at the Catholic Church for a prayer call on August 15 to protect the sacriment of same-sex marriages.