Related keywords
Family of Cédric Chouviat, who died of asphyxiation, say the manslaughter investigation is too lenient.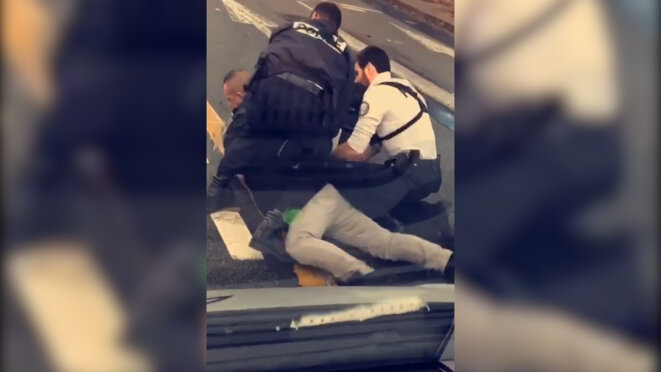 Cédric Chouviat, still with his helmet on, held on the ground by three police officers in Paris on January 3rd 2020. © Document Mediapart
On January 3rd 2020 deliveryman Cédric Chouviat, aged 42, was stopped on his scooter as part of a routine roadside police check in Paris, arrested, put in a chokehold then held face down on the pavement. His own mobile phone reveals that seven times he repeated the words "I'm suffocating" before falling unconscious and later dying. The episode inevitably has echoes of the American George Floyd whose last words when being held down by a police officer in Minneapolis were "I can't breathe".  These revelations about the final words of Cédric Chouviat, contained in a report seen by both Mediapart and Le Monde, will put even greater pressure on the authorities to shed light on the nature of the arrest and the controversial techniques used by the French police to restrain the father-of-five. Pascale Pascariello reports.
Lawyers for deliveryman Cédric Chouviat's family accuse authorities of trying to cover up heavy-handed tactics.