A government-commissioned report on France's railway sector has put reform of the employment status and supposedly "exorbitant privileges" of the country's railway workers firmly at the centre of the political agenda. These changes would themselves save around 100 million to 150 million euros in savings over ten years – a modest amount compared with the massive debts of the train operator SNCF. But as Martine Orange reports, the French presidency's real aim is to win a political battle by getting pubic opinion on its side.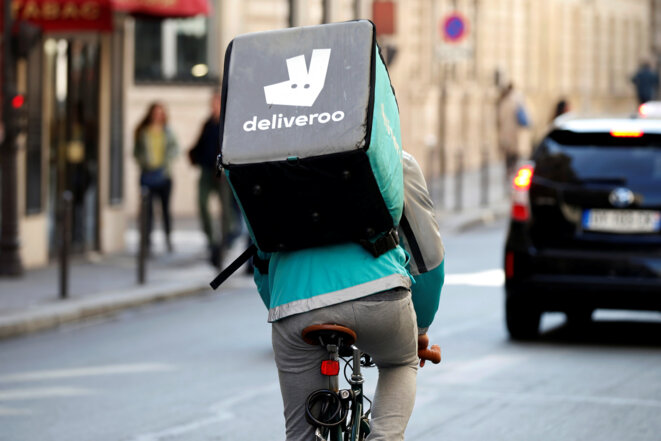 A Deliveroo courier in Paris, April 2017. © Reuters/Charles Platiau
The meal delivery company Deliveroo, which uses 7,500 couriers across France, is ending its system of paying its riders by the hour. This has led to protests from many of the food couriers who say they will end up earning hundreds of euros a month less. As Dan Israel reports, the move also shines a light on the precarious livelihoods of those working in this and other sections of the 'gig' economy.
Last week the French authorities banned a planned march in Paris by trade unions opposed to labour law reforms, before eventually backing down partially and allowing a more limited demonstration. Here Mediapart's editor-in-chief Edwy Plenel argues that demonstrating is a constitutional right and that, by banning the march that the trade unions wanted, the government violated the fundamental law that guarantees all our freedoms. It is, he writes, our duty to resist this unlawful act in order to defend our common ideal: democracy.
Police put the turnout for the peaceful march - initially banned by the authorities - at up to 20,000 while unions said figure was closer to 60,000.
CGT union boss said authorities' U-turn on march was a 'victory for democracy' and urged workers to turn out in 'massive' numbers on Thursday.
Move by Paris police to ban Thursday's march could increases tension between socialist government and unions opposed to labour reforms.
Authorities had asked unions to scrap plans for Paris march in favour of a static rally to avoid violence which marred previous protests.
Blockades at waste collection centres are preventing rubbish collection in the capital and other cities, while strikes are also disrupting rail services.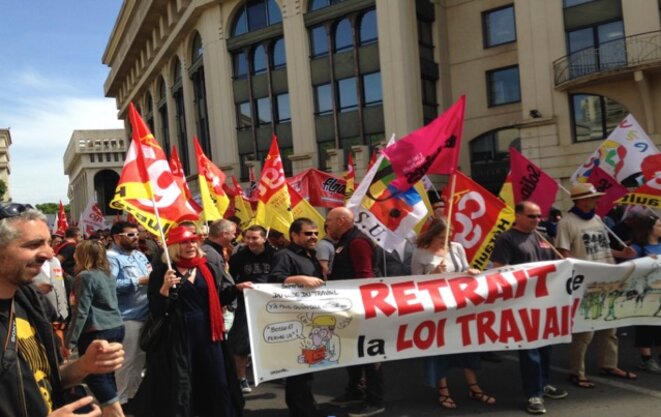 The protest against the labour law reforms held in Montpellier on May 26th, 2016. © T.A
Amid blockades of oil depots and strikes in a number of key sectors in France, opponents against planned labour law reforms in France took to the streets again on Thursday May 26th. Mediapart spoke to people taking part in a march in the city of Montpellier, in the south of France, to find out why they are protesting. The demonstrators say they fully back the strikes and blockades which they see as their equivalent of article 49-3 of the French Constitution which is being used to force the deeply-controversial reforms through Parliament. Timothée Aldebert reports.
Oil refineries, nuclear power plants and transport hubs were hit, motorways and bridges were blocked and protesters clashed with police.
Head of France's oil industry federation says country has been using reserves, which could last for three months, for first time since 2010.

Police move in to clear a blockade at the Fos-sur-Mer oil refinery in southern France on Tuesday May 24th, 2016. © Reuters
Many oil refinery workers, rail workers and aviation staff are on strike or set to go out on strike as France suffers fuel shortages and a power struggle between the government and those opposed to controversial labour law reforms. Union activists have criticised the "extremely violent" actions of the state in removing the blockade at the Fos-sur-Mer oil refinery in the south of France. But despite the growing impact of their industrial action, union militants admit that they will not continue the action on their own indefinitely without the help of workers in other sectors. Mathilde Goanec reports.
Prime minister Valls warned other pickets would be dealt with 'extremely firmly' while union boss said they would 'see this through to the finish'.
Finance minister Michel Sapin says CGT union is holding France hostage and that government will take the necessary action to end blockade.