Fench defence minister Florence Parly said Chad's slain leader Idriss Déby had been an essential ally in the fight against terrorism in the Sahelregion of Africa.
French President Emmanuel Macron has held a summit in Pau, south-west France, with leaders of five West African states engaged alongside France in fighting jihadist forces in the Sahel when he announced a further 220 French troops would be sent to the region to join their 4,500 colleagues already on the ground and the creation of a joint command structure with regional states.
Facing hostility in five former colonies over a stalled fight against extremists, President Macron has taken a harsh public stance but few expect him to follow through.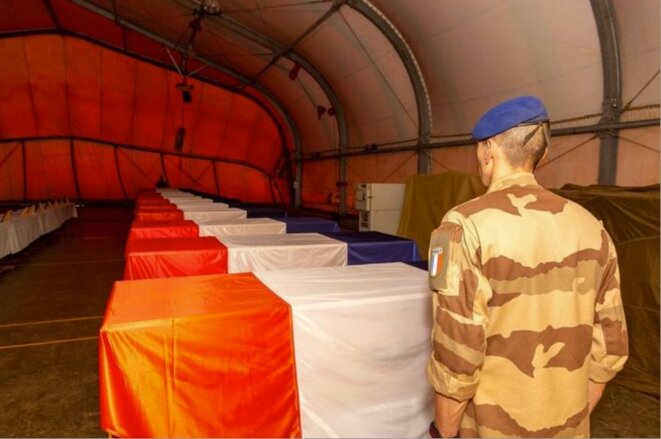 A French soldier at Gao in Mali deep in reflection in front of the coffins of the 13 French troops killed in the country on November 25th 2019. © Reuters
On Monday November 25th 13 members of the French military were killed when two helicopters crashed in Mali during France's ongoing military operations there. The grim news sparked debates back in France about the country's military involvement in the Sahel region of Africa. But as Mediapart's René Backmann writes, the legacy of France's colonial past and the remnants of its post-colonial approach to the continent known as 'Françafrique' suggest that President Emmanuel Macron's government will be unable to see that military combat against jihadism is not the only response that is needed to tackle the region's instability.
France's continued propping up of Chadian President Idriss Déby, a repressive autocrat, in whose country French troops are based for their counter-jihadist mission in the Sahel, appears to some like a return to the didgy old practices of the Françafrique system, opines The Economist. 
The Chadian security minister said the French civilian, who works for a mining company in Chad where he was kidnapped on Thursday, had been traced to Sudan where 'mixed Chadian and Sudanese forces' are looking for him.
US defence officials say they will ask for cost of helping France fight insurgents in Sahel region of Africa to be 'reimbursed'.
The Central African Republic (CAR), where French troops are engaged in attempting to restore order amid inter-religious violence and which has long been the scene of political chaos, is governed more by its influential neighbouring states than any true national leadership, writes Mediapart international affairs correspondent Thomas Cantaloube. In this analysis of a complex and seemingly blocked situation for the country's future, he concludes that the French military intervention is unlikely to remove - and more likely to maintain - the fundamental reasons for the turmoil in CAR.
Islamist chief Abdelhamid Abou Zeid is 'probably' dead, says French military, while the fate of his ally Mokhtar Belmokhtar is more uncertain.
Chad military says 13 Chadian soldiers and 65 Islamist insurgents have been killed in heavy fighting in the remote part of northern Mali.