Government spokesman said they 'had to think about measures that can be taken so that these incidents don't happen again' after glut of violence.
At least 100 people were injured in street battles, with cars being torched and shops raided in central Paris.
For the third weekend, thousands of people have been taking to the streets in protest at fuel costs, rising fuel taxes  and the high cost of living.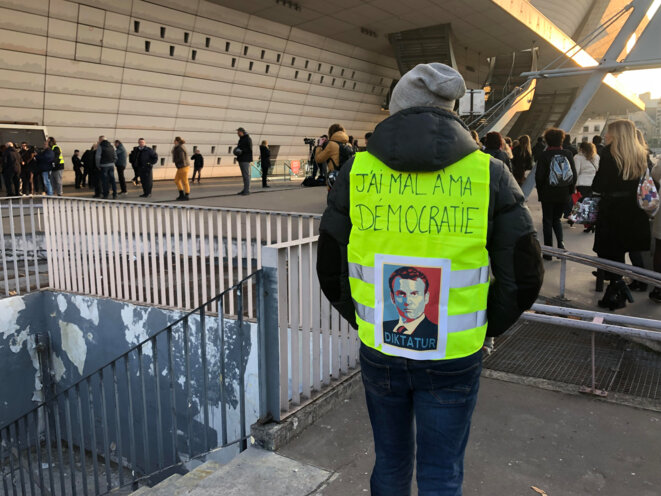 Scenes from the first 'gilets jaunes' protests in Paris, November 17th, 2018. © E.S.
This Saturday December 1st the so-called 'gilets jaunes' or yellow hi-vis vest protesters will take to the streets of central Paris for the third weekend in a row. This time other groups – unions, anti-racist movements and student groups – are also planning demonstrations in the capital. But while they might all be demonstrating at the same time, these different components of the current social movement sweeping across France are not all on the same wavelength when it comes to their aims and objectives. Mathilde Goanec, Dan Israel and Faïza Zerouala report.
Singer's coffin to be driven down Champs-Elysées followed by ceremony where President Emmanuel Macron will pay tribute to iconic pop star.
Macron's office said Trump will attend traditional military parade on Champs-Elysées, where US soldiers will march alongside French troops.
Xavier Jugelé, 37, was killed with a Kalashnikov rifle while on duty on the Champs Elysées avenue last week.
Several questions remain unexplained surrounding the attack that left a police officer dead and two others wounded on the Champs-Elysées on Thursday evening, notably whether the assailant who was shot dead, 39-year-old French national Karim Cheurfi, was in relation with Islamic State group, as it has claimed.
French national Karim Cheurfi, 39, who was killed after he murdered one police officer and wounded two others on the Champs-Elysées avenue in central Paris on Thursday evening, in an attack claimed by the Islamic State group, was known to French security services and was released from prison on parole in 2015 after serving 14 years in prison for shooting two policemen and a third man in 2001.
At least one police officer was killed and two others wounded when a gunman, who was subsequently shot dead in return fire, attacked a police vehicle on the popular Champs-Elysées avenue in central Paris using what the interior ministry described as an 'automatic weapon'.
At least one policeman died and another was seriously wounded in a shooting incident on the Champs-Elysées avenue in central Paris, reportedly after one or more assailants opened fire on a police bus.
Some 10,000 police officers to be deployed in Paris region alone with 600,000 revellers expected to gather on the Avenue des Champs-Elysées.
The sunny weather helped the success of the first once-per-month car-free Sundays on the normally traffick-choked, eight-lane avenue in central Paris.
Crowds of hundreds of thousands traditionally join the official festivities on the Champs-Elysées, which this year will be cut to ten minutes.