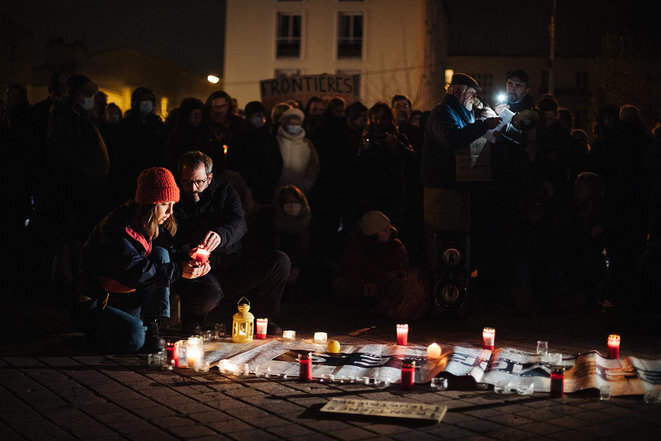 A homage in Calais to those who died when their inflatable dinghy sank in the Channel on November 24th. © Photo Marie Magnin / Hans Lucas via AFP
All of the 27 bodies recovered after the sinking in the Channel last month of an inflatable dinghy carrying migrants attempting to reach the UK from France were finally identified last week, when official permits were issued for their burials. The dead were from seven different countries, to where their families want their remains to be returned. But, as Nejma Brahim and Sarah Brethes report, the French state will only provide for burials in France, and the costs involved of repatriating the bodies are beyond the relatives' resources.
Move would 'compromise sovereignty' and UK should sort out alternative to people's perilous Channel crossings, says French prime minister.
In the wake of the loss of at least 27 lives in the sinking last week of a boat carrying migrants sailing from France to Britain, French interior minister Gérald Darmanin said the British government must 'open up a legal immigration route' because asylum-seekers have 'no other choice' than to cross the Channel in clandestine conditions. 
In the French port of Calais, relatives and friends of those lost in the sinking of a dinghy in the Channel last Wednesday, when at least 27 people died as they attempted a clandestine crossing to Britain, are desperate for answers about what happened.
British junior minister Damian Hinds, whose responsibilities include border control, has said cooperation with France on the subject of clandestine migrant crossings of the Channel "is strong", downplaying the angry response of President Emmanuel Macron to UK Prime Minister Boris Johnson's Twitter post of new proposals for tackling the crisis, which was heightened last week by the deaths of at least 27 people in seas off Calais. 
French President Emmanuel Macron described as 'not serious' UK Prime Minister Boris Johnson's choice of using Twitter to set out policy propositions to France over clandestine crossings of the Channel, while an invitation for Home Secretary Priti Patel to attend a meeting in Calais on the issue has been withdrawn.
Questions remain over the identity of the victims of the migrant boat-sinking tragedy in the Channel on Wednesday.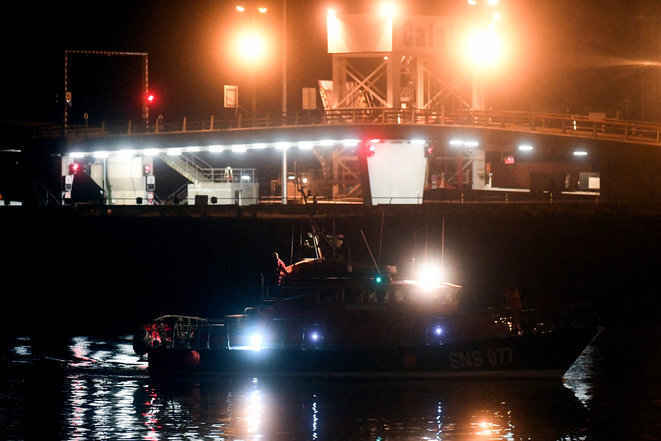 A boat carrying the bodies of the dead arriving in Calais, November 24th 2021. © François Lo Presti / AFP
At least 27 people, including three children and seven women, one of who was pregnant, died in the Channel off the French port of Calais on Wednesday as they attempted to reach Britain in a clandestine journey by dinghy, according to the latest official toll. Sheerazad Chekaik-Chaila reports from Calais on the scenes as recovered bodies were brought to the quayside after the deadliest known tragedy involving migrants attempting to cross the Channel, and one which rescue services warn could be repeated with the arrival of treacherous winter conditions.
The latest toll of the sinking of a dinghy carrying migrants attempting to cross the Channel from France to the UK on Wednesday is at least 27 dead, including seven women, one of whom was pregnant, and three children, while two survivors are critically ill in hospital.
At least 31 migrants attempting to cross the Channel to Britain have died after their dinghy capsized on Thursday afternoon in seas close to the French port of Calais, where a search for survivors is continuing into the night. 
Sportswear and equipemnt retailer Decathlon has halted sales of canoes in its stores in northern France to prevent them being used in dangerous crossings of the Channel by migrants seeking to reach Britain.
Interior minister Gérald Darmanin says negotiations should begin for migration treaty between UK and EU.
At least four people, believed to be Iranian nationals and including two children aged 5 and 8, were drowned after their boat bound for Britain and carrying at least 19 people capsized in difficult weather conditions in the Channel after they embarked in a clandestine crossing from France.
Two bodies identified as those of a 17-year-old Iraqi Kurd and that of a 22-year-old Iraqi man were found washed up on a beach in northern France on Monday close to an inflatable boat believed to have been used in an attempt to cross the Channel to Britain.