Two bodies identified as those of a 17-year-old Iraqi Kurd and that of a 22-year-old Iraqi man were found washed up on a beach in northern France on Monday close to an inflatable boat believed to have been used in an attempt to cross the Channel to Britain.
After an Iranian woman became the first migrant known to have died crossing the Channel from France to Britain, a clandestine route that has been attempted by more than 1,200 people, organised crime groups are said to be taking control of the crossing they regard as highly lucrative.
Franky Zapata, 40, flew into history books on Sunday by crossing the Channel from France to England on his self-designed, jet-powered hoverboard, stopping briefly to refuel mid-way and completing the journey in under 25 minutes.
The 30-mile stretch of coast being used by migrants is too large to patrol and resources are limited, says mayor of Teteghem in northern France.
The French authorities have set out plans to improve cooperation with UK and increase their coastal surveillance.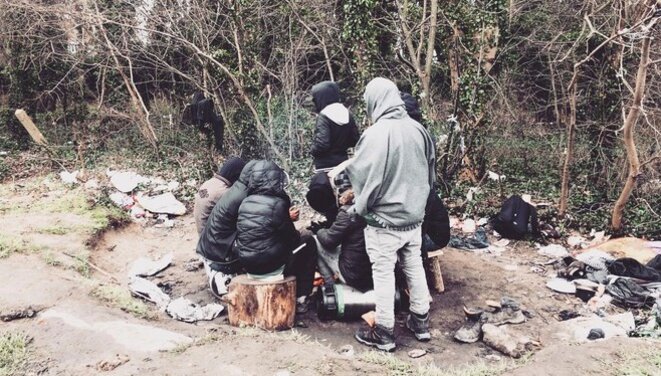 Migrants living rough in Calais, February 2nd, 2018. © Elisa Perrigueur
A recent battle between groups of migrants in Calais left 21 people injured, including five with gunshot wounds. Four were left in a critical condition. Local voluntary groups on the ground say that the situation in the Channel port town has got worse in recent weeks, notably after a visit by President Emmanuel Macron and because of a policy of not allowing any new migrant camps to spring up. Elisa Perrigueur reports from Calais.
UK foreign secretary Boris Johnson's proposition to build a road traffic bridge linking England and France, which he mooted at Thursday's summit meeting between the British and French governments, has been dismissed by industrial bodies and experts as impractical and unnecessary.
The two men, who attempted to smuggle 14 Albanians across the Channel from Dieppe to Eastbourne in 2014, were arrested after their boat ran into difficulties as they reached the English coast.
Police said the bodies were at the foot of Vauban Fort on the French Channel island of Chausey, and suspected they had slipped while having sex. 
Victim, said to be Sudanese and aged between 25 and 30, is reported to have been hit by a lorry as UK's PM calls Calais situation 'very concerning'.
Eurotunnel, Eurostar and ferry services suspended as workers hold wildcat strike, prompting migrants to try to break into gridlocked vehicles.
Lower taxes and more jobs are drawing French companies to Ashford on the railway line between London and Paris.
Natacha Bouchart says town is held 'hostage' by about 1,300 migrants and will block port unless UK does more to control their numbers.
Officers clear makeshift camp housing some 500 migrants at a food distribution point close to the French port where they had been squatting.