Keyword: Charles de Gaulle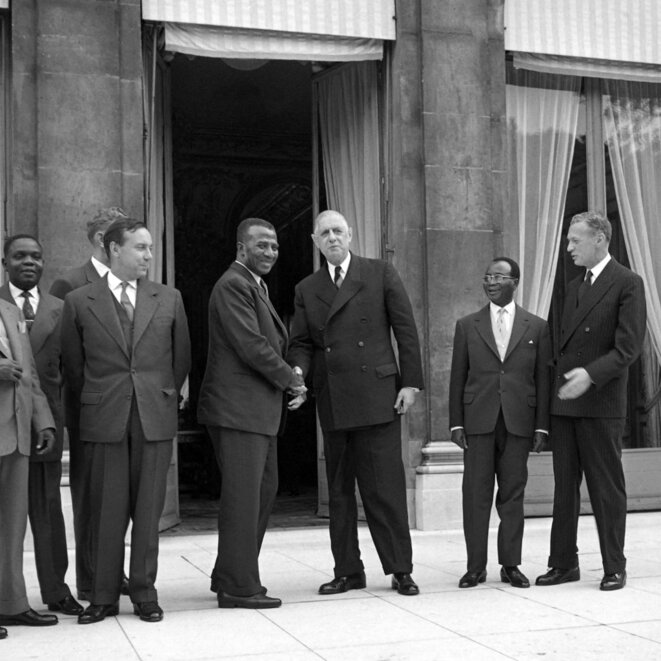 Sylvanus Olympio, who was then prime minister of Togo, shaking the hand of French president Charles de Gaulle at the Élysée on September 16th 1960. © AFP
On January 13th 1963 the president of the West African nation of Togo, Sylvanus Olympio, who had been a prominent figure in that country's fight for independence from France, was assassinated in the capital Lomé. Though the killing shocked the world and marked the first coup d'État in post-colonial Africa, there has never been a proper investigation into who carried out his murder and why. Today, 58 years later, his family are still seeking to "know the truth" about Olympio's death. They are calling for access to France's official archives, hoping that diplomatic reports from the former colonial power will help shed light on this unsolved affair. Fanny Pigeaud reports.
The French head of state is commemorating the 80th anniversary of wartime leader Charles de Gaulle's BBC broadcast to occupied France after the 1940 Nazi invasion.
French President Emmanuel Macron will visit London on Thursday - his first foreign trip since the Covid-19 virus epidemic took hold in France - when he will commemorate the 80th anniversary of Charles de Gaulle's wartime appeal from the British capital calling on the French people to resist German occupation.
One third of the crew of French aircraft carrier Charles de Gaulle – 668 out of a total 1,767 – have tested positive for the Covid-19 coronavirus, with 31 of them in hospital, one in intensive care, following an outbreak reported during the ship's tour of duty in the Atlantic.
The French aircarft carrier Charles de Gaulle is returning early from duty in the Atlantic Ocean to its Mediterranean base of Toulon after 50 of its crew tested positive to infection by the Covid-19 coronavirus, three of whom were evacuated from the ship by air.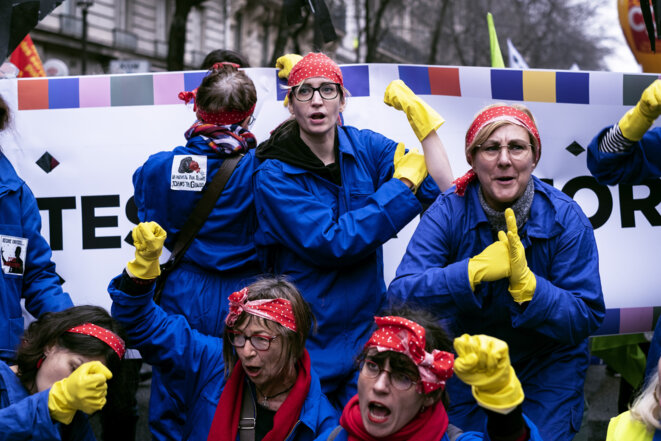 The feminist march during the Paris demonstartions on January 9th 2020. © Noemie Coissac / Hans Lucas
Emmanuel Macron said it himself: he did not want a "normal presidency". Nor has it been so: since his election in 2017, the number of serious social conflicts has shown the dangers of the exercise of power when there are no limits, argues Mediapart co-founder François Bonnet. The planned public protests on Saturday January 11th against the presidency's pension reform plans could be a turning point, he says.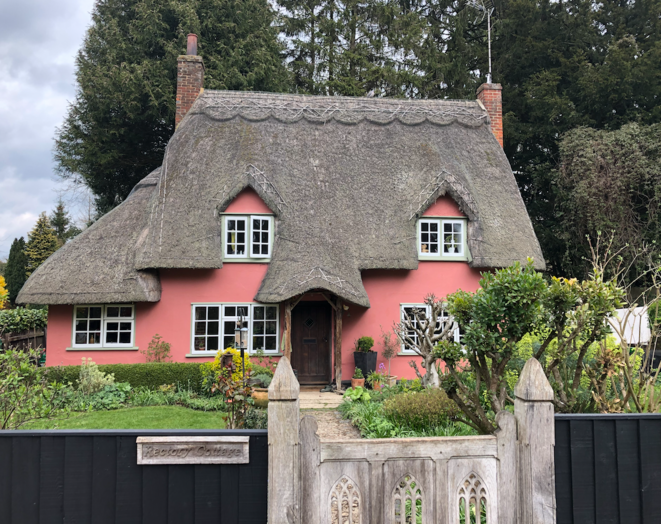 The village of Widdington in Essex, eastern England, April 2019. © AP
In the well-heeled village of Widdington in rural Essex in eastern England, the residents are in a state of inner turmoil. Like the rest of the country this small community is pondering the issue of Brexit – which now faces a new deadline of the end of October 2019 – with passionate, engaging and ultimately irreconcilable arguments. Antoine Perraud reports.
This spring has inevitably seen lots of attention devoted to the 50th anniversary of the events of May 1968 in France and the accompanying social upheaval. Largely forgotten, however, is another springtime event dating from just a few years before – the failed coup attempt by French generals in Algiers on April 21st, 1961. Yet as historian Nicolas Lebourg points out, the way France's secret services and police handled that plot and its aftermath has important lessons for current events in France.

A cross above the tomb of General Charles de Gaulle, the figurehead of French resistance to German occupation in WW2 and founder of France's Fifth Republic constitution who died in 1970, was pushed over and broken in two by a man described by the mayor of Colombey-les-deux-Églises, the north-east village where de Gaulle is buried, as being probably "a little deranged".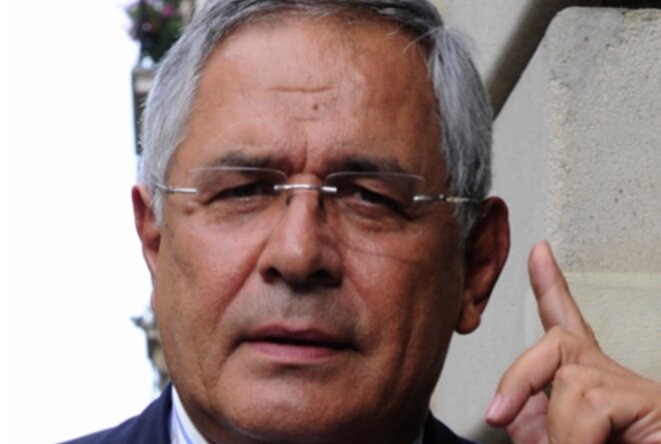 Robert Bourgi. © Reuters
Lawyer Robert Bourgi, 72, is a veteran figure of "la Françafrique", the once-rife secret and corrupt network of relations between successive French and despotic African governments, which included the illegal funding of French politicians and parties in return for favours and protection. His name resurfaced last month in the scandal-hit presidential election campaign of conservative candidate François Fillon, when Bourgi revealed it was he who offered Fillon two expensive tailor-made suits, raising further questions over Fillon's probity and political independence. In this interview from Beirut, where he is sitting out the rest of the election campaign, Bourgi gave Mediapart his version of his relationship with Fillon, who he says asked him to deny being a benefactor, and lifts the lid on the murky practices in French politics. His account offers an insight into decades of political corruption.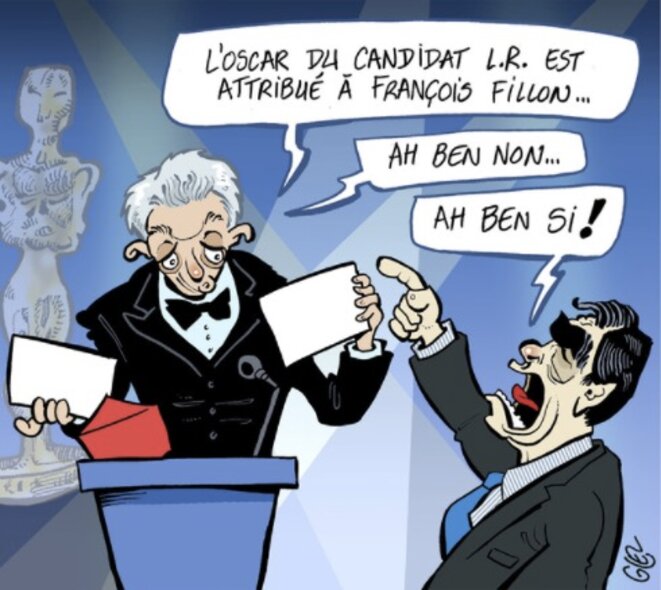 François Fillon's presidential campaign has descended into a grim farce.
The French Republic is in its death throes, having been taken hostage by a maniac – François Fillon - who is riding roughshod over the legal system, insulting the press, scorning his own elected representatives and calling on divisive factions for help. Having destroyed political parties, corrupted Parliament and having undermined voting itself, the Fifth Republic is now reaching the climax of its democracy-destroying operation. It is time to get rid of it, writes Mediapart's editor-in-chief Edwy Plenel, before it is too late.
Report says Rafale fighter planes took off from the Charles de Gaulle carrier to take part in an attack on Islamic State's Iraq stronghold Mosul.
Officials at Charles de Gaulle airport checking cartons of cereal bags en route from Cameroon to Malaysia found them to be 'unusually heavy'.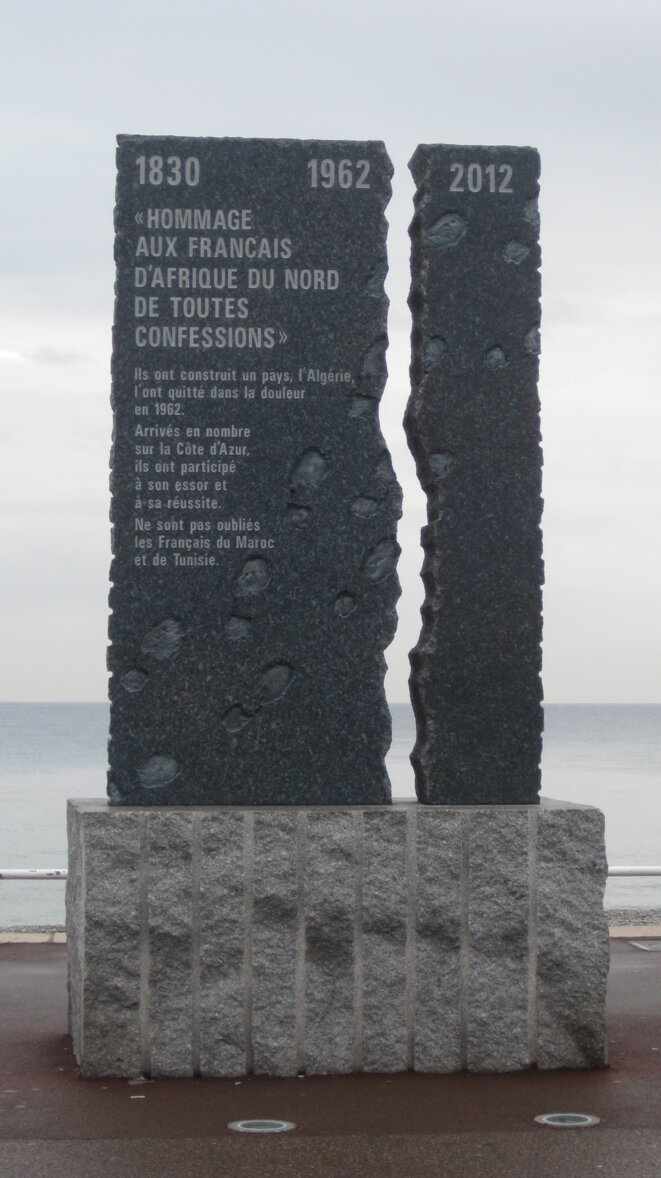 Mounument to the Pieds-Noirs on the promenade des Anglais in Nice. © Hélène Staes
Following Algeria's independence from France in 1962 around 800,000 Algerians of French descent, known as 'Pieds-Noirs', resettled in mainland France, many of them in the south of the country. It has long been assumed that the presence of so many of these repatriated settlers was a major factor in the political rise of the far-right Front National in the Mediterranean region of France. But as Nicolas Chevassus-au-Louis reports, the supposed influence of this ageing group of voters may largely be a myth.