Keyword: Charles de Gaulle airport
Related keywords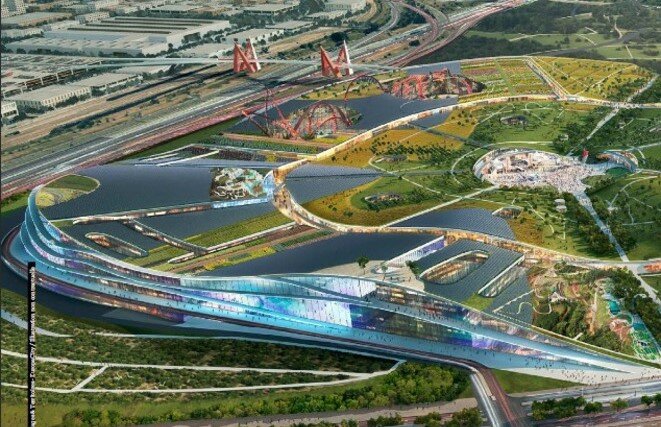 Vision of the future: how the planned EuropaCity will look.
It is one of the largest development projects in the Paris region. The Auchan supermarket chain wants to build a vast shopping complex on farmland near Charles-De-Gaulle airport that will contain not just shops but a leisure park, a ski slope and cultural centres. Its supporters say EuropaCity will bring thousands of job to a poor, deprived area and serve as a blueprint for commerce and society in the 21st century. Opponents doubt the number of jobs it will create, say it will harm the environment, and argue that it is at odds with the commitments made by France and other nations at the COP21 climate summit held in Paris in December. Urban utopia or environmental nightmare? Jade Lindgaard reports.
Charles de Gaulle airport worker held after CCTV images show him picking up notes lost by Morocco's ambassador to US as he left VIP lounge.
Access to three terminals at Paris's busy Charles de Gaulle airport was blocked as angry taxi drivers protested over unfair competition.
Passengers arriving on flights from Guinea, which Air France crews urge should be suspended, are being tested for fever by hand-held laser kits.
Up to half of airline's services set to be cancelled on Monday, the start of week-long action by pilots over plans to expand low-cost operations.
Suspect arrested by security services on arrival in France as part of preliminary investigation into possible 'conspiracy to plan terrorist acts'.
The controversial new court set up at Charles de Gaulle airport began hearings this week, with the first defendant ordered to return to Senegal.
Police seized the 1.3 tonnes of pure cocaine on board an Air France flight from Venezuela, with the drugs found packed inside 30 suitcases.
Long-awaited plan for express rail service from Paris to Charles de Gaulle airport close to being finalised and may be funded from new ticket taxes.