Keyword: chemical weapons
French President Emmanuel Macron has warned that if France 'proven evidence that chemical weapons proscribed in treaties are used, we will strike the place where they are made' following reports that signs that chlorine bombs had been used against civilians by the Damascus regime.
Russia, Armenia and the former West Germany were all major suppliers of technology and raw materials for Syria's programme of chemical weapon production, exiled Syrians who worked on the project have told Mediapart. They also say that, in violation of intentional law, the Damascus regime still has a secret arsenal of up to 35 tonnes of chemical weapons. René Backmann reports.

Sarin production site at Al Dumayr in Syria which was partially destroyed by the United Nations.
Exiled Syrian scientists have told Mediapart that the Damascus regime drew up plans to use chemical weapons against internal opposition two years before the start of the current civil war in 2011. The scientists, who were involved in the making of the weapons but who defected after misgivings about its use inside the country, say the country's president Bashar al-Assad had become unnerved by protests in Iran in 2009 and the regime had ordered seven military basses to be made ready to store chemical weapons – including sarin gas. René Backmann reports.
French foreign minister Jean-Marc Ayrault said Syrian President Bashar al-Assad's claim that reports of a chemical weapons attack on rebels in the town of Idlib last week were false was '100 percent lies'.
French foreign minister Jean-Marc Ayrault called the escalation of the US military role in Syria a 'warning' to a 'criminal regime'.
Foreign minister Jean-Marc Ayrault called on the United Nations Security Council to vote a resolution that places those who commit chemical attacks in Syria under sanctions, adding that the Syrian army and the Islamic State group had used chemical weapons agaisnt civilians 'on at least three occasions'.
Call came after claims that Sudanesse government has carried out at least 30 likely chemical weapons attacks in Jebel Marra area of Darfur.
'Stunned' French president François Hollande called off military attack after US president said he was to seek Congress approval.
France's Laurent Fabius says UN report leaves no doubt that Syrian government is responsible for chemical attack but Russians still blame rebels.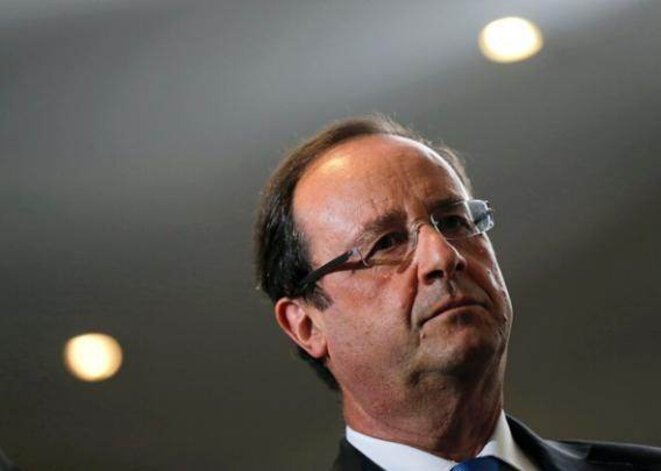 © Reuters
US Secretary of State John Kerry arrived in Paris late on Saturday to discuss what increasingly appears to be an imminent US-led military attack, with the active support of France, upon the Syrian regime of Bashar al-Assad. Kerry said the international community was now before a "Munich moment", referring to the appeasement that failed to stop Nazi Germany in the 1930s. "We in the United States know, and our French partners know, that this is not the time to be silent spectators to slaughter," he said. The present crisis will, whatever the outcome, be recorded as a turning point for French President François Hollande. Mediapart editor-in-chief Edwy Plenel argues here that Hollande has alone decided to lead his country to war in a simplistic and precipitated manner, while turning his back on the two challenges left by his predecessor Nicolas Sarkozy, namely a renewal of the democratic process in France and the establishment of a new approach to international relations.
French PM Jean-Marc Ayrault has presented intelligence to parliamentarians which he says shows al-Assad regime has used chemical weapons.
President Hollande remains determined to punish Syria over chemical weapons despite Obama U-turn, as opposition and public opinion unease grows.
President Hollande backs Obama decision to get green light from Congress but now faces pressure to put the issue to French parliament.
The country which defiantly opposed U.S. intervention in Iraq a decade ago emerges as Washington's staunchest supporter for punitive air strikes.