Mourad Hamyd, brother-in-law of Cherif Kouachi who was behind the January 2015 maagazine attack, was detained in Bulgaria.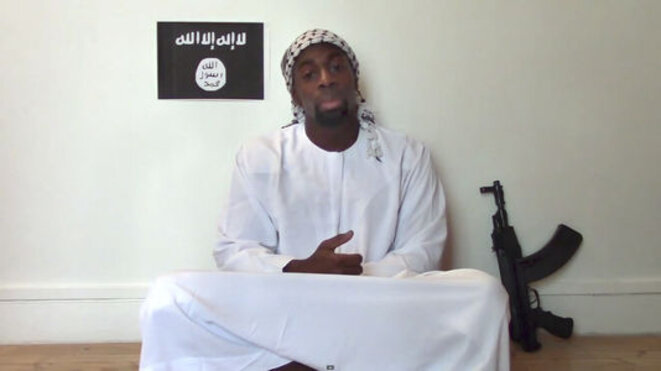 Amedy Coulibaly.
In December 2008, freelance journalist Warda Mohamed interviewed a 26-year-old convicted delinquent who hid his identity behind the pseudonym 'Hugo'. The interview centred on the repeat offender's experiences in prison, where he served time for crimes including armed robbery and drugs trafficking. Little more than six years later, Mohamed discovered that 'Hugo' was in fact Amedy Coulibaly, who shot dead a policewoman and four customers of a kosher store during the January 2015 Islamist terrorist massacres in Paris. Here Mohamed returns to that interview in 2008, when Coulibaly explained how he was "transformed" by prison.
Claim that threats from Chérif Kouachi - one of the two gunmen - outside magazine three months before shootings were not acted on.
TV and radio stations revealed the presence of Lilian Lepère hiding in a cupboard at a printing plant where the two gunman were under seige.
Chérif Kouachi, 32, was buried amid tight security overnight Saturday in an unmarked grave in the Paris northern suburb of Gennevilliers.
The mobile phone video of gunmen Saïd and Chérif Kouachi shows them calmly returning to their car shouting 'We have avenged the Prophet'.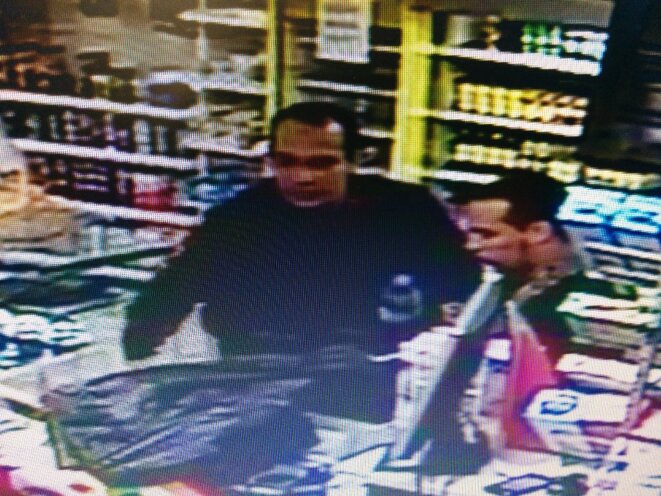 Les frères Kouachi, lors du braquage d'une station-service dans l'Aisne, le 8 janvier 2015. © Vidéo-surveillance
The two brothers who last week carried out the shooting attack on the offices of Charlie Hebdo magazine were the object of separate surveillance operations by French intelligence services between 2011 and 2014, which was halted last summer after it apparently failed to uncover evidence that they were involved in terrorist activity, Mediapart can reveal. Meanwhile, the third terrorist, Amedy Coulibaly, who killed five people during the Paris terror attacks last week, fell completely off the radar of anti-terrorist services after his release in March last year from prison where he had been serving time for his involvement in a plot to free a convicted terrorist from jail. Fabrice Arfi reports.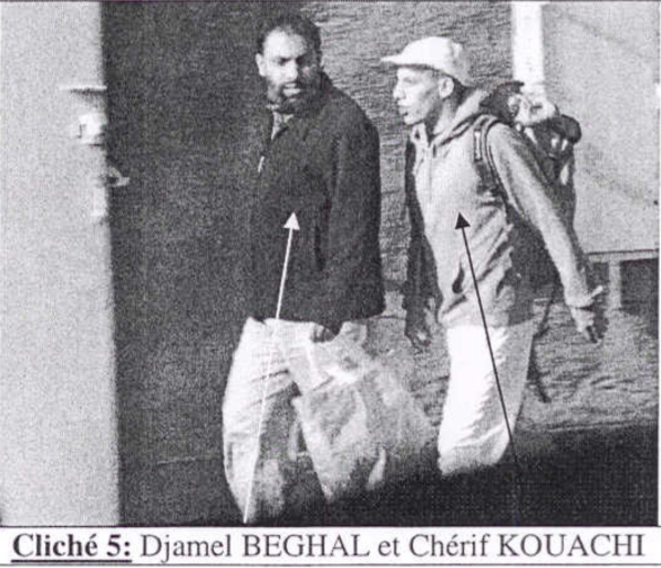 Photo de surveillance policière de 2010 de Chérif Kouachi avec Djamel Beghal © DR
The murder of a policewoman and the bloody siege at a Jewish supermarket carried out by a known associate of the two suspects in the Charlie Hebdo massacre indicates that an organised group was behind last week's terror attacks. Mediapart has had access to documents from an anti-terrorist investigation in 2010  showing that two of last week's gunmen were involved back then with a radicalised French network that was considering future "martyr operations". These were supermarket hostage taker Amedy Coulibaly and Charlie Hebdo massacre suspect Chérif Kouachi. As Fabrice Arfi and Karl Laske report, the revelations will inevitably raise questions about whether more could have been done by the intelligence services to prevent last week's bloody events.
Stories emerge of how hidden man at besieged printing works fed information to police by text, while a father hid his son in supermarket fridge.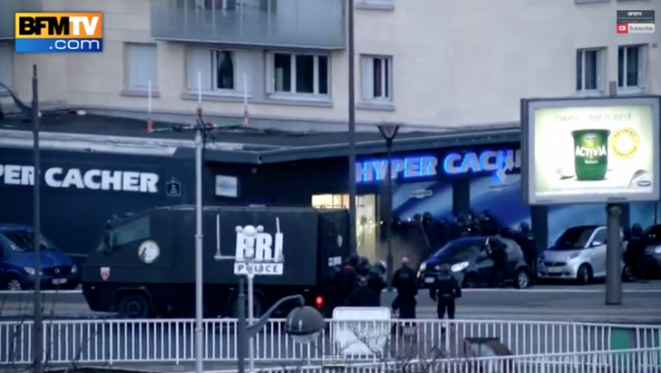 © BFMTV
Chérif Kouachi and Saïd Kouachi, the two men wanted for the shooting massacre of 12 people in an attack on satirical magazine Charlie Hebdo on Wednesday, were killed by police late Friday afternoon after an eight-hour siege of a building close to Roissy-Charles-de-Gaulle airport. Meanwhile, Amedy Coulibaly, a gunman reported to have jihadist links to the Kouachi brothers, was also killed by police after they stormed a kosher supermarket in south-east Paris where earlier on Friday he had taken 16 people hostage. Four of the hostages died, apparently murdered by Coulibaly at the start of the siege, and another four were reported to be seriously wounded. In a phone interview with French TV station BFMTV before he died, Chérif Kouachi said he represented al-Qaeda's Yemeni branch, while Coulibaly apparently told the station he represented the organisation Islamic State and was acting in "synchronisation" with the Kouachi brothers. Meanwhile, police in France are still hunting a woman described as the partner and accomplice of Coulibaly's, and who is said to be potentially "armed and dangerous". This report by Michael Streeter and Graham Tearse.
Reports say gunman holding up to 5 hostages in kosher supermarket is linked to Charlie Hebdo killers and is suspect in policewoman murder.
At least one hostage has been taken at a printing business in the town of Dammartin-en-Goële, north east of Paris, according to reports.
The hunt is focused on an area of Picardy where the two fugitives were reportedly last seen on Thursday morning when robbing a petrol station.