Related keywords
Trade officials working for the European Commission may be having to work from home because of the coronavirus pandemic but they are still busy negotiating free trade deals with countries around the world on behalf of the European Union. As Mediapart's Brussels correspondent Ludovic Lamant reports, these officials are behaving as if the Covid-19 outbreak has not had a dramatic effect on everything – including the way people regard world trade and globalisation.
In an interview with the Financial Times, and during a week of heightening diplomatic tensions between Paris and Beijing, French President Emmanuel Macron said it would be 'naive' to believe the Chinese authorities had dealt better with the Covid-19 virus crisis than Western democracies, and that in China 'There are clearly things that have happened that we don't know about'.
The Chinese ambassador to France was summoned by the foreign ministry in Paris after his embassy posted online criticism of French management of the Covid-19 epidemic, which Chinese officials have since insisted was a 'misunderstanding'.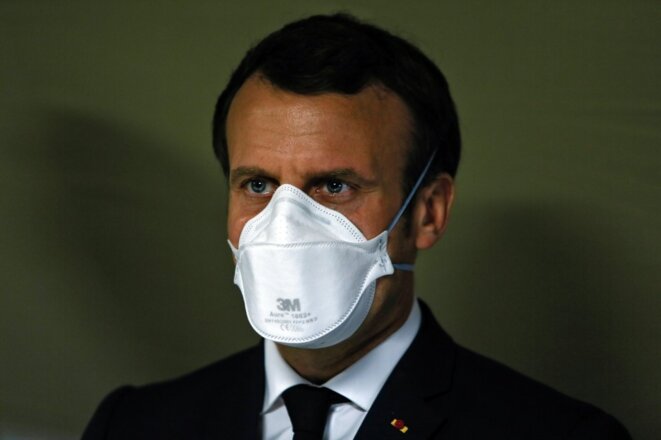 President Emmanuel Macron during a visit to a Covid-19 field hospital at Mulhouse in eastern France on March 25th 2020. © AFP
An investigation by Mediapart has revealed the chaotic management at the highest levels of the French state over the crucial issue of providing protective masks to help tackle the Covid-19 coronavirus pandemic. Our probe, which has analysed the situation since January and is based on numerous witness accounts and documentary evidence, highlights the hidden shortages, the unreliable health instructions, the neglected offers of help with importing masks, the continuing shortage of stocks and the way that some companies have been favoured. It also reveals the lies that have accompanied this mismanagement. Meanwhile hundreds of nurses have become infected with the virus. Yann Philippin, Antton Rouget and Marine Turchi report.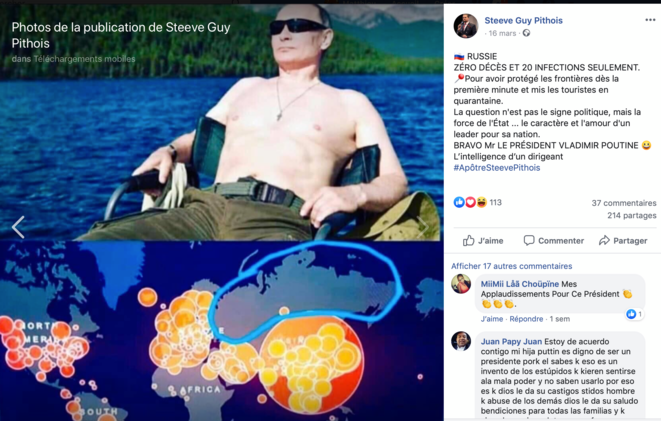 A meme that has gone viral: Russian leader Vladimir Putin relaxing; below is a map of Europe showing how it has been invaded by the virus. © DR
The Covid-19 coronavirus pandemic has not brought a stop to the activities of hackers and trolls bankrolled by various foreign governments, including Russia and China. In some cases hacking attacks have targeted institutions who are in the front line in the battle against the virus. Trolls meanwhile have been extolling the virtues of how authoritarian regimes have handled the health emergency. François Bougon and Matthieu Suc report.

A statement issued on the website of China's embassy in France warns that excluding Chinese tech giant Huawei from future French 5G telecoms contracts would be regarded as 'blatant discrimination' and 'disguised protectionism', in a riposte to US pressure to bar Huawei's involvement in the new fifth-generation wireless networks over fears of Chinese spying.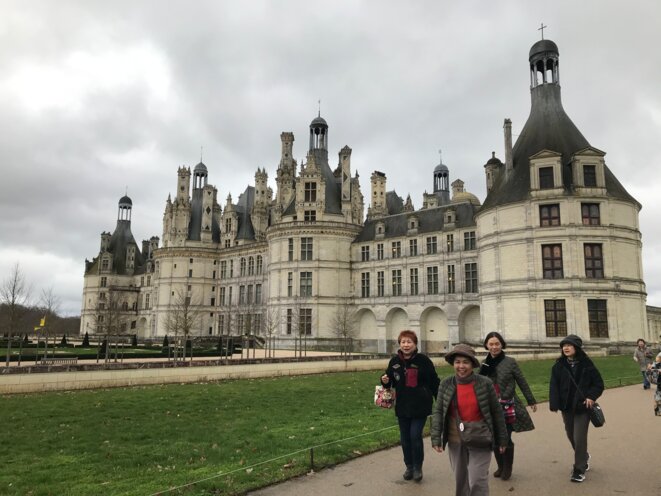 Tourists from Asia in front of the Château de Chambord in the Loire Valley. © JP
The beautiful châteaux of the Loire Valley in western France are a major attraction for visitors from China. But both individual Chinese tourists and those in groups are starting to suffer as a result of the fears provoked by the current coronavirus outbreak which began in mainland China. Jordan Pouille reports.
While a fourth case of coronavirus infection was diagnosed in France, the government has said the first flights repatriating French citizens from the centre of the outbreak, the Chinese city of Wuang, are due to arrive in Paris as of Friday, and all will be placed in a holding facility where they will be monitored over the 14-day incubation period.
France will later this week begin airlifting its nationals from Wuhan, the locked-down Chinese city at the centre of a coronavirus outbreak where an estimated 500 French expatriates live, after reaching agreement for the evacuation with the Chinese authorities, health minister Agnès Buzyn has announced.
During a three-day visit to China this week by French President Emmanuel Macron, France and China signed commercial deals in the fields of aeronautics, energy and agriculture worth a total of around 15 billion dollars, a Chinese government official has announced.
China has suspended all cooperation with France in police matters in retaliation for its granting of asylum to the wife of the former Chinese boss of Interpol, Meng Hongwei, who was tried in Tianjin in June on charges of accepting bribes after mysteriously disappearing from Interpol's French HQ in Lyon.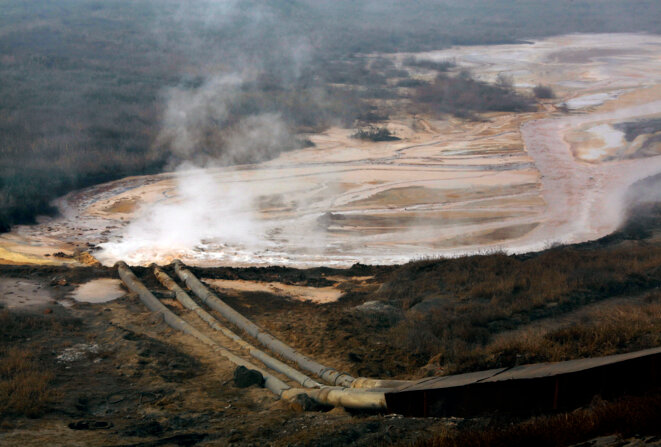 Huge pipes removing polluted water from a rare earth refinery in Inner Montgolia. © Reuters
The Chinese president Xi Jinping, whose country is embroiled in a trade war with the United States, has threatened an embargo on Chinese exports of what are called rare earths. These metallic elements have become essential raw materials both for the technological transition to greener energy and in the digital world. And China has a near-monopoly on them. Mediapart's Martine Orange spoke about the issue with French expert Guillaume Pitron, author of a recent book on the growing global battle over these crucial elements.
Meng Hongwei, the Chinese head of the France-based international police organisation Interpol who disappeared after travelling to China last September, has admitted accepting more than 2 million dollars in bribes, according to a statement issued by a Chinese court in the north-east city of Tianjin.
Grace Meng, whose husband Meng Hongwei faces bribery charges in China, was given protection by French police after alleged abduction bid.