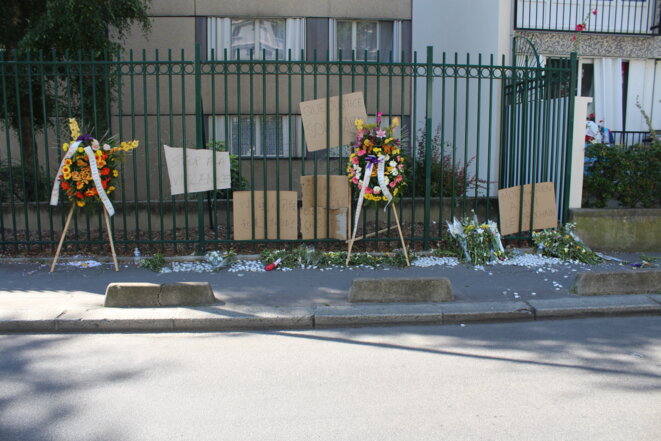 Tributes at the scene of the assault on Chaolin Zhang in Aubervilliers. © AD
The death earlier this month of a Chinese man after he was assaulted in the Paris suburb of Aubervilliers has sparked furious protests from the local Chinese and South-East Asian populations, which are increasingly the target of gratuitous violence and robberies by gangs of youths fof other ethnic origins. The authorities and the media have largely ignored the racist attacks against the Chinese community, which has now begun to set up its own self-defence groups. Aurélie Delmas reports from Aubervilliers where the mayor warns of a powder-keg situation.
Sandro, Maje and Claudie Pierlot's parent company announces deal that underlines growing Chinese presence in French fashion industry.
Paris police in May began a heavy-handed crackdown on the growing numbers of Chinese prostitutes working the streets of Belleville, a multi-ethnic, working-class neighbourhood in the north of the capital. The local authorities say the operation was to prevent Belleville from becoming the city's centre of "open air prostitution", but the sex workers complain of violent and humiliating behaviour by police officers that has left them exposed to greater dangers. Julien Sartre reports.
Chinese conglomerate Fosun International poised to take over iconic French resort firm after Italian rival bidder pulls out.
Economy minister insists controversial sale of share in biggest airport in south-west France is not 'privatisation' but 'opening up of capital'.
Fall follows anti-crime crackdown by French police at top attractions such as the Champs Elysées, Notre Dame and the Louvre.
Move reflects French concern over rising number of muggings aimed at Chinese tourists, of whom a million visit France each year.
News comes as reports suggest loss-making carmaker is considering joint stake by French government and Chinese state firm Dongfeng Motor.
The six oenology students were attacked at a hostel in a village near Bordeaux, leaving one of them seriously injured from glass cuts to her face.
National Tourism Administration made the call after 23 Chinese tourists travelling in a group were robbed soon after they arrived at French airport.