Keyword: christiane taubira
As the clock ticks down for next April's presidential elections in France, the divided French Left, which with several candidates is split and poorly positioned for success against the conservative and far-right hopefuls, is set to have yet another challenger in the race after Christiane Taubira, a Black Guyanese former socialist justice minister, announced that she will probably stand and 'use all my strength' to unite her political camp.
Taubira, who pledged loyalty to President Hollande despite quitting his government, was treated to standing ovation at New York University.

Gone: left-wing justice minister Christiane Taubira.
Justice minister Christiane Taubira quit the French government on Wednesday January 27th over her opposition to controversial plans to strip dual nationals of their French citizenship if they are convicted of terrorism. To the last this iconic figure on the left of French politics showed her flamboyance, Tweeting that "sometimes resisting means going" and later declaring: "I leave the government over a major political disagreement." As Mediapart's political correspondent Lénaïg Bredoux reports, her replacement as justice minister by Jean-Jacques Urvoas, a close ally of prime minister Manuel Valls, is the final step by this government towards the liberal and security-based political line that President François Hollande has been seeking.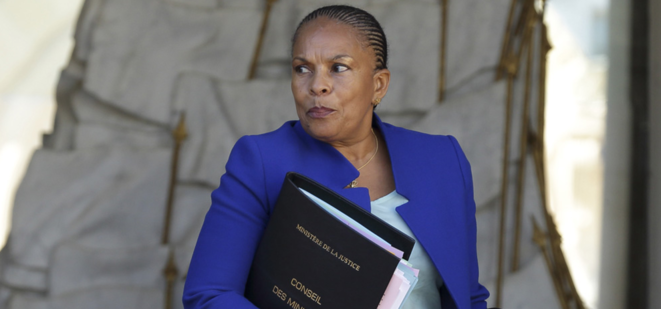 Christian Taubira.
France's justice minister Christiane Taubira this week publicly declared that her government's new anti-terrorist legislation proposals will not include stripping French nationality from dual nationals found guilty of terrorist crimes. It posed, she said, a "key problem for the fundamental principle of national rights by birthplace, to which I am profoundly attached". Within 24 hours Prime Minister Manuel Valls insisted that the proposal, pledged by President François Hollande after the November terrorist attacks in Paris, would go ahead. Adding to her humiliation, it is Taubira herself who will present the new bill of law before parliament early next year. Lénaïg Bredoux and Michel Deléan trace the transition of a once flamboyant icon of the Left into a passive objector.
For many years successive French governments have opposed the decriminalisation of cannabis, unlike many other countries. However, France did recently bring in on-the-spot police fines in a bid to simplify procedures and avoid lengthy and costly court cases for cannabis users. However, this new approach will not end the disparities and lack of coherence in the existing repressive policy, under which prosecution for using cannabis depends as much on who you are and where you live as on what you smoke. Michaël Hajdenberg reports.
France's justice minister Christiane Taubira said she 'wouldn't be surprised' if WikiLeaks founder and NSA whistleblower were granted asylum.
Former French president Sarkozy came under fire for singling out two non-white female ministers in a largely white government as incompetent.
The French government is rushing through a bill which will give wide-ranging powers to security and intelligence officials to snoop on the nation's citizens. The measure, dubbed by some the French version of America's Patriot Act, will allow spies to tap phones and emails without obtaining permission from judges. It will also allow agents to bug suspects' homes with microphones and cameras and add covert software to their computers to track every letter and word they type. France's lower house of Parliament, the National Assembly, will hold its final vote on the draft legislation on May 5th. Though the government has sought to justify the proposed law as a necessary tool in the fight against terrorism, the surveillance bill has met with unanimous opposition from civil liberties groups, administrative bodies and the internet community. Editor-in-chief Edwy Plenel here explains why Mediapart is so passionately opposed to this "wicked" law and urges people to join the public protest against it which is planned for Monday May 4th.
Anne-Sophie Leclere is given a nine-month jail term and a 50,000-euro fine for likening France's black justice minister to a chimpanzee.
Opposition say Christiane Taubira should resign for likening singing along with French national anthem to performing 'karaoke'. 
African nation barred France's ambassador from attending genocide commemorations after Paris cancelled the planned visit of justice minister.
But Christiane Taubira insists at press conference that she 'did not lie' about what she knew and says she will not resign from government.
PM Jean-Marc Ayrault says he and justice minister Christiane Taubira knew of phone-tapping on February 26, contrary to what she had said before.
Justice minister says there is a 'kind of rage' in France and that it needs to regain its 'sense of history and its capacity to live together'.