Keyword: Christine Lagarde
French president praised 'capacities and competences' of French ex-minister Christine Lagarde who is set to be new European Central Bank boss.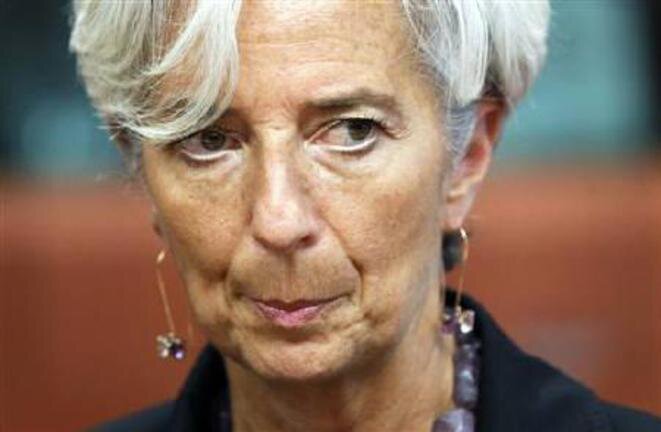 IMF chief and former French economy and finance minister Christine Lagarde. © Reuters
IMF chief Christine Lagarde was called by French tycoon Bernard Tapie to testify as a witness at his current trial in Paris on charges of fraud over a staggering 2008 award to him of 404 million euros out of public funds. The payout was made while Lagarde was French finance minister, and followed her approval of a private arbitration process which has since been overturned. Washington-based Lagarde has declined to appear at the trial, where she would have been a key witness, apparently because of her busy agenda. Mediapart's Laurent Mauduit has discovered that in fact Lagarde has every opportunity to attend the trial, but has instead decided to take part in an unrelated event just a few kilometres away from the Paris courthouse.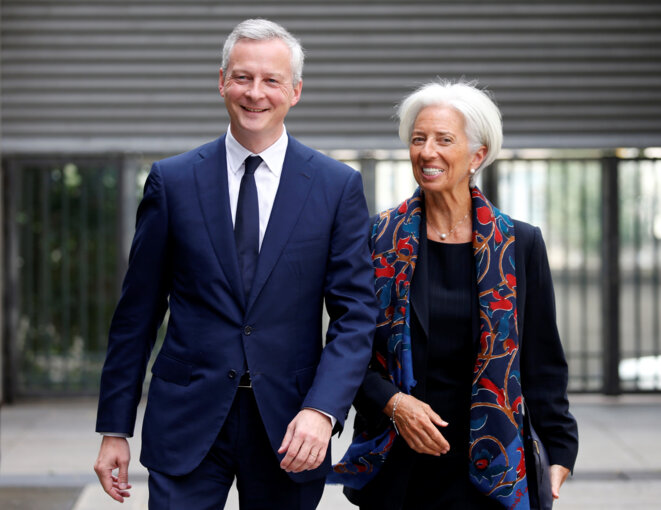 France's economy minister, Bruno Le Maire, with Christine Lagarde, managing director of the IMF. © Reuters
To the immense satisfaction of France's finance ministers, the International Monetary Fund recently lavished praise on the new French government's economic policies. Yet the IMF's comments on French policy run contrary to the organisation's own admissions over its past analytical failings, its change in economic thinking and much of its own internal research. Romaric Godin says this inevitably raises questions about whether the IMF was taking a political stance towards President Emmanuel Macron's new administration rather than giving economic analysis.
President François Hollande has just granted a full pardon to Jacqueline Sauvage, a woman who killed her husband after he had continually beaten her and sexually abused their daughters. Hubert Huertas says the decision to act having hesitated for so long over the pardon sums up Hollande's presidency. He also argues that the case illustrates the limits of French democracy and highlights the issue of judicial scandals.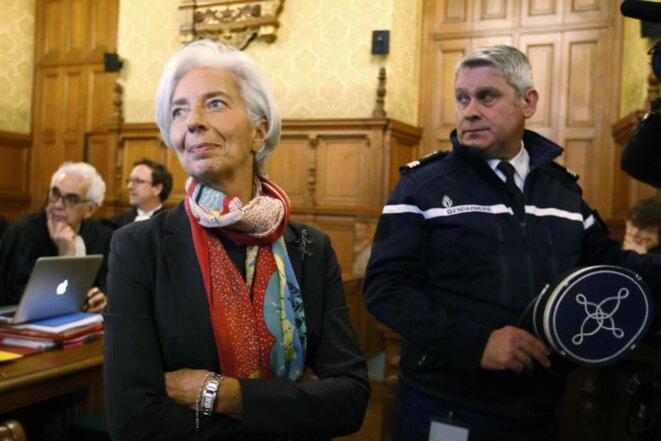 Christine Lagarde in court at the start of her trial on December 12th. © Reuters
Following a week-long trial, International Monetary Fund (IMF) chief Christine Lagarde has been found guilty of negligence when French economy and finance minister for allowing an award of more than 400 million euros from public funds to controversial tycoon Bernard Tapie. But the Court of Justice of the Republic, a special French court dedicated to judging the misdeeds of ministers, decided to exempt her from any sentence. The IMF announced late Monday that it had "full confidence" in Lagarde. Michel Deléan reports.
On last day of her trial IMF chief insisted she did nothing wrong in authorising massive settlement to Bernard Tapie to settle dispute.
Prosecutor Jean-Claude Marin said case against ex-French economy minister over her handling of €403m Tapie arbitration award was 'weak'.
A former top French civil servant told the judges in the trial of IMF boss Christine Lagarde how he had tried to meet the then-economy minister to stop her from agreeing to an arbitration process that eventually cost French taxpayers 403 million euros. Ex-Treasury official Bruno Bézard said not only was holding the arbitration in the first place a blunder, it had been a mistake not to have appealed against its 2008 ruling in favour of tycoon Bernard Tapie. Mediapart's legal affairs correspondent Michel Deléan says it was a tough day in court for Lagarde, who denies negligence in signing off on the arbitration process while a member of President Nicolas Sarkozy's government.
The managing director of the International Monetary Fund, Christine Lagarde, has appeared before a special court in Paris charged with negligence over her handling of a controversial arbitration process that paid out millions of euros of French taxpayers' money. Addressing a court reserved for government ministers, the former French economy minister denied wrongdoing but suggested she herself may have been "exploited" by others in relation to the 403 million euro award made to French tycoon Bernard Tapie in 2008. Mediapart's legal affairs correspondent Michel Deléan reports.
Former French finance minister accused of negligence over her role in setting up arbitration panel that awarded €404m to tycoon Bernard Tapie.
The International Monetary Fund managing director is to be tried by a special court on Monday charged with negligence when she was French finance minister for allowing a payout of more than 400 million euros from public funds to tycoon Bernard Tapie, a decision since quashed.
Lagarde is accused of negligence for allowing an extremely rare out-of-court arbitration process that gifted Bernard Tapie with more than 400 million euros.
Official says IMF boss should go to court over her handling of massive state payout to Bernard Tapie when she was France's finance minister.
The ex-French economy minister, to be tried for 'negligence' in 404-million payout awarded to a French tycoon, was given second five-year mandate.