Keyword: Christine Lagarde
Lagarde, 60, the IMF's managing director since 2011, unveiled her bid despite being sent for trial in France for 'negligence' in Bernard Tapie case.
Ex-minister embroiled in scandal over which IMF boss Christine Lagarde faces court wants to fight youth unemployment and rise of far-right.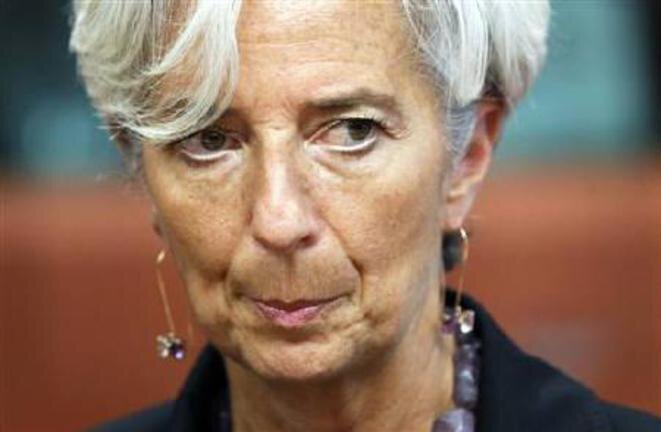 IMF chief Christine Lagarde. © Reuters
International Monetary Fund chief Christine Lagarde has been sent for trial in France for "negligence" when she was French finance minister in her management of an arbitration process that awarded French businessman Bernard Tapie with 404 million euros paid out of public funds, Mediapart can reveal. Earlier this month the Paris appeals court ordered Tapie to pay back the controversial 2008 payout. Michel Deléan and Laurent Mauduit report.
In the last week four cases of alleged corruption, fraud, abuse of position or negligence involving prominent figures in French society have ended with no one being punished. In two cases the defendants were acquitted, in another no sentence was passed, while in the investigation concerning former government minister and current head of the International Monetary Fund, Christine Lagarde, the prosecution said the case should be dropped. Mediapart's legal affairs correspondent Michel Deléan considers whether the French justice system is giving way when faced with certain high-profile political and financial cases – and if so, why.
The case against Christine Lagarde is linked to her role in the so-called Tapie Affair while she was France's finance minister in 2008.
Former French finance minister says Paris cannot use low inflation as a 'screen' to postpone the 'necessary efforts on public spending'.
Lagarde now faces possible 'negligence' charge for her role in a payout of 400-million euros of public money to a business tycoon.
It is Lagarde's third appearance before judges probing her role as French finance minister in huge mediation payout to tycoon Bernard Tycoon.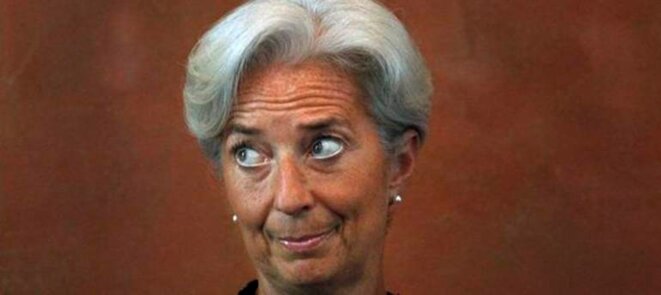 © Reuters
When the head of the International Monetary Fund appeared before judges investigating the Tapie affair, she told them she had never read key memos from a state body that was advising her against the controversial arbitration that eventually paid out 404 million euros of taxpayers' money. But that is not what she told French MPs five years ago. Mediapart's Laurent Mauduit reports on how the former finance minister appears to have misled the criminal investigation.
Head of Orange says IMF boss knew all the facts before approving arbitration that saw tycoon Bernard Tapie awarded a huge payout in 2008.
Bernard Tapie is being questioned over a 400-million-euro state payout he received in 2008 when Christine Lagarde was France's finance minister.
French press leaks an obsequious letter allegedly written by IMF chief Christine Lagarde in which she begs the former French president to 'use' her.
Just days after IMF boss Christine Lagarde faced questioning over her role in the affair, the saga of the 403 million euro award made to colourful businessman Bernard Tapie has taken a new twist with the news that one of the arbitration judges who agreed the payout has been held for questioning. Tapie's lawyer is also being questioned in custody, as investigators probe allegations of a conflict of interest during the arbitration. Michel Deléan and Laurent Mauduit report on the latest developments.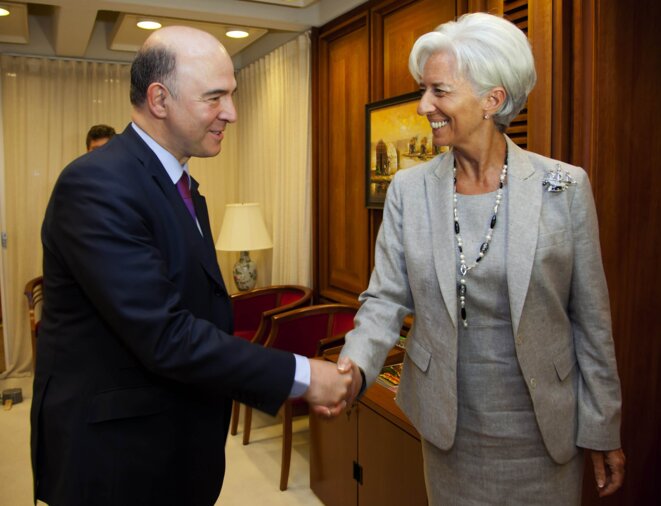 Christine Lagarde et Pierre Moscovici © Reuters
French magistrates on Friday designated International Monetary Fund chief Christine Lagarde as an 'assisted witness' in their investigation into the conditions of a payout, when she was French finance minister, of more than 400 million euros to controversial tycoon Bernard Tapie. Mediapart has learnt from several well-placed sources the reasons why the judges backed off from placing her under formal investigation, a move originally favoured by two of the three magistrates leading the investigation. These are said to include an extraordinary last-minute public statement in support of Lagarde by French finance minister Pierre Moscovici (pictured top left with Lagarde), and a reported change to her previous account that she managed the Tapie case without interference from the presidential office.
IMF chief Lagarde escapes being formally placed under investigation over her role in a controversial 400M-euro payout to tycoon Bernard Tapie.