Keyword: Christophe Castaner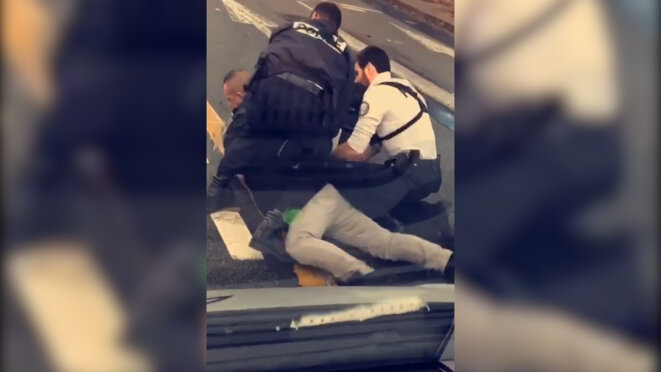 Cédric Chouviat, still with his helmet on, held on the ground by three police officers in Paris on January 3rd 2020. © Document Mediapart
On January 3rd 2020 deliveryman Cédric Chouviat, aged 42, was stopped on his scooter as part of a routine roadside police check in Paris, arrested, put in a chokehold then held face down on the pavement. His own mobile phone reveals that seven times he repeated the words "I'm suffocating" before falling unconscious and later dying. The episode inevitably has echoes of the American George Floyd whose last words when being held down by a police officer in Minneapolis were "I can't breathe".  These revelations about the final words of Cédric Chouviat, contained in a report seen by both Mediapart and Le Monde, will put even greater pressure on the authorities to shed light on the nature of the arrest and the controversial techniques used by the French police to restrain the father-of-five. Pascale Pascariello reports.
France's police force is to end using chokeholds as a technique to immobilise people, interior minister Christophe Castaner on Monday, although the controversail practice of officers pressing down on the chest of a person on the ground, and which is alleged to have caused deaths during arrests, remains legal. 
French interior minister Christophe Castaner on Monday evening provided further details on the nationwide lockdown of the population announced earlier by President Emmanuel Macron, adding that 100,000 police officers would be deployed to ensure the public only left their homes for reasons that should be justified by a written statement, downloaded from an official website and signed, or face a fine of up to 135 euros.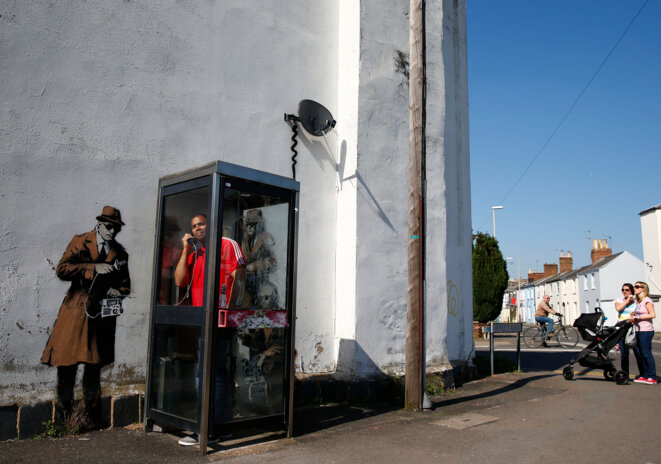 A mural by street artist Banksy close to Britain's signals intelligence agency GCHQ,in Cheltenham, England. © Reuters/Eddie Keogh
The British and French intelligence agencies are deeply concerned that their close bilateral cooperation, notably on counter-terrorism activity, remains intact after the UK leaves the European Union. But they are fearful of the consequences, especially in the case of a hard Brexit, when, the EU warns, "The UK will be disconnected from all EU networks, information systems and databases" concerned with police and judicial cooperation. Matthieu Suc reports.
French interior minister Christophe Castaner said an individual 'inspired by the events of September 11th and the planes which destroyed the World Trade Center towers' had recently been arrested by intelligence services for planning a similar attack in France.
A right-wing senator accused Christophe Castaner of failing in his duties and called for him to step down as a 'matter of national security'.
Interior minister Christophe Castaner's false claims on Twitter on May 1st.
A newly introduced French law designed to combat the proliferation of false information on social media which may manipulate elections was tested this month for the first time, but not in the manner the government foresaw when it devised the legislation. Two communist politicians lodged a demand, under the articles of the law, for the removal of a message posted on Twitter by French interior minister Christophe Castaner, who falsely claimed that May Day demonstrators had attacked a Paris hospital and its staff. Géraldine Delacroix reports on how they lost their case, but won their demonstration that the law, as they put it, "serves no purpose".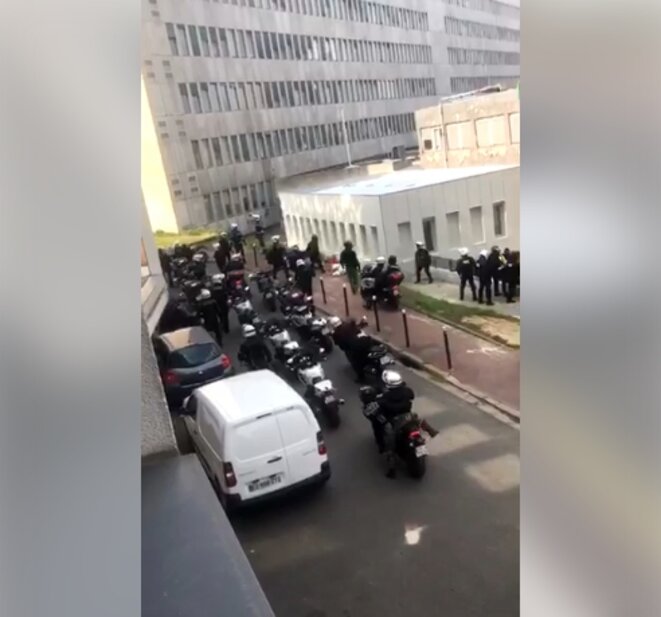 Police on motorbikes inside the grounds of Pitié-Salpêtrière hospital, May 1st 2019.
The Pitié-Salpêtrière hospital in Paris has been at the centre of a major controversy after incidents that took place there in the aftermath of this year's annual May Day demonstrations. Throughout the evening of May 1st and into the following morning, several members of the government and senior health managers in Paris insisted the well-known hospital had been "attacked" by violent demonstrators. Yet in fact there was no such attack: instead, a few dozen protestors sought refuge in the hospital's buildings to escape police tear gas and charges. There was no threatening behaviour from protestors towards hospital staff and none of them damaged the premises. However, some were later hit by the police. Now interior minister Christophe Castaner has formally retracted his use of the word "attack". Dan Israel reports.
Demonstrators from a march who entered the Pitié-Salpêtrière hospital said they were just seeking refuge from tear gas fired by police.
French police source said four suspects had been arrested on suspicion of acquiring weapons 'with a view to committing a terrorist act'.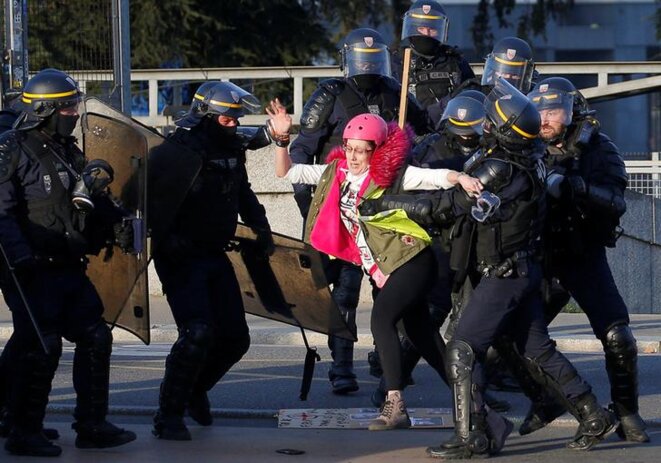 Scenes at a 'yellow vest' protest in Nantes in western France on February 16th 2019. © Reuters
The United Nations has followed the European Parliament in criticising the policing of some demonstrations staged by 'yellow vest' protestors in France. The UN's High Commissioner for Human Rights condemned what she called the "excessive use of force" used by the police on some occasions. The criticism came after interior minister Christophe Castaner's terse response to opposition MP Loïc Prud'homme after the latter was hit with a baton during a yellow vest protest last Saturday March 2nd in Bordeaux. Carine Fouteau reports.
Interior minister reported as saying fighters of French origin could be repatriated from Syria as US forces withdraw from that country.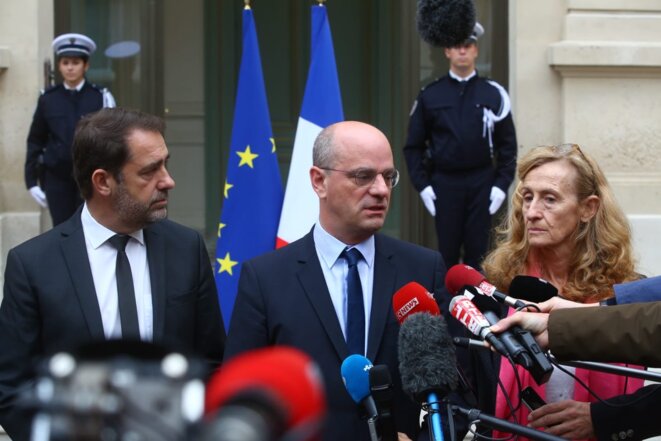 Interior minister Christophe Castaner, left, education minister Jean-Michel Blanquer and justice minister Nicole Belloubet. © @Twitter @jmblanquer
A recent video showing a pupil pointing a pistol – later discovered to be fake - at his teacher in a school in France went viral. The government called an urgent meeting of senior ministers to work out a plan of action to tackle violence in France's schools, amid talk that the police might be asked to patrol in some establishments. Detailed policies are expected to be announced soon. But as Manuel Jardinaud and Faïza Zerouala report, this tough rhetoric, which recalls the days of Nicolas Sarkozy's presidency, has not gone down well with many teachers.
New plans are set to be announced by interior minister Christophe Castaner following a string of violent incidents in country's classrooms.