Keyword: Christophe Castaner
Related keywords
Interior minister reported as saying fighters of French origin could be repatriated from Syria as US forces withdraw from that country.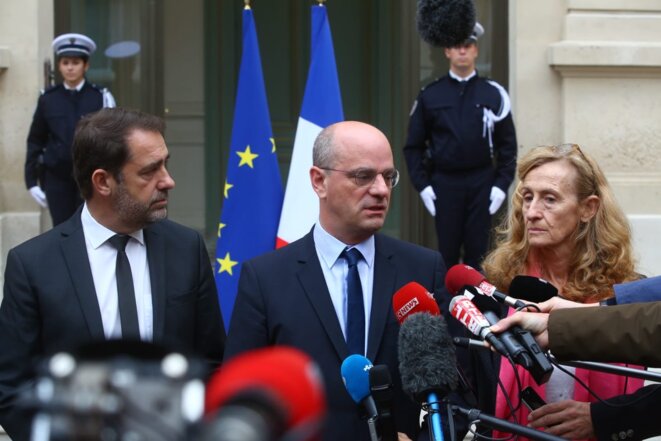 Interior minister Christophe Castaner, left, education minister Jean-Michel Blanquer and justice minister Nicole Belloubet. © @Twitter @jmblanquer
A recent video showing a pupil pointing a pistol – later discovered to be fake - at his teacher in a school in France went viral. The government called an urgent meeting of senior ministers to work out a plan of action to tackle violence in France's schools, amid talk that the police might be asked to patrol in some establishments. Detailed policies are expected to be announced soon. But as Manuel Jardinaud and Faïza Zerouala report, this tough rhetoric, which recalls the days of Nicolas Sarkozy's presidency, has not gone down well with many teachers.
New plans are set to be announced by interior minister Christophe Castaner following a string of violent incidents in country's classrooms.
A much-awaited French government reshuffle, finally prompted by the resignation of interior minister Gérard Collomb but which followed a string of political upsets for President Emmanuel Macron this summer, saw the appointments on Tuesday of five new ministers, including Macron's party boss and former socialist Christophe Castaner to replace Collomb, and a former conservative filling the departure of scandal-hit culture minister Françoise Nyssen. 
Christophe Castaner, 51, who last year swapped political allegiance to join Emmanuel Macron's centrist bid for the French presidency has been appointed as head of the latter's fledgling political party in a move driven by the president and which has been criticised as ignoring traditional democratic party practices.
Among potential targets were said to have been government spokesman Christophe Castaner and radical left leader Jean-Luc Mélenchon.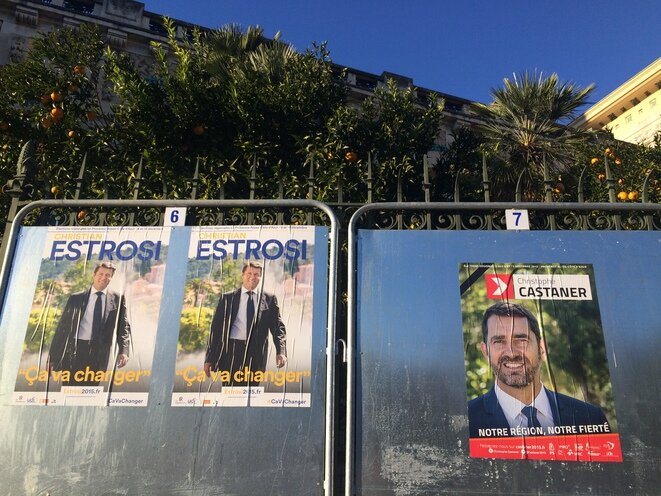 Election billboards in Nice. © ES
France's far-right Front National (FN) party is hoping to take control of the Provence-Alpes-Côte d'Azur region in nationwide regional elections played out today and next Sunday. The council of this south-east corner of France has been run for 17 years by the Socialist Party, which is now predicted to receive a drubbing. The main predicament facing the socialists after the first round is whether or not to withdraw their list of candidates for the benefit of the hard-right conservative candidate to defeat the FN. But, as Ellen Salvi reports from Nice, even collective political suicide may not be enough to stop the increasingly popular far-right.