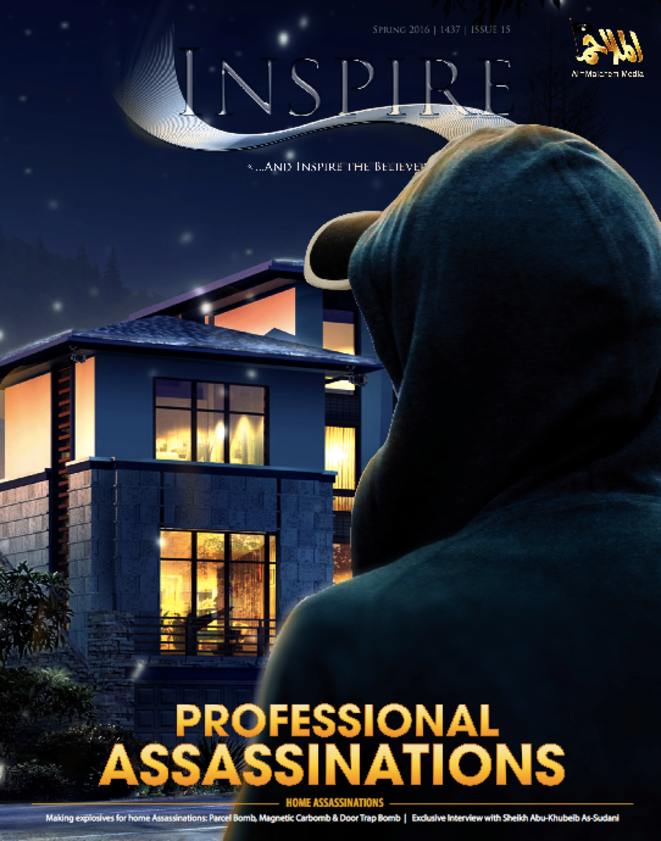 The cover of a 2016 issue of the al-Qaeda in the Arab Peninsula (AQAP) magazine Inspire, dedicated to "home assassinations". © DR
The attack on a church in the French Riviera city of Nice on Thursday, which left three people dead from knife wounds, was the third in the space of a month in a long series of terrorist attacks in France perpetrated by lone knifemen who have often escaped the attention of intelligence services. In the jargon of those services, they are called attacks of "low intensity", meaning of little means and organisation, but which have a major impact on public opinion. Matthieu Suc reports.
Brahim Aouissaoui, a 21-year-old Tunisian migrant has been identified by France's prosecution services as the assailant who killed two women and a man in a knife attack in a church in the south-east city of Nice on Thursday, and who had reportedly arrived in France in early October with identity papers issued by the Red Cross after disembarking on the Italian island of Lampedusa in September.
Two women and a man have died in an apparent terrorist attack at a church in the French Riviera city of Nice by a knife-wielding man who was shot by police and taken to hospital.
A 16-year-old boy was detained on suspicion of taking part in a false alert of a hostage-taking in a church in Le Marais district of Paris on Saturday, which led to a major anti-terrorist police operation.
Answering a call by religious leaders for the display of solidarity after the killing of a priest by Islamist teenagers, groups of Muslims joined Sunday Mass ceremonies.
A 17-year-old who tried to reach Syria last year with one of two men who attacked a church in Normandy was detained in Geneva and deported to France, reports say.
A copy of the passport of the unidentified man was found at the home of Adel Kermiche, one of two men who murdered a priest in Normandy on Tuesday.
Adel Kermiche, 19, used encrypted messaging service Telegram to tell fellow jihadists 'You take a knife, you go to a church, you make carnage'.
Adel Kermiche, one of two men who attacked a church in Normandy on Tuesday morning and committed the horrific murder of an 86-year-old Catholic priest in the name of the Islamic State group, was at the time on conditional release from preventive detention. The revelation that he was wearing an electronic tag with permission to leave his home near to the church on weekday mornings has caused a storm of controversy in France, and fierce criticism of the judges who decided his release from prison in March, despite the objections of the public prosecutor's office. Mathilde Goanec hears from fellow magistrates of what they describe as a fine line in assessing the true danger individuals like Kermiche represent.
Man who carried out attack on church with Adel Kermiche is identified by DNA as Abdel Malik Petitjean, 19, and who was known to security services.
The suspected identity of the man who joined Adel Kermiche in the murderous attack on a Normandy church was found in Kermiche's home.
After meeting with President François Hollande, France's religious leaders called for solidarity in face of what Paris mosque rector called 'blasphemous sacrilege'.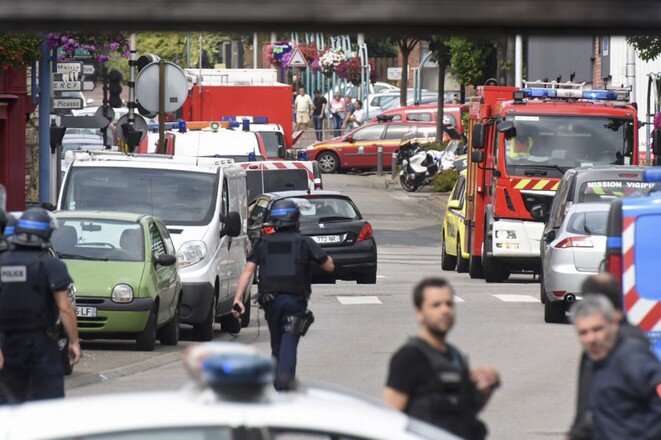 The scene close to the church of Saint-Étienne-du-Rouvray on Tuesday morning. © Reuters
A priest was murdered and one of his parishioners left in a critical condition by two knife-wielding men acting in the name of Islamic State group (IS) who attacked a Normandy church during a celebration of Mass on Tuesday morning. IS later claimed responsibility. The assailants, who had cut the 85-year-old priest's throat in front of a small group of nuns and worshipers, and who attempted to cut the throat of a parishioner, were shot dead by police as they came out of the church in what is believed to be the first attack on a Catholic place of worship in Europe by Islamic extremists. Paris public prosecutor François Molins provided further details about the attack on Tuesday evening. Graham Tearse reports.
Retired priest Jacques Hamel, 86, who had served almost 60 years in the clergy and who continued to help the local church, was described as 'a good man'.