French culture minister Françoise Nyssen has announced that film productions with a minimum of four women in key professional roles will be eligible to greater financial subsidies than others, in a drive to reach greater gender parity in the industry.
All of all of the Cannes Film Festival's female jury members, including its leader Cate Blanchett, along with many women actors, directors and producers held a protest on the red-carpeted entrance to the festival's Palis des festivals on Saturday to call for gender parity in the cinema industry, underling that Cannes had since its beginnings awarded 71 male directors with the coveted Golden Palm prize, but has given the honour to just two female directors.
A new law due to be announced early February will replace 2003 legislation by which people under the age of 18 are automatically barred from seeing films 'with non-simulated sex scenes and extreme violence' in French cinemas.
Figures show French-made films sold 34 million tickets abroad last year, a fall of 70 percent compared to 111.4 million in 2015, a bumper year.
Film fans are turning their backs on economic woes, with a string of homegrown comedies swelling French cinema audiences by almost 10%.
Guillaume Gallienne's autobiographical film about a boy whose family treated him as a girl wins five trophies at the yearly César awards.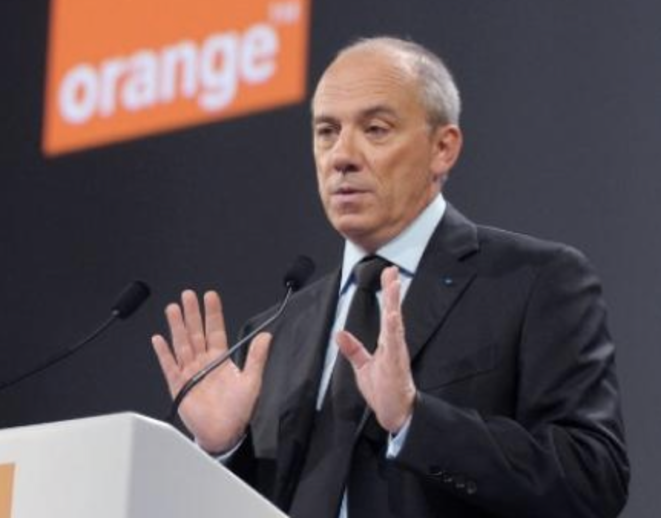 Stéphane Richard, le président d'Orange.
Frédérique Dumas, head of Orange Studio, the film production arm of French telecoms giant Orange and which has co-produced several major box office hits including The Artist, was called upon to abandon the funding of a biopic about the late fashion designer Yves Saint Laurent in order to protect the private interests of Orange CEO Stéphane Richard, according to documents obtained by Mediapart. The move was aimed as a favour for Pierre Bergé, a major shareholder of French daily Le Monde and president of its supervisory board, whose paper was at the time publishing an unflattering series of articles about Richard's implication in a high-profile judicial investigation into suspected fraud. Dumas, who refused to abandon the coproduction project, has since lost her job. Michaël Hajdenberg reports.  
Online viewing and lack of major hit films blamed for sale of only 192.8 million tickets in 2013, below the average for the past 10 years.
Among the string of box office successes this year, several used an erotic plot to shine a light on the naked truth of socio-economic tensions.  
France says that it will not start negotiations on transatlantic trade talks if cultural industries are not excluded from the start.
Franco-Chilean film director Raul Ruiz, whose work includes more than 100 films, has died in Paris, aged 70, following a lung infection.