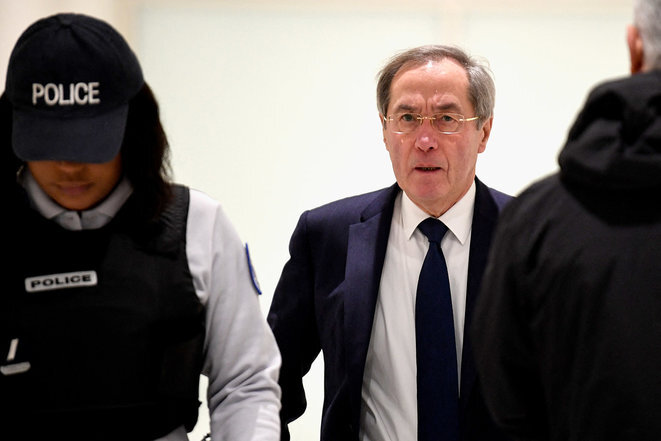 Claude Guéant at the Paris law courts, December 5th 2018. © Photo Eric Feferberg / AFP
Claude Guéant, once Nicolas Sarkozy's right-hand man, a former French police chief who remained faithful throughout the scandals that have since engulfed the former French president, was on Monday jailed in the Santé prison in Paris. Fabrice Arfi and Michel Deléan report on the fall of a man nicknamed 'The Cardinal', whose loyalty was rewarded with posts that elevated him to secretary general of the presidential office, the Élysée Palace, and subsequently as Sarkozy's hardline law-and-order interior minister, who is implicated in numerous corruption scandals and who, in the eyes of investigating magistrates, has yet to tell the full truth of what he knows about his former boss.
Ex-French president Nicolas Sarkozy appeared on Tuesday, as he was ordered to, as a witness at the trial of his former aides accused of misuse of public funds, but refused to answer questions, arguing that he was accountable 'to the French people, not to a court'.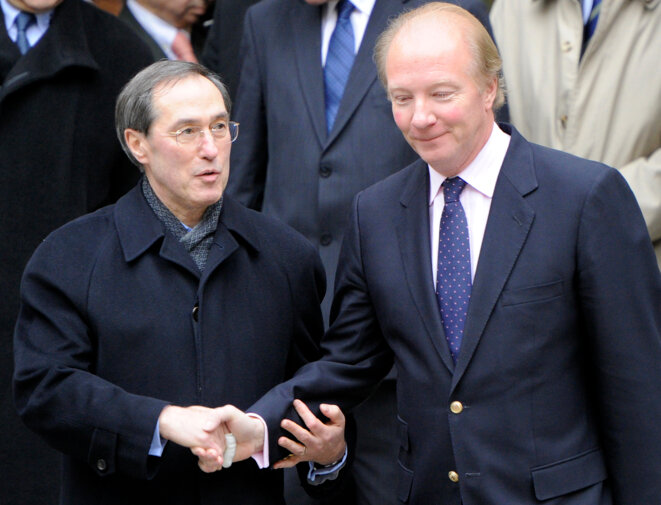 Key Sarkozy allies: Claude Guéant and Brice Hortefeux, in February 2011, at the Ministry of the Interior in Paris. © LIONEL BONAVENTURE/AFP
Two of former president Nicolas Sarkozy's closest allies, Brice Hortefeux and Claude Guéant, have recently been placed under formal investigation for "criminal conspiracy" over claims that the ex-head of state's 2007 election was part-funded by the Libyan regime. Mediapart can now reveal that during questioning by judges both men admitted to lapses in judgement in meeting a spy chief from Muammar Gaddafi's regime who was wanted by the French justice system after being convicted of a terrorist attack. Yet they deny there was any deal for the Libyans to help fund the election campaign. Both men also loyally continue to protect their former boss, who himself faces claims of criminal conspiracy and corruption in the case. Fabrice Arfi and Karl Laske report.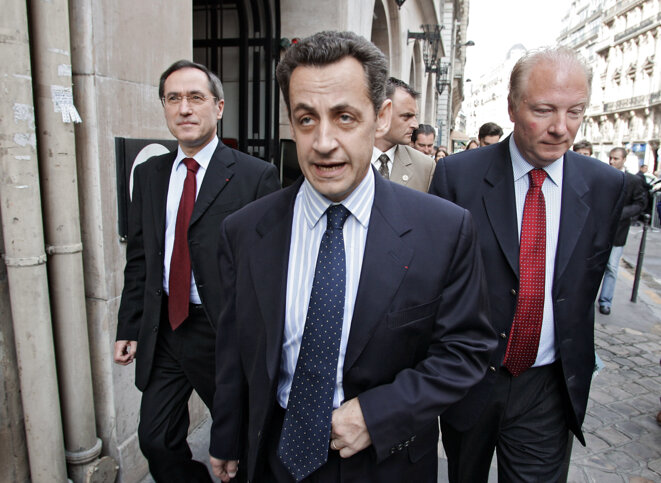 Left to right: Claude Guéant, Nicolas Sarkozy and Brice Hortefeux in June 2005. © PASCAL PAVANI / AFP
Former French president Nicolas Sarkozy was subjected to four days of questioning earlier this month by judges leading a complex investigation into evidence of Libyan funding of his 2007 election campaign, at the end of which he was formally placed under investigation for "criminal conspiracy". Mediapart has obtained access to the transcripts of the interrogation, during which he insisted on his innocence and laid responsibility for any wrongdoing on his two longstanding, loyal right-hand men, Claude Guéant and Brice Hortefeux, describing their dealings with Libya and intermediaries as, variously, "incomprehensible", an "error" and a "mistake". Fabrice Arfi and Karl Laske report.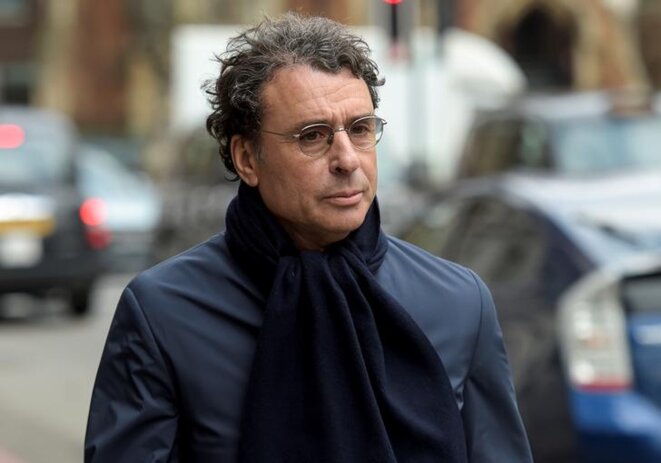 Middleman Alexandre Djouhri in London, where he is fighting against extradition to France.
French detectives and judges investigating the financial links between former President Nicolas Sarkozy's entourage and the Libyan regime of dictator Muammar Gaddafi are making progress in relation to a key figure in the affair. He is businessman Alexandre Djouhri, currently living in London, whom French judges are trying to extradite for questioning. His right-hand man, banker Wahib Nacer, was placed under formal investigation in the affair earlier this year. Fabrice Arfi reports on the latest judicial developments that are causing concern for the Sarkozy clan.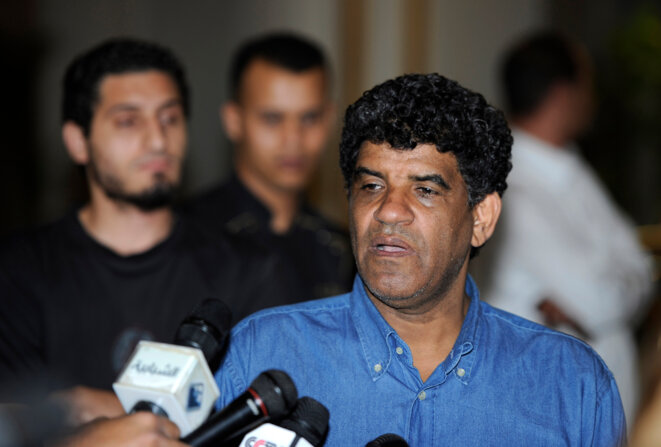 Security chief Abdullah Senussi in August 2011, just before the fall of the Libyan regime under Colonel Muammar Gaddafi. © Reuters
Investigators probing claims that the Libyan regime of Colonel Muammar Gaddafi funded Nicolas Sarkozy's 2007 presidential campaign have unearthed a key piece of evidence in the archives of the Élysée. It shows that on May 16th, 2009, the middleman Ziad Takieddine visited the Élysée to meet Sarkozy's right-hand man Claude Guéant. The object was to "set aside the arrest warrant" targeting Colonel Gaddafi's brother-in-law and security chief Abdullah Senussi, who had been convicted in absentia for his part in the 1989 bombing of a French UTA airline DC10 passenger plane over Niger, in which 170 people lost their lives. There is growing suspicion that an agreement to resolve Senussi's situation was a key component of the Libyan funding corruption plot. Fabrice Arfi and Karl Laske.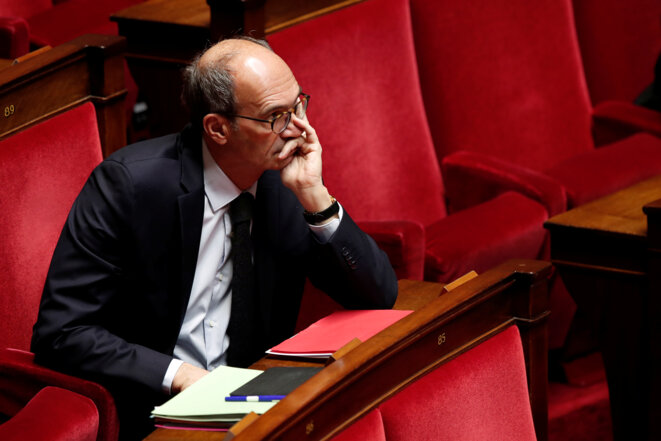 Senior conservative MP Éric Woerth in the National Assembly on November 15th, 2017. © Reuters
The former minister and current senior Member of Parliament Éric Woerth has been questioned by judges investigating claims that Nicolas Sarkozy's 2007 presidential election campaign was funded by Muammar Gaddafi's Libyan regime. Woerth, the treasurer of that campaign, sought to play down his role in handling envelopes stuffed full of cash at the election campaign headquarters. But according to a transcript of his evidence, seen by Mediapart, Woerth's explanations weakened his own defence. Fabrice Arfi and Karl Laske report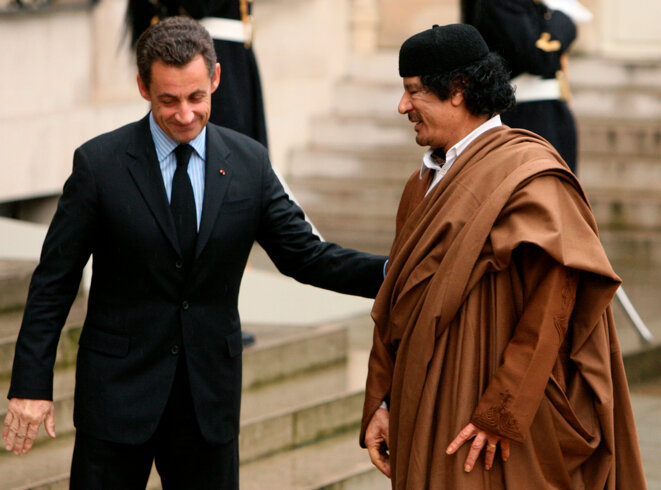 December 10th 2007: Nicolas Sarkozy welcomes Libtyan dictator Muammar Gaddafi on his first official visit to France. © Reuters
Mediapart has obtained access to extracts of the transcripts of the questioning last week of former French president Nicolas Sarkozy by officers of France's anti-corruption police agency, OCLCIFF, and also by the magistrates in charge of their investigation into the suspected financing of his 2007 presidential election campaign by the late Libyan dictator Muammar Gaddafi. They reveal how Sarkozy, who after more than 30 hours of questioning was placed under investigation on March 21st for "illicit funding of an electoral campaign", "receiving and embezzling public funds" from Libya, and "passive corruption", was unable to provide convincing answers on a number of key questions, and how also he appeared to place responsibility for some of the most compromising evidence of collusion with Gaddafi's regime on his close staff, including lifelong allies and friends Claude Guéant and Brice Hortefeux. Fabrice Arfi and Karle Laske report.
The middleman Alexandre Djouhri has been released on bail by a court in London pending proceedings to extradite him to France. Examining magistrates in Paris investigating claims that Libyan regime money was used to finance Nicolas Sarkozy's 2007 election campaign want to question Djouhri over crucial documents found at his Swiss home. Mediapart understands these show that the middleman did indeed oversee the payment of half a million euros of Libyan origin to President Sarkozy's most trusted lieutenant, Claude Guéant. Karl Laske and Fabrice Arfi report.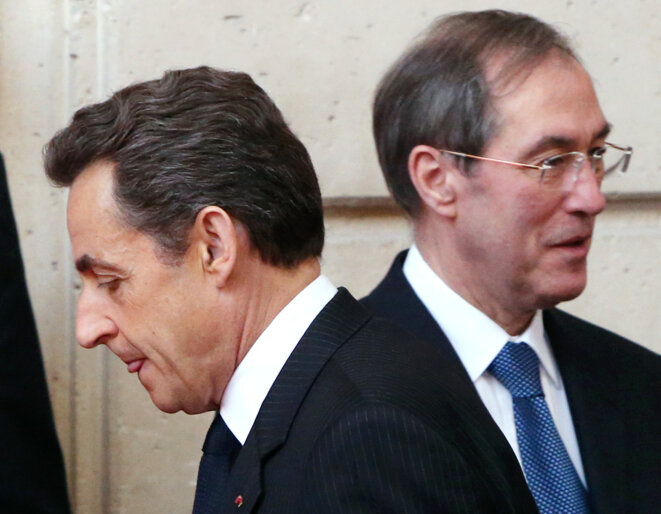 Nicolas Sarkozy and his right-hand man Claude Guéant, March 27th, 2012. © Reuters
Police officers from France's anti-corruption squad, the OCLCIFF, have produced a preliminary and damning report into the claims that the Libyan regime under Muammar Gaddafi funded the 2007 presidential election campaign of Nicolas Sarkozy. It raises questions about the role of Éric Woerth who at the time was treasurer of Sarkozy's campaign, later became a minister and is now president of the finance committee at the National Assembly. Meanwhile judges have ordered the seizure of properties belonging to Sarkozy's former chief-of-staff and right-hand man, Claude Guéant. Fabrice Arfi and Karl Laske report.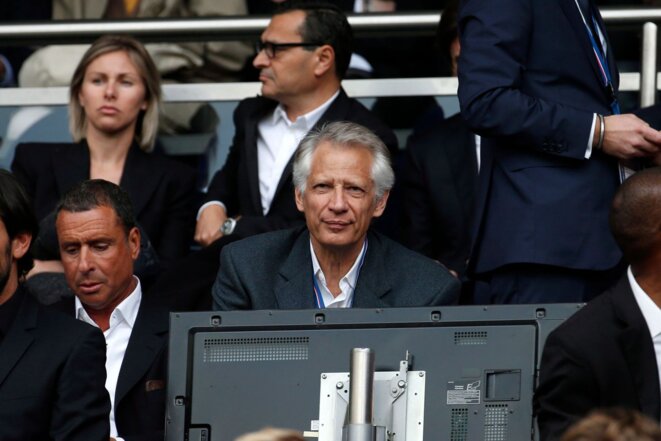 Alexandre Djouhri, centre left, and former premier Dominique de Villepin, centre, at the Parc des Princes football stadium, April 23rd, 2014. © Benoit Tessier Reuters
In 2009 the former French prime minister Dominique de Villepin was paid nearly half a million euros in money which originated in a Libyan state fund, Mediapart can reveal. Details of the payment, which came via middleman and business Alexandre Djouhri, have been unearthed by investigators examining another 500,000 euro payment, which was made to Nicolas Sarkozy's former right-hand man Claude Guéánt and which passed through a similar route. Villepin has told detectives he was unaware of the Libyan origin of the money. Karl Laske and Fabrice Arfi report.

Money bagman: Ziad Takieddine says he took Libyan cash to Nicolas Sarkozy. © Pedro Da Fonseca/Premières Lignes
In an interview filmed by Mediapart the arms dealer and intermediary Ziad Takieddine has described how he brought three suitcases of cash from Libya to give to Nicolas Sarkozy and his top aide just before the former's successful presidential campaign in 2007. In a testimony that backs up claims that Sarkozy's campaign was part-funded by Colonel Muammar Gaddafi's regime, the Franco-Lebanese businessman says: "I discovered things that should no longer stay hidden." The revelations come as Nicolas Sarkozy makes an enforced exit from French politics after his humiliating defeat in last week's primary to choose the Right's 2017 presidential candidate. Fabrice Arfi, Karl Laske and Nicolas Vescovacci report.

Left to right: Nicolas Sarkozy, Ziad Takieddine, Claude Guéant, Abdullah al-Senussi and Sarkozy's lawyer Thierry Herzog.
Mediapart is publishing four documents which prove that from 2005 to 2009 Nicolas Sarkozy and his aides tried to extricate Libyan spy chief Abdullah al-Senussi from his legal problems in France where he had been convicted for his involvement in the bombing of a passenger plane over Africa. The same Senussi is suspected of having sent five million euros in Libyan cash to Sarkozy and his chief of staff Claude Guéant before the 2007 presidential election - as revealed by the man who says he physically carried the money, arms dealer Ziad Takieddine. Fabrice Arfi and Karl Laske report.
The probe follows media report that Claude Guéant used France's intelligenc services to spy on a conservative rival in 2012 general elections.