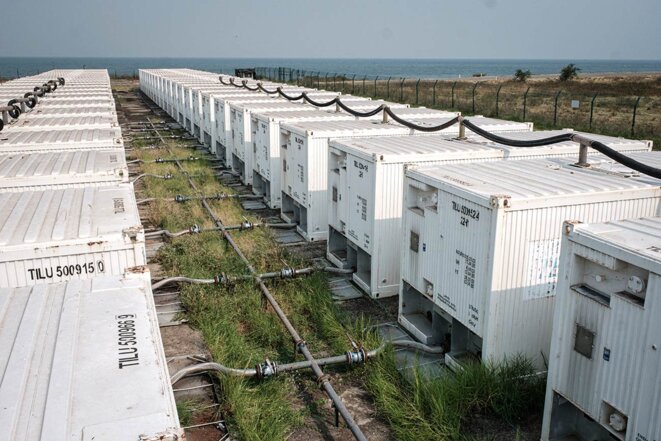 Crude oil containers on the shores of Lake Albert in the west of Uganda, January 24th 2020. © Photo Yasuyoshi Chiba / AFP
He has not spoken about it publicly. But behind the scenes the French head of state Emmanuel Macron has written to the president of Uganda supporting the role of French oil firm Total in developing an oilfield and a  lengthy new oil pipeline in the East African country. In the capital Kampala, meanwhile, the French embassy has  been wholeheartedly lobbying for the French multinational. Yet the projects are opposed by environmental and human rights groups who say they are not just bad for the climate but will also displace thousands of local people from their land. Mediapart's environment correspondent Jade Lindgaard reports.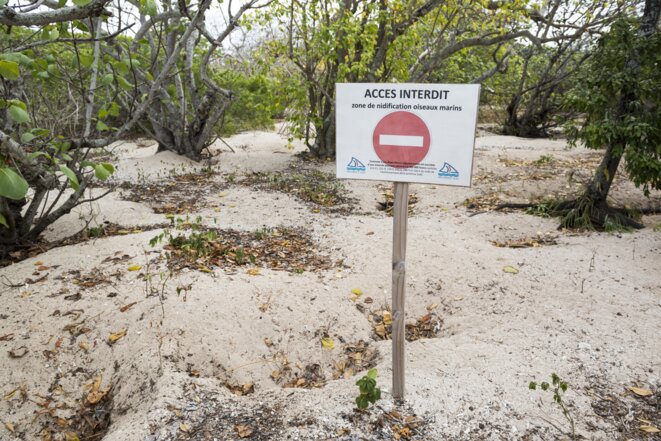 Marine park at Tenia Island in New Caledonia in the South Pacific. © Photo Nicolas-Alain Petit / Biosphoto via AFP
The International Union for Conservation of Nature, which is currently holding its annual conference at Marseille in the south of France, has hit the headlines for its latest update on the number of animal species which face imminent extinction on the planet. But there are some experts who query whether the NGO's conserving strategy of preserving species in designated areas such as natural parks is the right one. Mediapart spoke with French geographer Estienne Rodary who argues that this modernist and colonial approach to the environment has become outdated in an inter-connected world. He says that the issues of biodiversity and climate change are interlinked and that when it comes to conserving nature the "carbon cost" of any policies needs to be taken into account. Amélie Poinssot reports.
In a case brought before it by a low-lying northern coastal town, France's Council of State, the country's highest administrative court, has ruled the government has nine months to meet its pledges on addressing climate change or face hefty fines.
Total has begun to invest more in solar and wind power, but it is under pressure to do more as climate issues rise closer to the top of investors' agendas.
The French lower house, the National Assembly, on Tuesday approved draft legislation on new measures to tackle climate change, including bans on some domestic flights and the creation of a new 'ecocide' crime to punish polluters, before the bill, which Greenpeace called 'a lost opportunity', goes to the Senate.
President Macron's lobbying for global climate action is not backed up by sufficient domestic measures, say environmental groups.
President Emmanuel Macron has announced plans to hold a referendum in France on whether the issues of battling climate change and protection of the environment should be included in the country's constitution.
The "ecocide" proposal topped dozens of ideas presented by the 150 randomly picked members of the Citizen's Convention on Climate, along with inscribing the fight against global warming in the French Constitution.
After a government 'environmental defence council' meeting at which the French government announced a series of measures to combat climate change and protect bio-diversity, President Emmanuel Macron on Thursday visited a vast, shrinking glacier at the foot of the Mont Blanc where he said its melting 'is irrefutable proof of global warming'.
Thousands of people joined a demonstration in Paris on Friday to demand greater political action to combat climate change, although estimates of the turnout, ranging from a police figure of 10,000 to the 30,000 claimed by organisers, were well below massive rallies held simultaneously in Germany and the US.
The Mer de Glace  – the "sea of ice" – near the Alps' highest summit, the Mont Blanc, has lost around 800 metres in length over the past 30 years in a stark example of the effects of global warming on the world's glaciers, the subject of a UN report due to be presented next week.
Warning from independent body comes as eurozone's second-biggest economy attempts to present itself as world leader on climate emergency.
Four French NGOs, including Greenpeace France and Oxfam France, have filed a lawsuit against the French government accusing it of failing to act upon its environmental obligations, a move that was backed by 2.1 million signatures in an online petition.
An online petition backed by Greenpeace and Oxfam calling for legal action against the French state for its alleged inaction over measures to combat climate change has attracted nearly two million signatures.