Related keywords
The French lower house, the National Assembly, on Tuesday approved draft legislation on new measures to tackle climate change, including bans on some domestic flights and the creation of a new 'ecocide' crime to punish polluters, before the bill, which Greanpeace called 'a lost opportunity', goes to the Senate.
President Macron's lobbying for global climate action is not backed up by sufficient domestic measures, say environmental groups.
President Emmanuel Macron has announced plans to hold a referendum in France on whether the issues of battling climate change and protection of the environment should be included in the country's constitution.
The "ecocide" proposal topped dozens of ideas presented by the 150 randomly picked members of the Citizen's Convention on Climate, along with inscribing the fight against global warming in the French Constitution.
After a government 'environmental defence council' meeting at which the French government announced a series of measures to combat climate change and protect bio-diversity, President Emmanuel Macron on Thursday visited a vast, shrinking glacier at the foot of the Mont Blanc where he said its melting 'is irrefutable proof of global warming'.
Thousands of people joined a demonstration in Paris on Friday to demand greater political action to combat climate change, although estimates of the turnout, ranging from a police figure of 10,000 to the 30,000 claimed by organisers, were well below massive rallies held simultaneously in Germany and the US.
The Mer de Glace  – the "sea of ice" – near the Alps' highest summit, the Mont Blanc, has lost around 800 metres in length over the past 30 years in a stark example of the effects of global warming on the world's glaciers, the subject of a UN report due to be presented next week.
Warning from independent body comes as eurozone's second-biggest economy attempts to present itself as world leader on climate emergency.
Four French NGOs, including Greenpeace France and Oxfam France, have filed a lawsuit against the French government accusing it of failing to act upon its environmental obligations, a move that was backed by 2.1 million signatures in an online petition.
An online petition backed by Greenpeace and Oxfam calling for legal action against the French state for its alleged inaction over measures to combat climate change has attracted nearly two million signatures.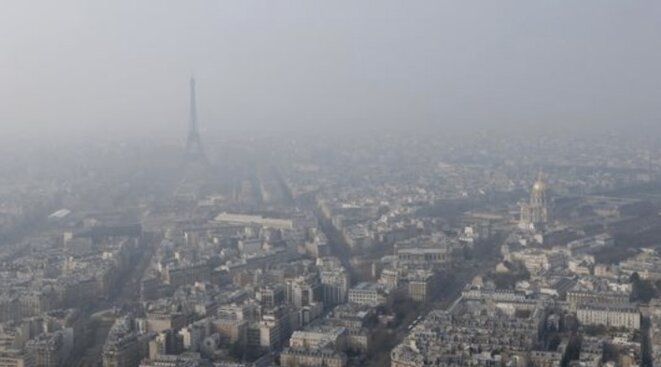 Paris, March 18th, 2015. © Reuters
The French government is shortly due due to announce its plans on energy use and carbon dioxide emission reductions to be implemented up to 2028. Environmental groups are worried the country is set to reduce its ambition on emissions targets and on the decommissioning of its nuclear power stations. Figures meanwhile show that Paris is not currently meeting its existing carbon emission commitments, a revelation that comes just weeks before the next climate change summit, COP24, takes place in Poland. Christophe Gueugneau reports.
The satellite, launched from China, will study ocean surface winds and waves around the clock and aims to help the better prediction of cyclones.
Police said as many as 18,500 protesters took to streets in Paris while non-governmental organisations estimated turnout at up to 50,000.
French President Emmanuel Macron, adopting a role to relaunch the December 2015 Paris climate accords damaged by the withdrawal of the US from the charter, hosted a 'One Planet' summit of world leaders in Paris on Monday when he warned that the international community was 'nowhere near' meeting the pledges made for measures to reduce mounting global temperatures.