The nuclear power plant at Fessenheim in north-east France, close to the border with Germany, which entered service almost 40 years ago and which environmental campaigners claim is dangerous, will close by 2020 when an EPR reactor being built in Flamanville is expected to come online.
Utility giant EDF has agreed a compensation deal for the closure, now planned for 2018, of the almost 40-year-old power station at Fessenheim, close to the border with Germany in eastern France and built in an area vulnerable to earthquakes and above one of Europe's biggest underground water reservoirs.
The British clothes and food retailer announced it is to close seven of its stores in and around Paris which employ about 500 people, just five years after returning to France where it had already closed down its entire retail network in 2001. 
Alstom CEO said the company will go ahead with closure of manufacturing at its historic train-building plant, affecting 400 staff, despite President Hollande's pledge to do 'everything' to halt the plan.
State-run SNCF will axe all but three overnight train services from Paris as of July 1st for reasons of cost.
Luxembourg's PM Xavier Bettel told his visiting French counterpart that a problem at the nearby Cattenom plant could "wipe the duchy off the map".
Some 1,000 migrants are to be displaced from a part of the the makeshift and insalubrious camp which the authorities will raze next week.
Fessenheim plant closure was one of President François Hollande's election pledges, but minister argues this depends upon opening new reactors.
Rights groups criticised the law which allows the government to directly order ISPs to shut websites suspected of terrorist or paedophile activity.
Vehicle assembly at struggling carmaker PSA's historic plant of Aulnay-sous-Bois near Paris ends ahead of total closure of the factory next year.
US tyre maker Goodyear is to close a loss-making plant in northern France, which employs 1,173 workers, following a long conflict with unions.
Company says it will permanently close two mothballed furnaces, enraging workers who blocked access to the steel plant and management offices.
Steel-making giant ArcelorMittal is summoned by the French government to either restart idled furnaces in north-east France or sell them.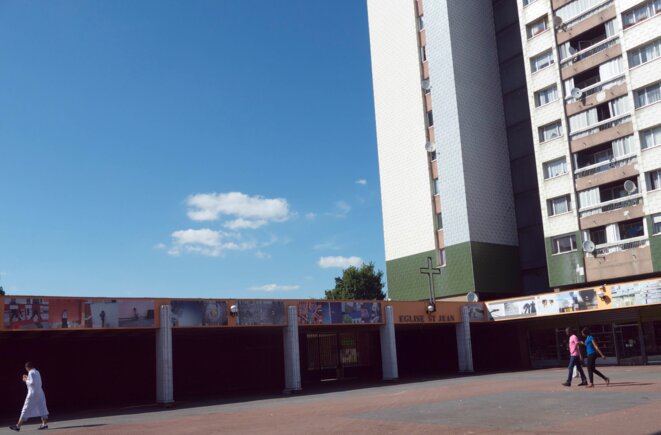 La place du Galion au pied des deux dernières barres encore debout © Rachida El Azzouzi
When French carmaking giant PSA Peugeot-Citroën announced on July 12th it was to close its major assembly plant in Aulnay-sous-Bois, a deprived suburban town just north of Paris, a ripple of fear ran through the nearby sprawling housing estates. Several, like the infamous 'Cité des 3000', were originally built as of 1969 to house the plant's workers and managers and their families. But they soon became ghettos where immigrants were dumped and unemployment and poverty were rife. While recent renovation helped roll back crime, youth unemployment currently runs at around 40%, and locals are now fearful of the future once more. Rachida El Azzouzi travelled to the Cité des 3000 where many inhabitants regarded PSA's now doomed plant as their last lifeline.