France's data privacy watchdog, the CNIL, on Monday announced it has brought a 50-million-euro fin against US technology and internet search engine giant Google for breaching the European Union's new General Data Protection Regulation.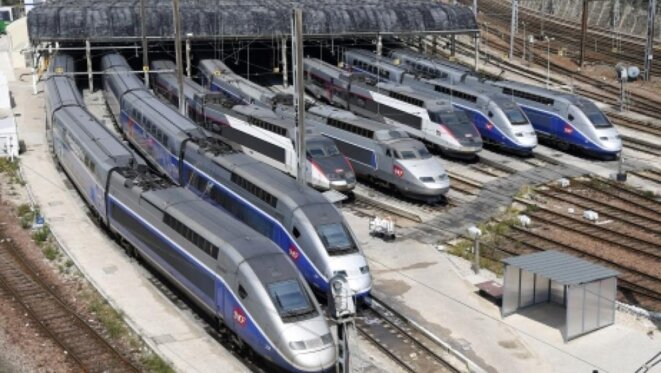 Trains at the gare du Nord in Paris. © Reuters/Charles Platiau
On April 17th this year, with the rail strike in full swing, a manager at the busiest railway station in Paris, the Gare du Nord, asked colleagues to create a database on workers who were most active on Facebook, Twitter and other social media. Unions have condemned the action, saying they fear the firm wants to muzzle staff involved in the industrial action, while lawyers say the move is completely illegal. The state rail company SNCF, meanwhile, dismisses it simply as a "clumsy" local initiative not connected with the strike. Dan Israel reports.
France's data protection agency CNIL has told messaging app WhatApp it must cease automatic sharing of users' data, such as phone numbers, with parent company Facebook within a month. 
The social media giant was found by France's data protection watchdog, the CNIL, to have illegally allowed information on its users to be passed on to advertisers and of tracking web browsing without sufficient warning.
The CNIL said Microsoft was collecting 'excessive' amounts of data not needed for the software to operate, and browser spying 'without consent'.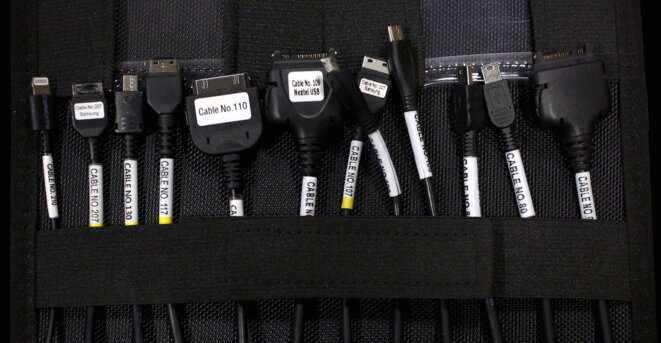 Cables from the Israeli company Cellebrite that will be used to gather data from different telephones. © Reuters.
In recent months politicians and some senior legal figures in France have spoken out against the practice of encryption to protect people's data, emails and mobile phone calls, claiming it hampers investigations into crime and above all terrorism. Mediapart can reveal that a policy to force companies to leave so-called "backdoors" in their software to enable the security forces to bypass encryption was close to being adopted by the French government. But the data privacy watchdog in France warns that such measures would put people's computer security at even greater risk at a time of an increasing number of cyber threats. Jérôme Hourdeaux reports.
Search engine's attempt to block French order to apply delistings to its global domain, not just European sites, is rejected.
Search engine giant 'respectfully' rejects French digital watchdog ruling which said it should extend this right beyond Europe to rest of world.
The CNIL told Google it must apply right to be removed from search engine listings to 'all domain names' and not only those aimed at Europe.
The French Parliament this week formally adopted a new anti-terrorism law, part of which aims to stop terrorists using the internet to attract recruits and plot attacks. It will allow the authorities to block websites that "condone terrorism" and will create a new offence of "individual terrorist enterprise". One key objective is to stop the "preparation" of attacks via the web. The government, which has rushed these measures through, says they are needed to combat the growing use of the internet and social media by terror groups and in particular to tackle the threat of so-called "lone wolf" terrorists operating in France and elsewhere. But civil liberties groups, judges and the state body that oversees the impact of digital technology have condemned the law as an attack on freedom, ineffective and unworkable. Jérôme Hourdeaux details the new measures.
 French judge refuses to suspend order obliging Google to publish a notice saying it has been fined for breaches of French data protection act.
US search engine ignored three-month ultimatum from French privacy watchdog to bring practices on user information in line with local law.