Related keywords
The cocaine, found in delivery of fruit juice concentrate from Costa Rica at plant in southern France has market value of €50 million.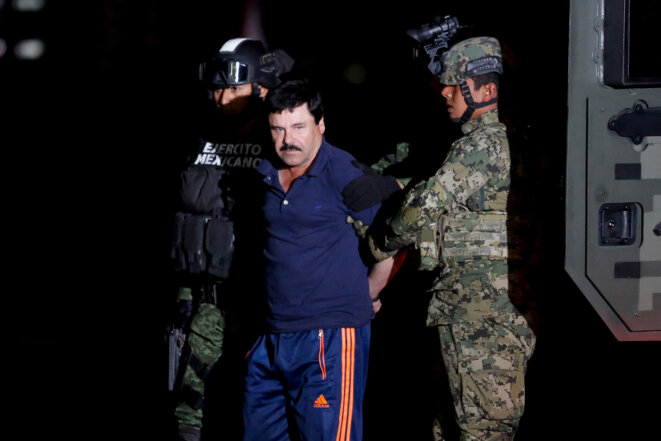 Joaquin 'El Chapo' Guzman on 28 May 2016, in Mexico. © Reuters
French criminal investigators have established a financial link between the recent carbon trading fraud – the biggest crime of its kind France has ever seen – and Latin American cocaine cartels. In particular the money trail points to a connection between the massive fraud and the infamous Sinaloa Cartel, whose boss is the drugs baron Joaquín 'El Chapo' Guzmán. Fabrice Arfi reports.
A week after a drugs squad officer was accused of stealing 52 kilos of cocaine, the facts are proving stranger than fiction.
The drugs squad officer has been formerly placed under investigation on suspicion of stealing more than 50 kgs of seized drug stash.
The unnamed officer, 34, was picked up while on holiday in the southern city of Perpignan by officers probing theft of €3m drugs haul.
The 50 kg of cocaine, seized in police raids in northern Paris in early July, had been stored in a special room secured with an armoured door.
Police seized the 1.3 tonnes of pure cocaine on board an Air France flight from Venezuela, with the drugs found packed inside 30 suitcases.
Alain Afflelou, who owns Europe's largest optician franchise chain, was said to be "stunned" that his jet was used to carry 700 kilos of cocaine.