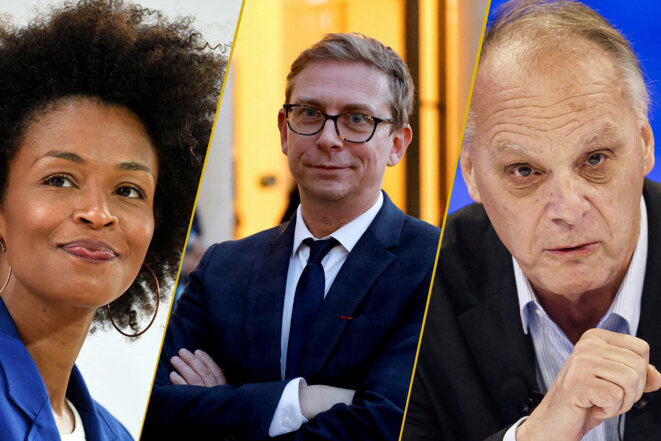 © Photomontage Mediapart avec AFP
On September 29th 2021 the Élysée officially unveiled a new commission to help fight against conspiracy theories and disinformation. Officially called the 'Enlightenment in the digital age' commission, President Emmanuel Macron wants it to champion science, reason and truth and come up with new policy options in an era where social media in particular is awash with a bewildering array of views and theories. Critics, however, accuse the head of state of wanting to impose his own narrative ahead of next April's presidential election. Already the membership of the commission has been bitterly criticised, in particular its chair, social scientist Gérald Bronner. And after also coming under fire another member, Professor Guy Vallancien, a high-profile urologist, has just resigned from the body. Joseph Confavreux and Ellen Salvi report.
Alexandre Benalla, the 27-year-old security aide for French President Emmanuel Macon whose ambiguous role inside the Élysée Palace came under scrutiny after video published on social media showed him beating participants in May Day demonstrations while illegally wearing police insignia, reluctantly submitted to questions by a Senate commission of inquiry in parallel to a judicial investigation into his actions.  
The four-month enquiry, launched after secretly-filmed video was released of cruel practices and unhygenic conditions in several French abattoirs, also recommended veterinary officers be present in large abattoirs to remove staff's impression of 'virtual impunity'.
Thomas Piquemal, who resigned in March over plan to build nuclear plant in UK, told French parliament it carries a 'major construction risk'.
Commission predicts below average growth, falling investment, weakening public finances and competitiveness, and deficit rising to 4.7%.
But French finance minister Michel Sapin insisted in a statement that Paris would meet the 3 percent target in 2015.
Commission gives guarded blessing to 2014 budget but says French plans are only 'partly adequate' for getting grip on public finances.
Accused of fuelling far-right nationalism, Commission boss says French politicians should not use EU as a scapegoat for their own problems.
French president warns Commission not to give orders after Brussels called for urgent eurozone reforms to avert a "social emergency".
In return for getting two more years to bring its budget deficit back in line France must start its reforms this year says European Commission.
In this second and final part of his exclusive interview with Mediapart, French Prime Minister Jean-Marc Ayrault answers the suggestion that he is railroading the democratic process with the adoption of the European Treaty on Stability, Cooperation and Governance (TSCG), sets out his position on the widespread use of tax havens by big banks and corporations, and for greater representation of national parliaments in EU decision-making. He also answers questions on recent domestic issues, including his government's decision to ban demonstrations in protest at the publication by a French magazine of cartoon caricatures of Prophet Mohammed, and the calling to book of his interior minister over his out-of-step comments on racial profiling and the right to vote of of non-EU nationals.
An independent commission is to assess the future of ArcelorMittal's idled steel plant in Florange, eastern France, which unions fear is soon to close.
The European Commission has sent a message to new French President Francois Hollande that his growth agenda faces severe constraints.