At the end of a trial of more than two-and-a-half months on moral harassment charges of the former CEO of France Télécom and six other top executives, whose brutal plan of cost-cutting and job-axing in the mid 2000s was cited as the cause of dozens of suicides and attempted suicides among personnel, Orange – as the company was renamed in 2013 – has offered to pay damages to the victims and relatives, while staff unions are demanding that compensation be paid by the defendants themselves.
The French Catholic Church's bishops' conference has agreed to soon begin paying financial compensation to victims of sex crimes by its clergy and who are unable to bring legal action against the perpetrators because of France's statute of limitations for the prosecution of such crimes.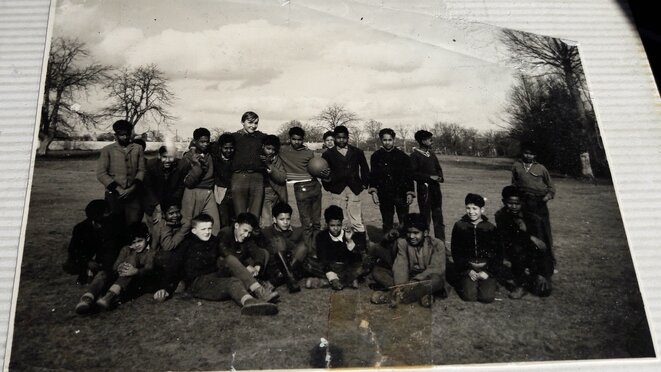 Réunionese child deportees in France during the 1970s (location and exact date unknown). © Jean-Charles Pitou - 'Génération brisée'
For several decades, it remained one of the most shameful secrets of post-war France: from 1963 to 1982, more than 2,000 children were  deported from the French-governed Indian Ocean island of La Réunion to mainland France in a government programme to repopulate deserted rural areas in the centre of the country. It was only in 2002 that the scandal first came to public attention, beginning a long campaign for justice. That finally resulted in an official commission of enquiry which this week presented its initial findings, when it formally recognised the displaced children's suffering, including maltreatment and racism. But the victims, a number of whom are now in their 50s and 60s, are still waiting for proper reparation.
Utility giant EDF has agreed a compensation deal for the closure, now planned for 2018, of the almost 40-year-old power station at Fessenheim, close to the border with Germany in eastern France and built in an area vulnerable to earthquakes and above one of Europe's biggest underground water reservoirs.
TUV Rheinland, which in 2010 certified faulty breast implants made by French firm Poly Implant Prothese (PIP), has been ordered by a French court to pay 3,000 euros to each of the 20,000 women who received the potentially harmfull products.
A man and woman who fraudulently claimed for compensation from a fund set up to help victims of the November 2015 jihadist attacks in Paris, which left 130 dead and hundreds wounded, were jailed after it was found they were in fact at home in southern France during the events.
More than 14,000 women in France were prescribed Depakine, the Sanofi drug firm's brand name for valproate, despite the potential risks to foetuses which became known in the early 1980s, and which associations representing victims say may have affected  50,000 people in the country.
Lawyers of victims of the November 13th 2015 terrorist attacks in the French capital, which left 130 people dead and hundreds more wounded, say their clients should receive additional compensation for the "very considerable distress" they suffered and victims' families be compensated for the hardship endured while waiting for news of their loved ones.
Fifty years ago this month, France began carrying out tests of its nuclear bombs in the Pacific Ocean territory of French Polynesia. These were the first of what would become decades of atmospheric and underground nuclear explosions in total disregard for the health of the local population and environment. After years of campaigning, victims of the fallout earlier this month obtained a revision of the rigorous criteria governing financial compensation paid to those who have developed serious illnesses following the tests, and which in effect bars most from receiving any indemnity. But, as Julien Sartre reports, the move has been slammed by victims' rights associations as simply tinkering at the edges of a shameful legal refusal to recognise the lethal damage caused by the tests.     
Magistrates rule he wrongly received the compensation sum for he had not been duped by state bankers when he sold sportswear firm Adidas in 1992.
France will fully refund Russia for the two helicopter carriers, for which Moscow made an advance payment of about €840m.
The Russian compensation claim for the French-built helicopter carriers, blocked over Ukraine crisis, is well below France's offer of 785m euros.
Tests conducted from mid-1960s saw government approved detonation of nearly 200 nuclear tests off secluded atolls in French Polynesia.
The move comes three years after railway formally admitted it transported thousands of Jews to their deaths during the Second World War.