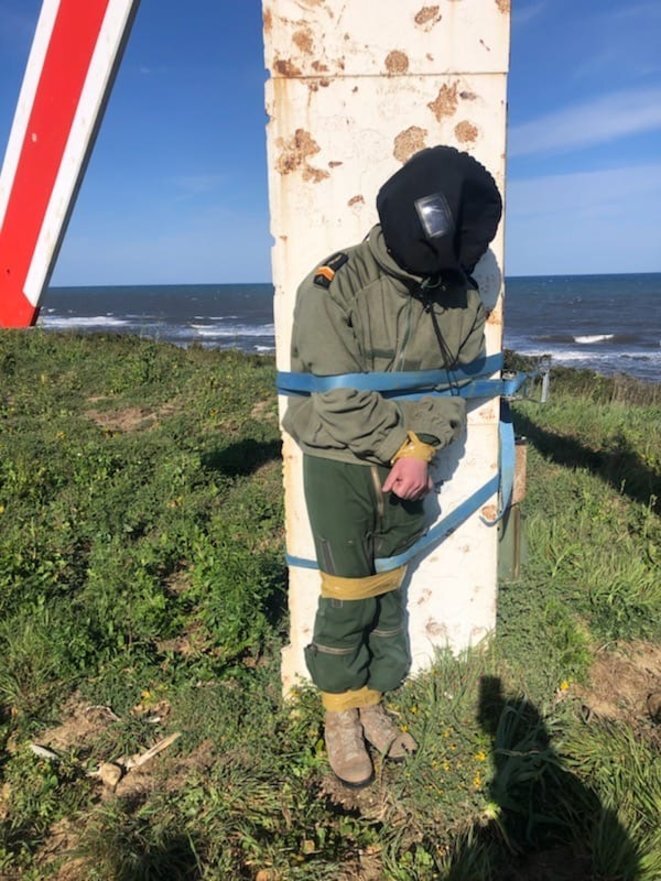 Ordeal: pilot 'A.C.' tied to fighter jet target in Corsica. © DR
A young French air force pilot who, in a cruel initiation prank by otherairmen, was hooded, trussed, and tied to a post used for target practice by fighter jets, has filed a formal complaint with the public prosecution services for "aggravated violence" and "deliberately endangering the life of others". Mediapart reveals here photos and video of the disturbing events at an airbase in Corsica which, as Justine Brabant reports, further tarnish the image of the air force after prosecutors in February opened an investigation into allegations of "institutionalised" harassment at a major base in eastern France.
French anti-corruption NGO Sherpa has filed a legal complaint against Lebanon's central bank governor Riad Salemeh for allegedly diverting for his personal gain public funds worth hundreds of millions of euros to France and elsewhere in Europe. 
A group ,of 25 women have filed complaints for rape and sexual assault covering an 11-year period against a graffiti artist, identified as Wilfrid A, who has acquired a certain celebrity in Paris for his recurrent tags anouncing 'love runs about the streets', some of which have now been re-tagged with 'rapist' replacing 'love'.
The Paris public prosecution services have opened an investigation into a complaint lodged by a male employee of the capital's City Hall against the Vatican's envoy to France, Archbishop Luigi Ventura, who he said repeatedly touched him in a sexual approach during a New Year's ceremony on January 17th.
French government colleagues of the budget and public accounts minister, Gérald Darmanin, have defended his right to remain in his post while awaiting the findings of an investigation into a complaint launched against him for his alleged rape in 2009 of a woman who had asked him for help in a legal case concerning her, an accusation he has denied.
Charles Simon demands compensation after his career was put on ice in 2003 when he was sidelined for revealing huge fraud in the company.
The Paris prosecutor's office has received a criminal complaint accusing Dominique Strauss-Khan of attempting rape of writer Tristane Banon.