French president addresses Congress, presenting himself as an advocate of liberal world order – the opposite of Trump's image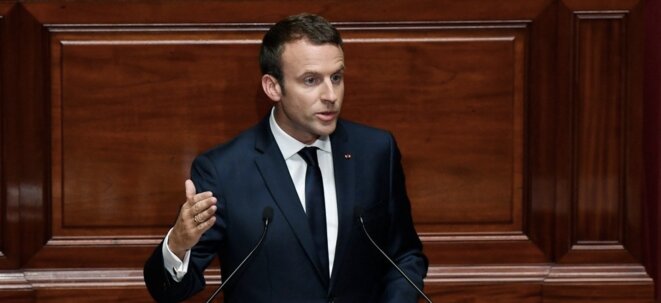 President Emmanuel Macron addressing the special Congress at Versailles, July 3rd, 2017. © Capture d'écran France 2
In a high-profile and highly-unusual speech before both chambers of the French Parliament in the sumptuous surroundings of Versailles on Monday July 3rd, President Emmanuel Macron claimed to be setting the "course" for his presidency. But, says Ellen Salvi, it turned out to be an hour-and-a-half of messages that had already been delivered during his election campaign and he announced little more than a promise of some institutional reforms.
The French Senate voted on Thursday in favour of inscribing into the constitution the stripping of French nationality from dual-nationals convicted of terrorist crimes. The text adopted by the Senate is fundamentally different to that adopted last month in the National Assembly, the lower house, which allows for the stripping of French nationality of anyone convicted of terrorism, effectively allowing for individuals to become stateless. As Christophe Gueugneau and Ellen Salvi report, the conflict now appears likely to definitively bury what was one of President François Hollande's two key and highly controversial constitutional reforms in reaction to the November 13th terrorist massacres in Paris.  
After the Charlie Hebdo shootings in January this year President François Hollande's key focus was on pulling the nation together. Now, after the terror attacks that struck Paris on Friday November 13th, the French head of state has espoused the language of war to justify more air strikes by French jets in Syria and Iraq, stronger internal security measures, more police officers and, most notably, a change to the French constitution. In a rare address to French MPs and senators Hollande said on Monday: "France is at war." As Lénaïg Bredoux and Martine Orange report, the mood in the French presidency is for tough talk and tough measures to combat jihadists – and also to stop the French Right from seizing the political initiative.
Manuel Valls au congrès du PS samedi 6 juin © Reuters
The ruling French Socialist Party held its national congress this weekend, called to define the party's broad policy lines and to designate its leadership structures at local and national level. The three-day event, which ended on Sunday evening, also marks the third anniversary of François Hollande's presidency. Against a backdrop of record and increasing unemployment, the party desperately needs new impetus as it faces an uphill struggle over the next two years to win back its disaffected electorate in presidential and parliamentary elections due in 2017. But while Prime Minister Manuel Valls was given a warm public display of support by party members, he offered no clear programme for the remainder of his government's time in office during a skilfully crafted speech aimed at appeasing party divisions. Lénaïg Bredoux reports from the congress in the west-central town of Poitiers.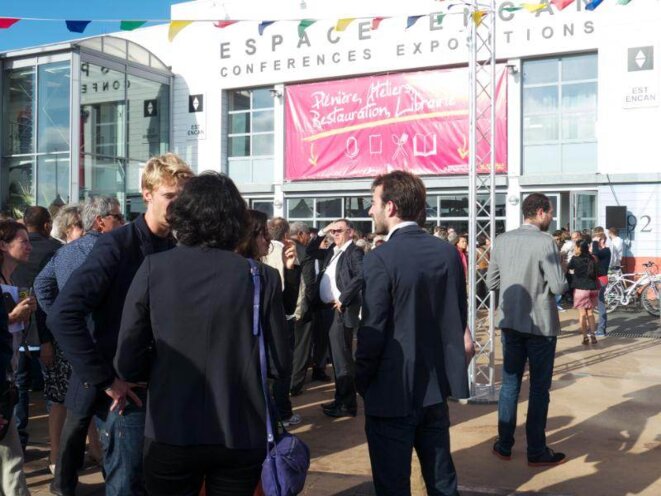 La Rochelle,dimanche. © Yannick Sanchez
Amid deepening divisions over government economic policy, France's ruling Socialist Party held its annual end-of-summer conference this weekend at the port of La Rochelle, in south-west France, culminating with a much awaited speech by prime Minister Manuel Valls. The long-planned venue coincided with the government reshuffle earlier this week which saw the exit from the cabinet of party left-wingers, and notably the arrival of a former banker, Emmanuel Macron, as economy minister in replacement of the outspoken anti-austerity leftist Arnaud Montebourg. Valls, who earlier this week told a conference of the French employers' federation of his "love" of business, was promised a fiery reception from the rebel Left of his party at his Sunday appearance. From a tense conference hall in La Rochelle, Stéphane Alliès reports on the address by Valls, who defiantly told a small group of journalists afterwards: "A speech will not be sufficient [...] but I'm continuing, I'm not giving up on anything."
President Hollande backs Obama decision to get green light from Congress but now faces pressure to put the issue to French parliament.