Keyword: Constitutional Council
Constitutional Council said that MPs who passed the controversial legislation had not set out clearly enough what would constitute a breach of the law in such situations.
In a definitive ruling, France's Constitutional Council has thrown out legislation adopted by parliament late last month which imposed restrictions on the movement of prisoners released after serving sentences for terrorism-related offences. The ruling by the Council, which found the law to be unconstitutional for its infringement of fundamental freedoms, represents a significant blow for both President Emmanuel Macron's governing LREM party, and in particular for justice minister Éric Dupond-Moretti, a high-profile defence lawyer until his appointment in early July.
Last week the French authorities banned a planned march in Paris by trade unions opposed to labour law reforms, before eventually backing down partially and allowing a more limited demonstration. Here Mediapart's editor-in-chief Edwy Plenel argues that demonstrating is a constitutional right and that, by banning the march that the trade unions wanted, the government violated the fundamental law that guarantees all our freedoms. It is, he writes, our duty to resist this unlawful act in order to defend our common ideal: democracy.
The 69-year-old former prime minister, who is to leave his job amid a cabinet reshuffle, appears likely to become head of the Constitutional Council.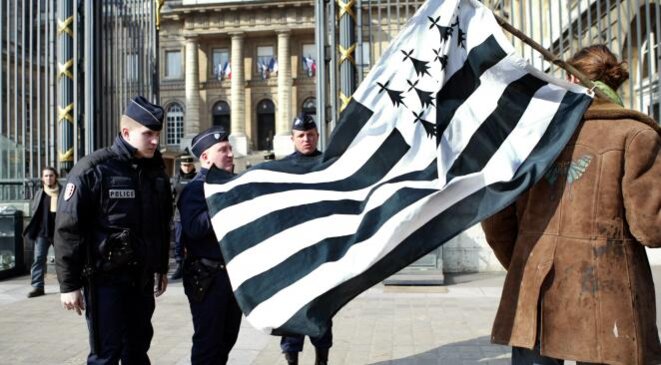 La Charte des langues régionales a été validée vendredi en conseil des ministres © Reuters
French is enshrined in the constitution as France's only official language. President François Hollande is now planning to change the law so the country can ratify the European charter on regional languages – of which France has 75. But as Lénaïg Bredoux reports, this modest step highlights just how few other constitutional reforms the socialist president has introduced since his election.
Investigation into 'breach of trust' over claims his UMP party wrongly paid ex-president's fine for exceeding election spending in 2012.
Mayors and their deputies may no longer invoke freedom of conscience clause to refuse to perform same-sex marriages legalized last May.
The Council rejected a UMP conservative opposition party appeal against the bill passed in April, and which will be enacted into law next week.
The French government's proposed top 75% income tax rate, applicable to individuals annually earning more than 1 million euros, was struck down by the country's Constitutional Council last weekend after it ruled that it breached a fundamental principle of equality for taxpayers. This was the application of income tax per individual instead of the usual method of per household. How could the government, now accused of amateurism, and especially the budget and finance ministries, have ignored a technicality to which they had been previously alerted by the parliamentary finance commission? While President François Hollande has promised to redraft the terms of the tax, there is every indication that, if it is revived, it will return severely watered-down. Mediapart business and finance specialist Martine Orange analyses a fiasco that begs the question of whether the tax was scuppered from the inside.
Ruling means socialist government must re-think the terms of its new 75% top income tax rate, currently applicable to individuals rather than households.
France's top judges have thrown out a move by animal rights campaigners to ban bullfighting on the grounds it contravenes the French constitution.
France's Constitutional Council this month ruled that the country's adoption of the European Union Treaty on Stability, Coordination and Governance (TSCG), which commits governments to strict deficit limits and, by consequence, severe austerity measures, with harsh penalties for those who transgress, requires no reform to the constitution, and therefore no public consultation through a referendum. The fiscal pact, agreed in March and which socialist President François Hollande initially pledged during his election campaign to renegotiate, is now certain to be ratified by the country's socialist-dominated parliament. Here, Mediapart Editor-in-Chief Edwy Plenel argues that the move is nothing short of a silent Coup d'Etat imposed by a political elite through flagrant abuse of the democratic process. Europe, he says, desperately needs a thorough debate and public consultation over the policies that are driving nations into a brick wall.
France's Constitutional Council rules that the EU's budget responsibility pact does not require a change to the constitution, easing its ratification.